What you need to know from Trump's State of the Union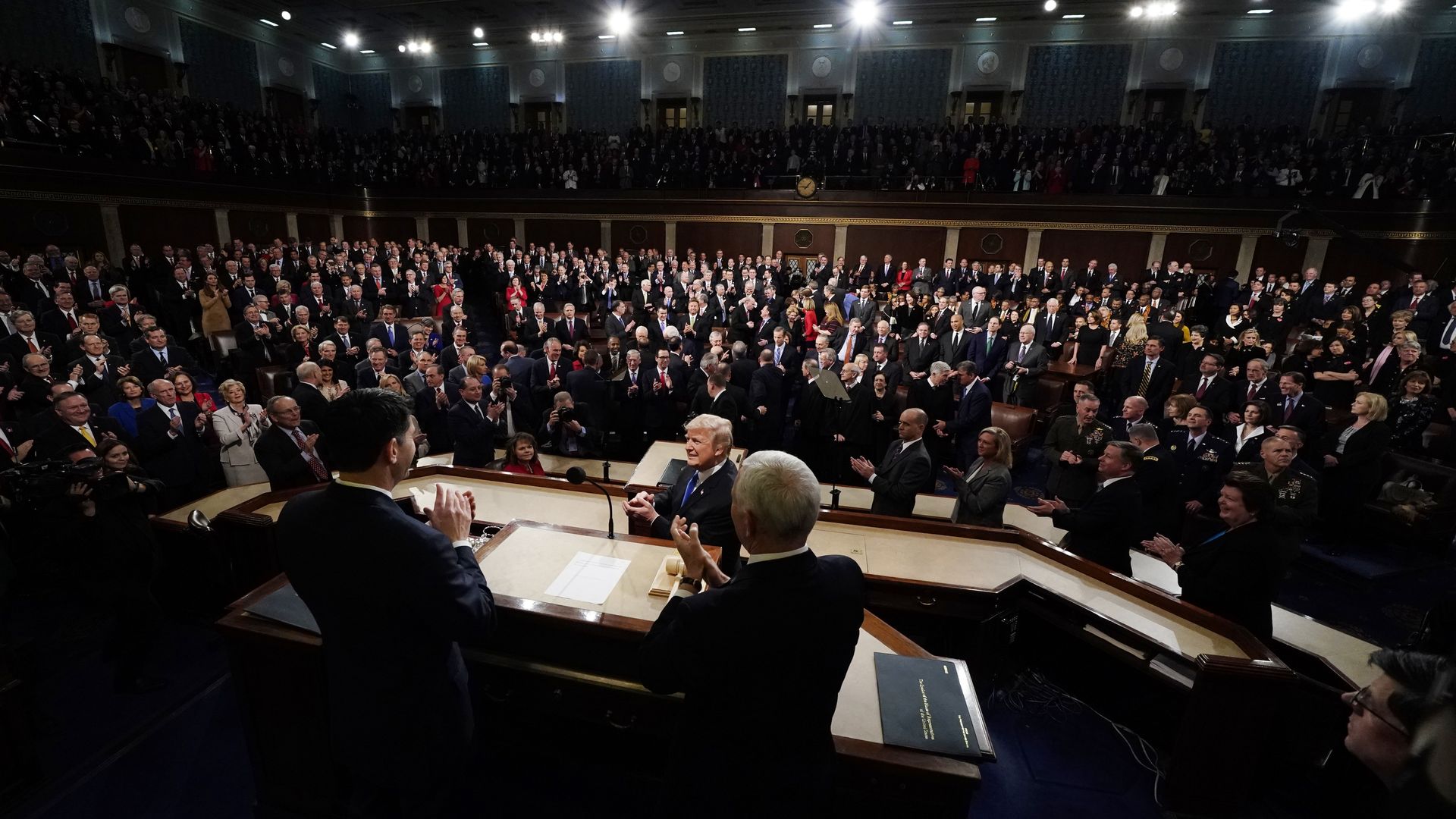 President Trump's State of the Union Address was billed ahead of time as a message of unity, and it was in part — with bipartisan ovations for Americans who had suffered and sacrificed, and for rhetoric about the strength and resilience of America.
The big takeaway: It was Trump's references to big, bipartisan policy proposals that were the most revealing. Democrats jeered when he discussed aspects of his immigration plan. Only on infrastructure was there near-universal applause. And Trump's promise to avoid "complacency and concessions" on North Korea — a clear shot at the Obama administration — set up the most emotional moments of the night.
Go deeper: the full text.
Here's what else you need to know from the speech...
Proposals for 2018
Trump proposed a big bipartisan infrastructure plan. He said he wants $1.5 trillion in federal, state and local, and private sector spending.
Trump proposed what he called a "fair compromise" on immigration, including a path to citizenship for "Dreamers," funding for the wall and additional border security, ending the visa lottery and ending family-based immigration — what critics call "chain migration."

Trump's characterization of that policy sparked the first jeers of the night from some Democrats. Worth noting: Trump set the tone for the immigration proposal with a discussion of MS-13 crimes.

He wants to make lower prescription drug prices a top priority — though he didn't say how he'd do it. (He has been talking about the issue since his presidential campaign.)
Trump said he'd work toward paid family leave.

Axios' Jonathan Swan on why this matters: It's Ivanka's priority, but not many other Republicans'. And many conservative Republicans — including some in the Trump Administration — have told me they hate the idea. Notice that Speaker Ryan wasn't applauding this line.

He said it was time for prison reform.
Trump said he wants to end the defense sequester and modernize the nuclear arsenal.
Trump wants Congress to give every Cabinet agency the power to reward good federal workers and "remove federal employees who undermine the public trust."
He wants Congress to pass "right to try" legislation to let terminally ill patients try experimental treatments.
One new action
Trump signed an order tonight to keep Guantanamo open. He said he would be detaining additional ISIS and al-Qaeda combatants there.
One big line
"My duty, and the sacred duty of every elected official in this chamber, is to defend Americans — to protect their safety, their families, their communities, and their right to the American Dream.  Because Americans are dreamers too."
On North Korea
"Past experience has taught us that complacency and concessions only invite aggression and provocation.  I will not repeat the mistakes of past administrations that got us into this dangerous position."
One big moment
Away from the Hill
Go deeper