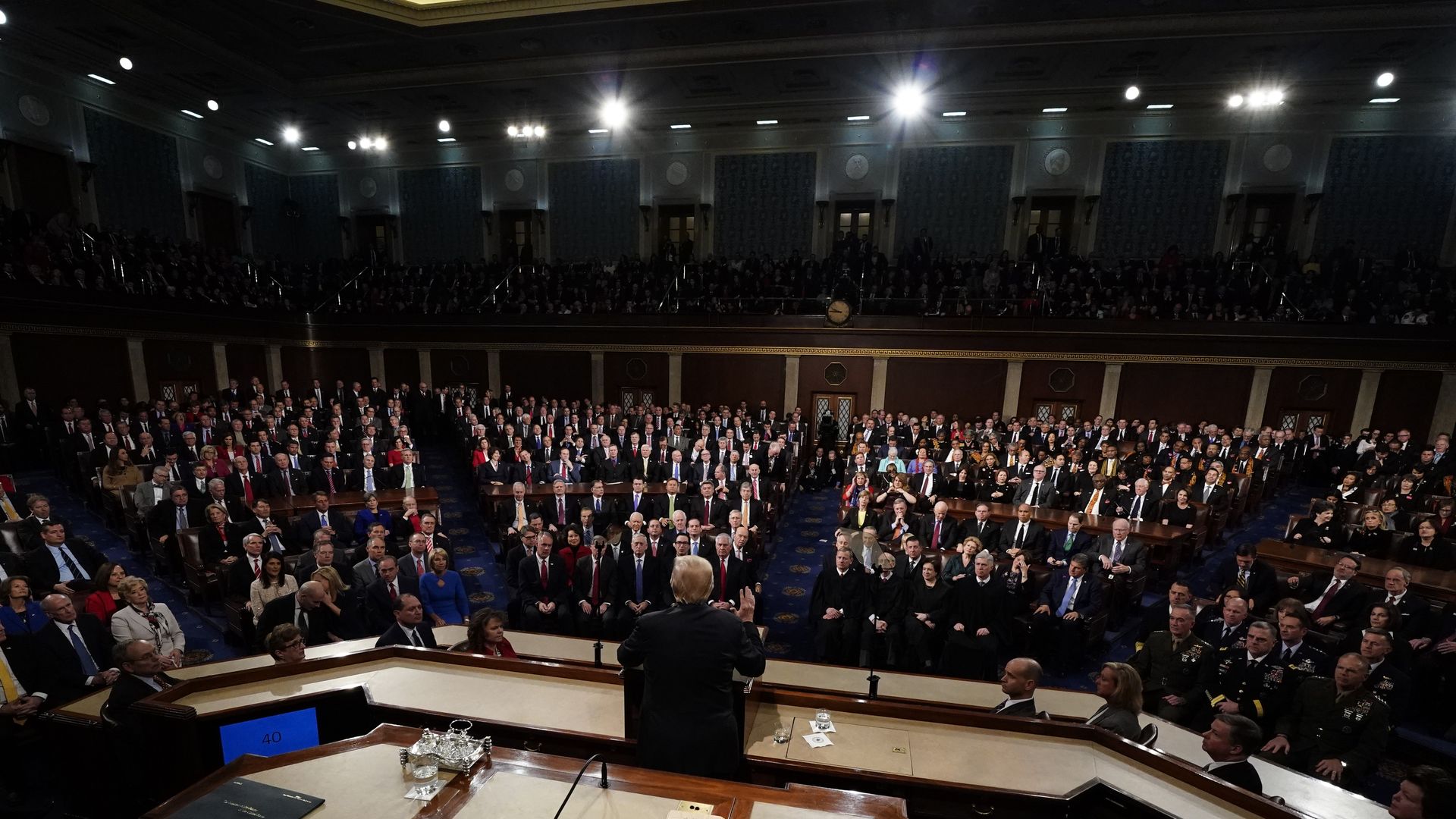 President Trump's State of the Union embodied the surprising and frequently baffling ways the president zips across partisan divides. There's not another American politician who in one night could call for creating paid family leave, keeping Gitmo open, making the nuclear arsenal stronger, making prescription drugs less expensive, cracking down on drug dealers, and helping convicted felons get "a second chance." 
This is the paradox of Trump, which Washington still isn't used to: Democrats on the whole will likely be so horrified by Trump's rhetoric on immigration — particularly chain migration — that they'll be loathe to rush to his side on any of the other issues he laid out that they may like, such as infrastructure and prison reform. And Speaker Paul Ryan won't be his ally on every issue, either; as much of the chamber cheered paid family leave, he sat quietly.
Trump's undisputed genius for showmanship was on full display. The speech was packed with made-for-TV moments, including a North Korean defector who hoisted his crutches in the air and young boy who plants flags on veterans' graves. Trump's remarks about a police officer who adopted a baby girl from a woman addicted to heroin may have been the most deeply affecting moment in a State of the Union speech in recent memory. 
At the same time, Democrats will be irate that Trump brought out the parents of two girls murdered by MS-13 gang members; they will likely argue Trump engaged in grief porn to demonize children who flee to the United States seeking asylum. 
A few more moments that stood out:
Trump's "Americans are dreamers, too" line — it's one he uses privately, and an obvious dig at Democratic rhetoric on DACA recipients. 
He mentioned theft of American intellectual property, an issue that doesn't usually get high billing in SOTUs. And though he didn't mention China specifically, the reference was an entirely unsubtle hint at his imminent tariffs against the country's products. 
The president's comments on drug dealers were unusual, ominous, and straight from his gut: "We must get much tougher on drug dealers and pushers if we are going to succeed in stopping this scourge." While a bipartisan coalition in Congress pushes for shorter sentences for some drug crimes, Trump's instincts on this issue remain ultra-hawkish.
Speaking of Trump's gut, the one executive order the White House pushed out during his speech was to keep Gitmo open. Remember, this is the president whose own defense secretary had to talk him out of torture. As Michelle Obama said, the presidency doesn't change you. 
Trump also had trouble disguising his sneer about nuclear disarmament. "Perhaps someday in the future there will be a magical moment when the countries of the world will get together to eliminate their nuclear weapons," he said, sardonically. "Unfortunately, we are not there yet."
Go deeper