Updated Feb 2, 2018 -

World
How cryptocurrencies are being used to evade sanctions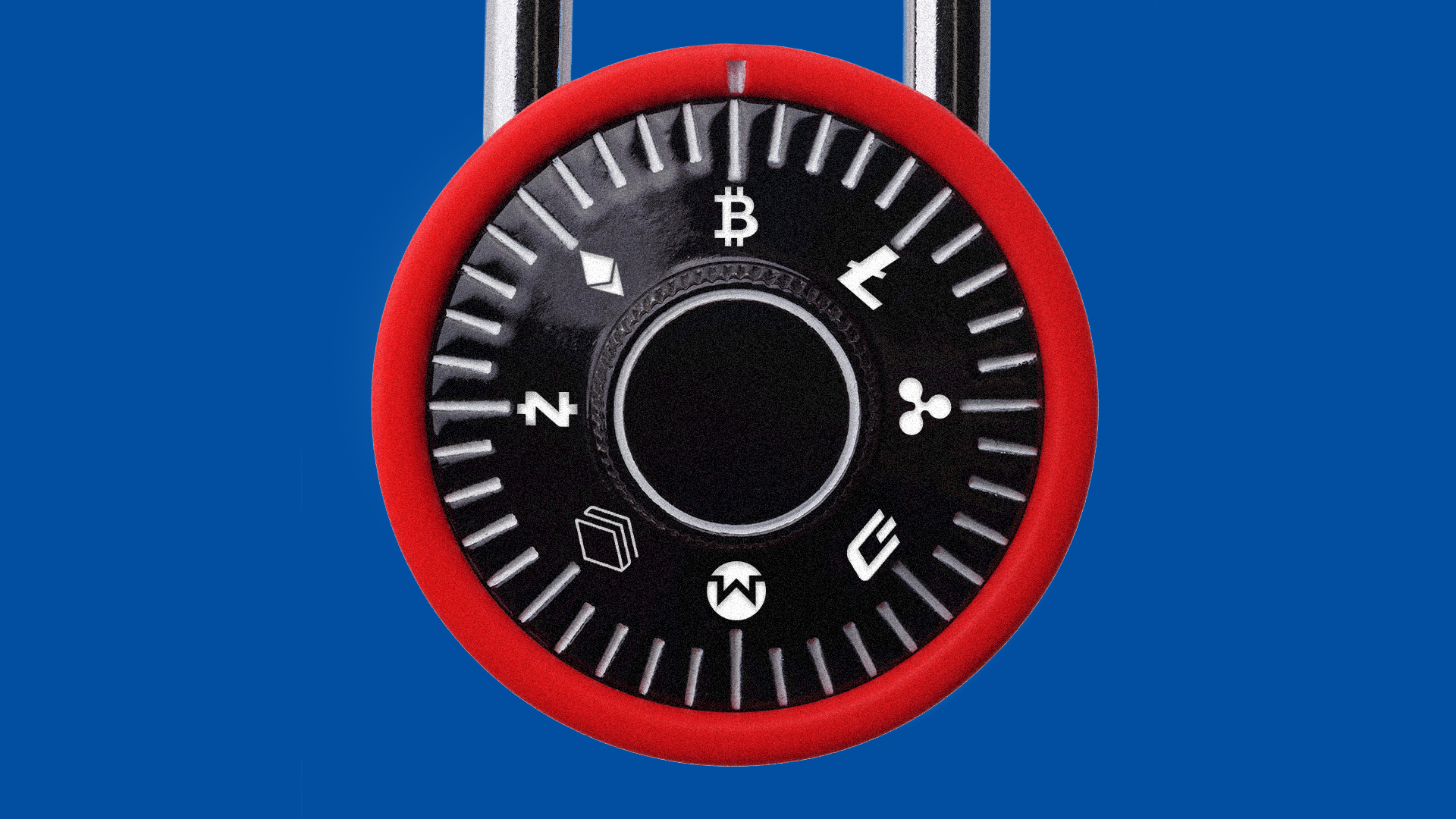 Foreign governments have found a new use for cryptocurrencies: Dodging international sanctions.
Why it matters: There is a dark side to digital currencies, and rogue regimes like North Korea are already exploiting it.
How it works: Cryptocurrency "provides a way for sanctions evasion for countries because of anonymity and plausible deniability" in the way they're transferred, Kenneth Geers, a cyber policy expert and former National Security Agency official, told Axios. "That allows for buying and selling across borders with very little oversight."
Bad actors can hack cryptocurrencies, effectively stealing money without much of as digital trace.
They also can stealthily use cryptocurrencies to launder money.
In both cases, regulators are behind the curve and, even once they get up to speed, the decentralized nature of crypto makes such action difficult to stop.
The impact: These funds could back North Korea's nuclear weapons and missile testing programs. In Russia, they could support a regime that is believed to have interfered in the U.S. election and in other countries' political systems. And for Venezuela, they could help a dictatorship that has abused anti-government protesters and deprived citizens of economic opportunity.
Driving the news:
North Korea has been targeting South Korean cryptocurrency exchanges with the suspected intent of stealing funds, according to cybersecurity firm FireEye. One successful breach has occurred.
An advisor to Russian President Vladimir Putin recently said using cryptocurrencies and creating a "cryptorouble" could help Russia bypass sanctions, per FT. Russia indicated it would look to regulate it.
Venezuela announced this week it will have a pre-sale next month on its "petro" cryptocurrency, which the government has said will help it evade sanctions, per Reuters.
How cryptocurrencies can mask illicit activities:
They function across borders and can be moved quickly.
They're pseudo-anonymous, meaning transactions are traceable but it's not always obvious who is part of them. They can provide plausible deniability.
They're not linked to a government backer, unlike other currencies.
They can be converted to cash, and some cryptocurrencies, such as monero, are even more private than others.
The regulatory landscape is full of holes right now.
Where it stands:
A top Treasury Department official, Sigal Mandelker, last week urged nations around the world to increase oversight of cryptocurrencies to avoid digital currencies being used for criminal activities, per the AP.
Japan and Australia both regulate cryptocurrencies, while regulators in Asia struggle to keep up with the boom, the AP reports.
South Korea and Europe are working on developing cryptocurrency regulation.
The challenges for regulators:
The pace: As soon as bitcoin is addressed in regulation, there will be other cryptocurrencies to get used to, per Geers. Governments will have to "adapt or risk losing out to the future," but it's going to be "a challenge for nations to stay on top" of the innovation, he said.
The risk is over-regulating and hampering innovation.
What to watch:
"I think we're going to see more countries like Russia and Venezuela try this with limited success. I don't think they have the capacity to pull this off" technically, said Nick Martin, founder and CEO of TechChange.
Permissioned blockchain — which requires users to be invited to the ledger for digital currency transactions — could prevent sanctioned entities from participating in cryptocurrency exchanges, said Cindy Vestergaard, a senior associate at Stimson and a former senior policy advisor at the Foreign Ministry of Canada. That's unlike public blockchain, which lacks restrictions on who can access it. (Go deeper on this difference with IBM.)
The bottom line: The ways that sanctions are designed and issued right now aren't keeping up with the advent of cryptocurrencies and related innovation, and that may have to change if sanctions packages are to be effective.
Go deeper