Regional conflict is keeping Pakistan from eradicating polio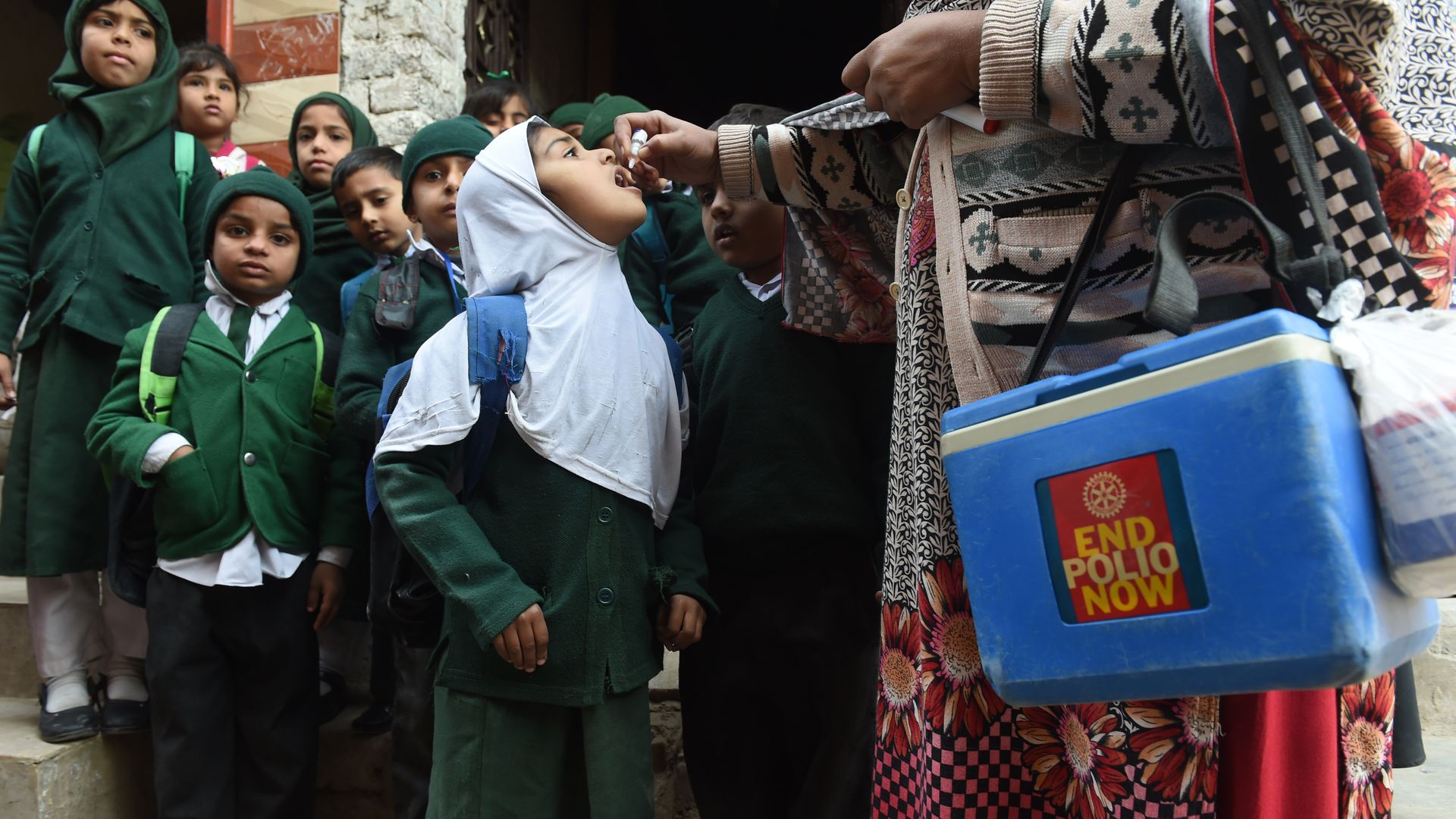 In recent years, polio cases were 73% more common in areas of Pakistan experiencing insecurity from conflict, and vaccination rates were about 5% lower during those periods, according to a new study.
Why it matters: Pakistan is one of only three countries that hasn't eradicated the virus, and insecurity is often cited as a reason.
"[B]ut the science to support this claim was surprisingly weak," study author Amol Verma from the University of Toronto tells Axios. "Our study provides strong scientific evidence that insecurity is an important obstacle to polio eradication in Pakistan, which is one of the last reservoirs of polio in the world."
What's happening: The poliovirus was deemed a "public health emergency of international concern" by the World Health Organization. There were just 8 reported cases in Pakistan last year but the virus is still being detected in the environment.
The study: Researchers examined monthly data on the incidence of polio in 32 districts in northwest Pakistan from 2007 to 2014 — and the rate of vaccination from 2007 to 2009 — and compared it to terrorist attacks and other conflict-related event statistics. Their findings:
1. One of the primary factors linking reduced vaccination rates and insecurity is restricted access for health workers administering vaccinations.
2. Districts are not "uniformly secure or insecure," they write; the high and low insecurity that vaccination campaigns encounter can fluctuate. But per the study, campaigns in the midst of high insecurity have 5.3% lower vaccination rates than those during what were considered secure periods.
"Even though it's only a 5 percent reduction in vaccination rates, that is enough to allow the virus to continue to be circulated and transmitted."
— Verma told
Voice of America
3. Insecurity can have lasting effects. The researchers note that "vaccination rates were reduced in campaigns up to 12 [months] after security incidents."
The limitations: The researchers studied incidents by district, and the last census of the area was taken in 1998. A supplementary analysis was done using the government's 2013 population projection and the researchers report the "main findings were unchanged."
Additionally, the study didn't look at targeted attacks on public health workers trying to vaccinate children. The researchers wrote that while reports including this data exist, they're so far unreliable.
Go deeper