White House announces special guests for State of Union address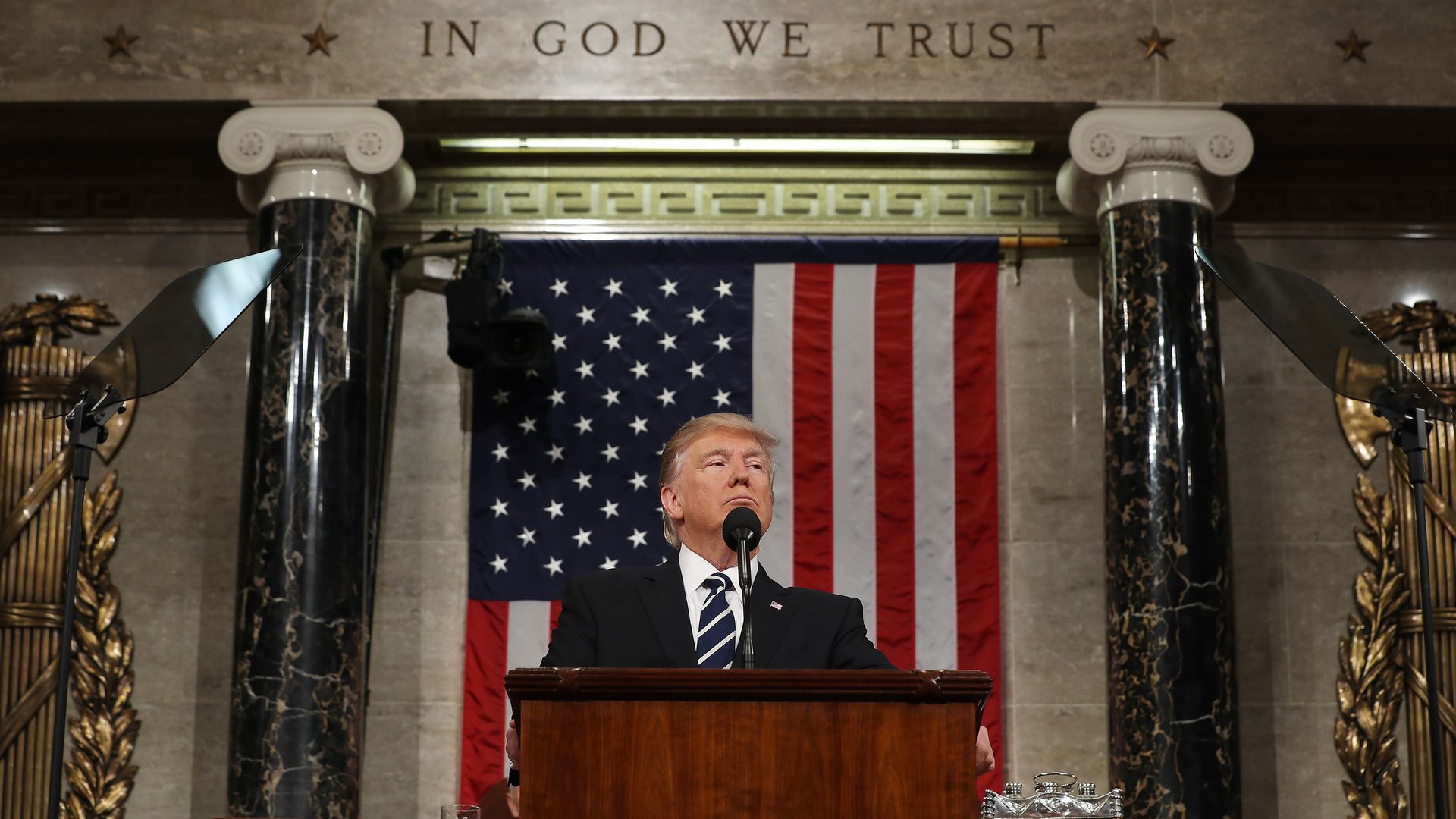 The special guests for President Trump's first State of the Union address will be seated with the First Lady and range from the parents of teenage girls murdered by MS-13 to the first blind double amputee to reenlist in the Marine Corps after being wounded at war.
Why it matters: As Jonathan Swan pointed out in his Sneak Peek newsletter Sunday, the most moving part of Trump's speech to Congress last February was when he spoke directly to the widow of Navy SEAL William "Ryan" Owens, who was seated in the House gallery. The moment resulted in a two-minute standing ovation. Look for a similar show tomorrow night.
The White House's special guests:
Corey Adams,

a skilled welder at Staub Manufacturing Solutions in Dayton, Ohio became a first-time homeowner in 2017. Adams and his wife will invest their extra money from tax reform into their two daughters' education savings.
Elizabeth Alvarado, Robert Mickens, Evelyn Rodriguez and Freddy Cuevas are the parents of Nisa Mickens and Kayla Cuevas, who were murdered by MS-13 in 2016.

Corporal Matthew Bradford

(Ret.)

joined the U.S. Marine Corps out of high school and deployed to Iraq in 2006. In 2007, he stepped on an improvised explosive device that left him blind and took both of his legs. After multiple surgeries and therapy, Matthew reenlisted in the Marine Corps – the first blind, double amputee to do so.

Jon Bridgers

founded the Cajun Navy, a non-profit rescue and recovery organization to respond to flooding in south Louisiana. In 2017, the Cajun Navy helped provide aid to those in Texas affected by Hurricane Harvey.

David Dahlberg,

a fire prevention technician in southern California saved 62 children and staff members from a raging wildfire that had encircled their camp in July 2017.
Officer Ryan Holets from Albuquerque, New Mexico, and his wife adopted a baby from parents who suffered from opioid addiction.

Ashlee Leppert,

an aviation electronics technician in the U.S. Coast Guard rescued dozens of Americans during the 2017 hurricane season.

Agent Celestino "CJ" Martinez,

a Supervisory Special Agent for the Immigration and Customs Enforcement's Homeland Security Investigations unit, has spent much of his 15-year tenure working to dismantle transnational criminal organizations. His investigations have led to more than 100 arrests of MS-13 gang members.
Staff Sergeant Justin Peck, who served in the U.S. Army for eight years, helped clear IEDs from territory previously controlled by ISIS in Syria. During on mission, he saved a colleague's life by going into an uncleared, IED-ridden room and applying a tourniquet, placing an endotracheal tube and conducting CPR.

Preston Sharp

has organized the placement of more than 40,000 American flags and red carnations on soldiers' graves as part of his goal to honor veterans in all 50 states.

Siblings Steve Staub and Sandy Keplinger

started Staub Manufacturing Solutions, a contract manufacturing company specializing in metal fabrication, twenty years ago. 'Thanks to the 'Trump bump" in their business, Staub Manufacturing Solutions has seen an uptick in sales, employment, and optimism," the White House writes. "Following enactment of the tax cuts and reform legislation last year, they were able to give all their employees larger than expected Christmas bonuses."
Go deeper