The latest in Putin's sphere of influence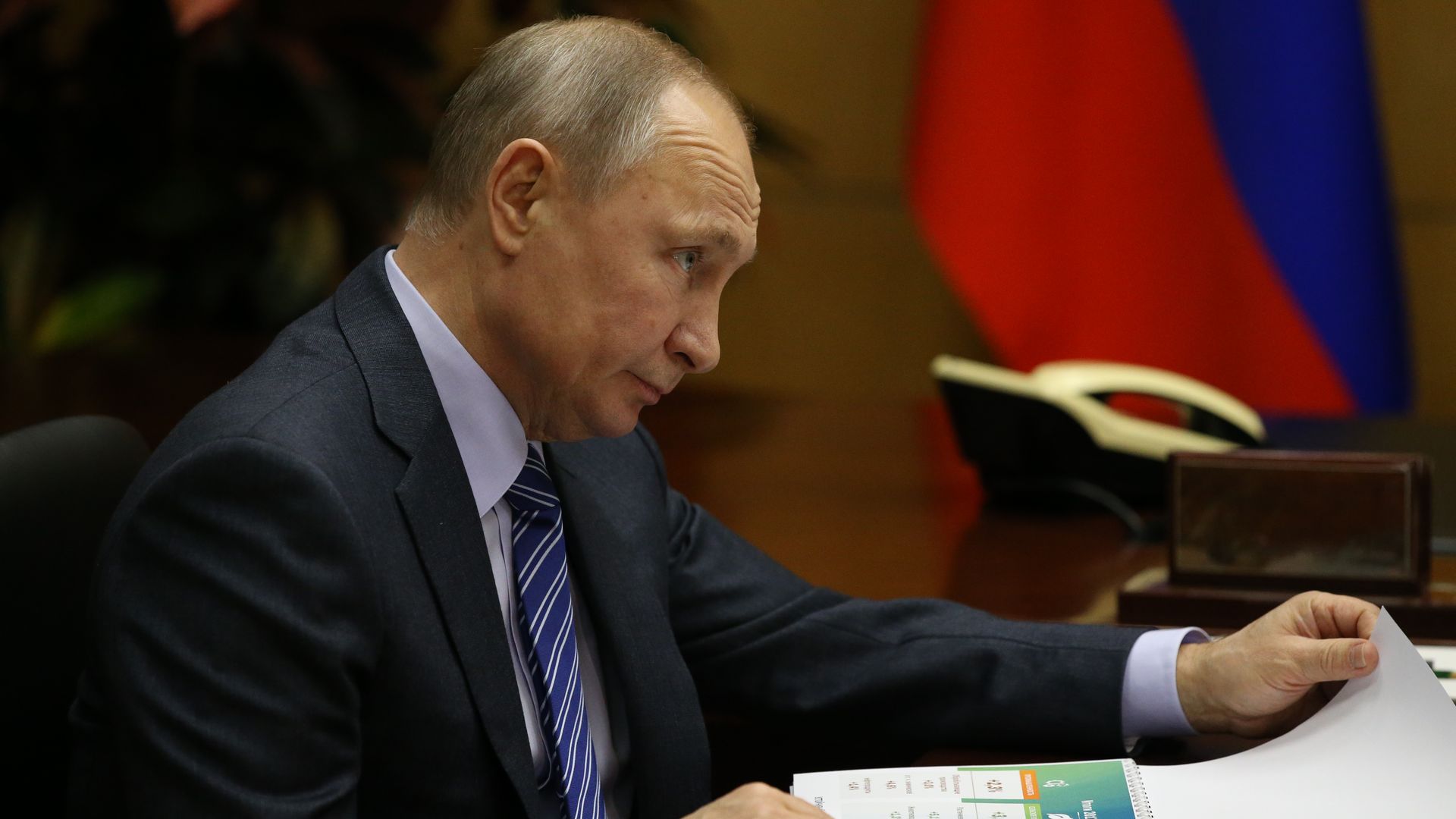 Events this weekend in Russian President Vladimir Putin's sphere of influence serve as a reminder his power: a top political opponent was arrested, an ally in the Czech Republic won re-election, and the leader of Crimea reiterated support for its links with Russia.
Big picture: Each of these instances shows Putin's reach within his own government as well as his ability to exert power in eastern Europe. These are just a few ways Putin counters western influences in eastern Europe, or, what Russia sees as its rightful cultural and historical territory.
Putin's main political opponent, Alexei Navalny, was arrested again during anti-election protests this weekend in Russia. Navalny called for the protests against the elections last month when he was banned from running for a previous conviction he says was bogus.

Why it matters: Navalany would have been Putin's only serious contender in the March elections. In 2013 Navalny secured nearly one-third of the vote. If Putin wins, and he almost certainly will, he could be in office until 2024. He's been serving as either prime minister or president since 2000.

The pro-Putin president of the Czech Republic, Milos Zeman, won re-election this Saturday, FT reports. Zeman is a critic of Muslim immigration, was an early supporter of Donald Trump, has called for an end of EU sanctions on Russia, and has proposed a referendum on the Czech Republic leaving the EU.

Why it matters: Zeman won out against his political opponent, newcomer Jiri Drahos, who supported improving ties with NATO. This is a win for Putin's interest in maintaining and enhancing his influence in eastern Europe. This also demonstrates how immigration issues continue to be key in European political campaign messaging.

The leader of Crimea, Sergei Aksyonov, said it's "returned to Russia forever," per NPR's Lucian Kim. "Crimea will never return to Ukraine, and it's senseless to set any conditions to that end."
Aksyonov said "Anyone who advocates resistance" to Crimea's link with Russia "is advocating bloodshed; of course we can't accept that and will react."
Why it matters: Russia annexed Crimea in 2014, a move which the U.S. doesn't recognize. Aksyonov oversaw the referendum in favor of the annexation, a referendum that was ultimately deemed illegal by many world powers including the U.S. "There's an atmosphere of fear to say what you really think," Nariman Dzhelalov, a leader of the Crimean Tatar minority, told NPR. "Only that small group of people who are completely in love with Putin feels comfortable saying what they think."
Go deeper