Early testing of new blood cancer screening shows some promise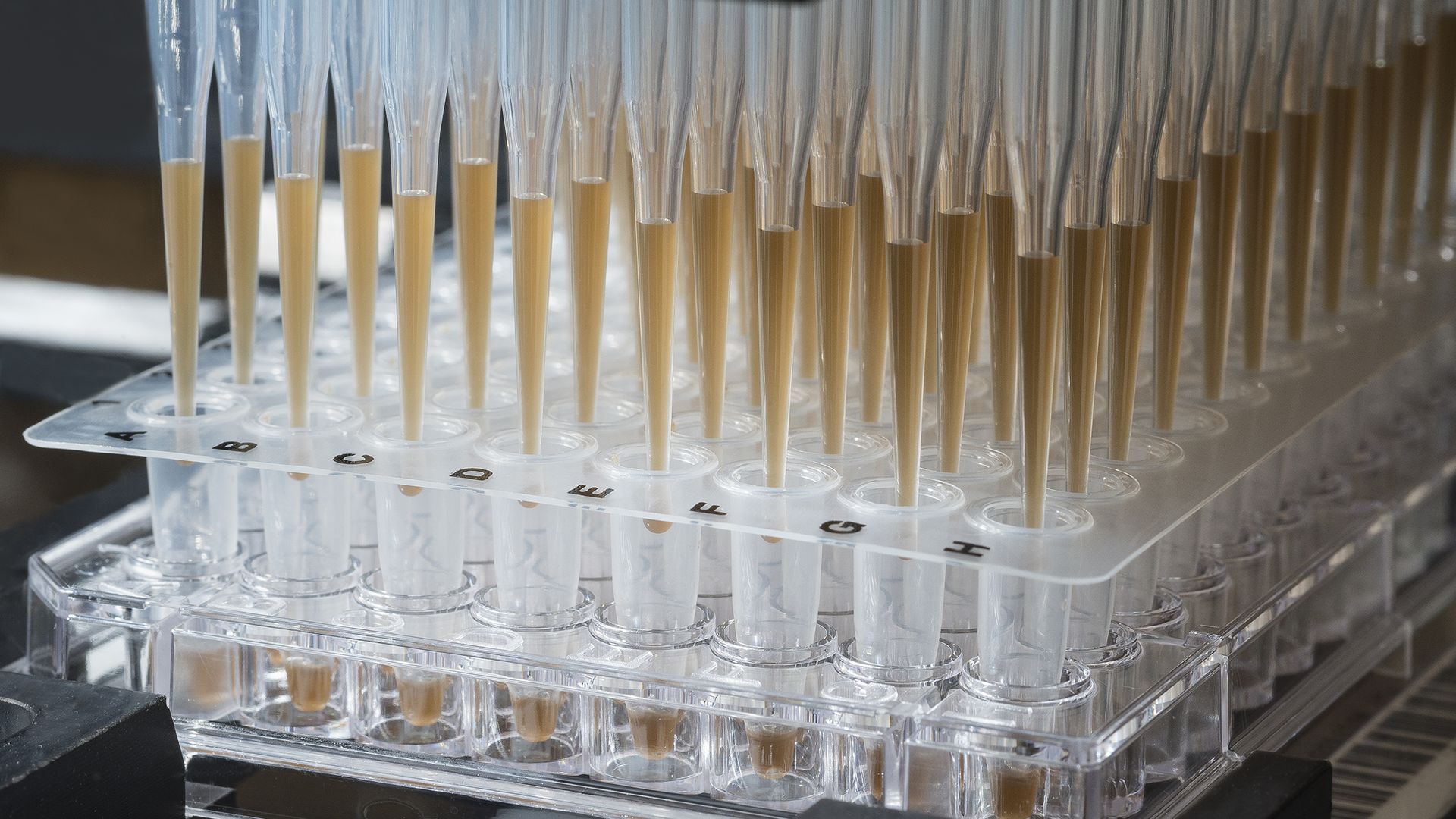 Scientists announced Thursday in the journal Science that they've developed a highly specific blood test that screens for 8 common cancer types, helps identify the location of the cancer, and is expected to cost about $500.
Why it matters: The research community is searching for a non-invasive way to screen for cancer but has faced huge problems of high costs and false positives — which can cause a patient unnecessary testing and anxiety.
Yes, but: The study was conducted in a relatively small number of cancer patients. Some scientists believe the high specificity and sensitivity rates of the CancerSEEK test may drop in a larger patient group and say they will be watching the results from a larger trial expected in about 18 months.
"The key is to find [cancer tumors] early," says study author Nickolas Papadopoulos of the Johns Hopkins Kimmel Cancer Center. "Then the [treatment] therapeutics will work better, the surgeries will work better."
The study details: Over several years, the team tested 1,005 cancer patients (with stage I to III cancers that had not metastasized) and 812 healthy people to assess mutations in cancer genes and circulating proteins that tend to indicate cancer.
They focused on segments of 16 cancer genes and 8 protein biomarkers in an effort to increase the sensitivity and specificity and lower the cost of sequencing.
They then developed an algorithm that analyzes specific protein and genetic mutations to help narrow down the body location of the cancers.
Of the 8 cancers (ovary, liver, stomach, pancreas, esophagus, colorectum, lung and breast) in the test, 5 of them do not yet have any screening test. These cancers account for roughly 60% of all cancer deaths in the U.S.
What they found: The team detected cancer with a sensitivity of 69%–98%, depending on the cancer, and showed a 99% specificity meaning there were few false positives.
Less than 1%, (or 7 out of 812) of the healthy controls had a false positive.
The algorithm was able to locate the source of the cancer to two sites in the body in 83% of these patients, and to a single organ in 63% of the patients.
Study limitations: Theodora Ross, director of UT Southwestern Medical Center's Cancer Genetics Program who was not part of this study, says the paper has "an intriguing idea to combine distinct [protein and ctDNA] assays to increase sensitivity without losing specificity" but the patient cohort presents limitations.
Ross says the patients should not include Stage III cancer patients, particularly for ovarian cancer patients who often have protein biomarkers that are easier to detect and can skew the sensitivity results of blood tests.
A big challenge: H. Gilbert Welch, a professor at The Dartmouth Institute who also was not part of the study, says one of the real challenges of blood biopsies, is that once you get a false positive, doctors do not know when to stop looking for the elusive cancer.
"How do we put it to bed that we don't have cancer, once people have a positive [but false] liquid biopsy," Welch says.
What's next: Papadopoulos says they have started Phase A trial of 10,000 patients. This is part of a $50 million, 5-year study of up to 50,000 women being funded by philanthropic group The Marcus Foundation, Science magazine reports.
Go deeper