The state of John Kelly: How Trumpworld views him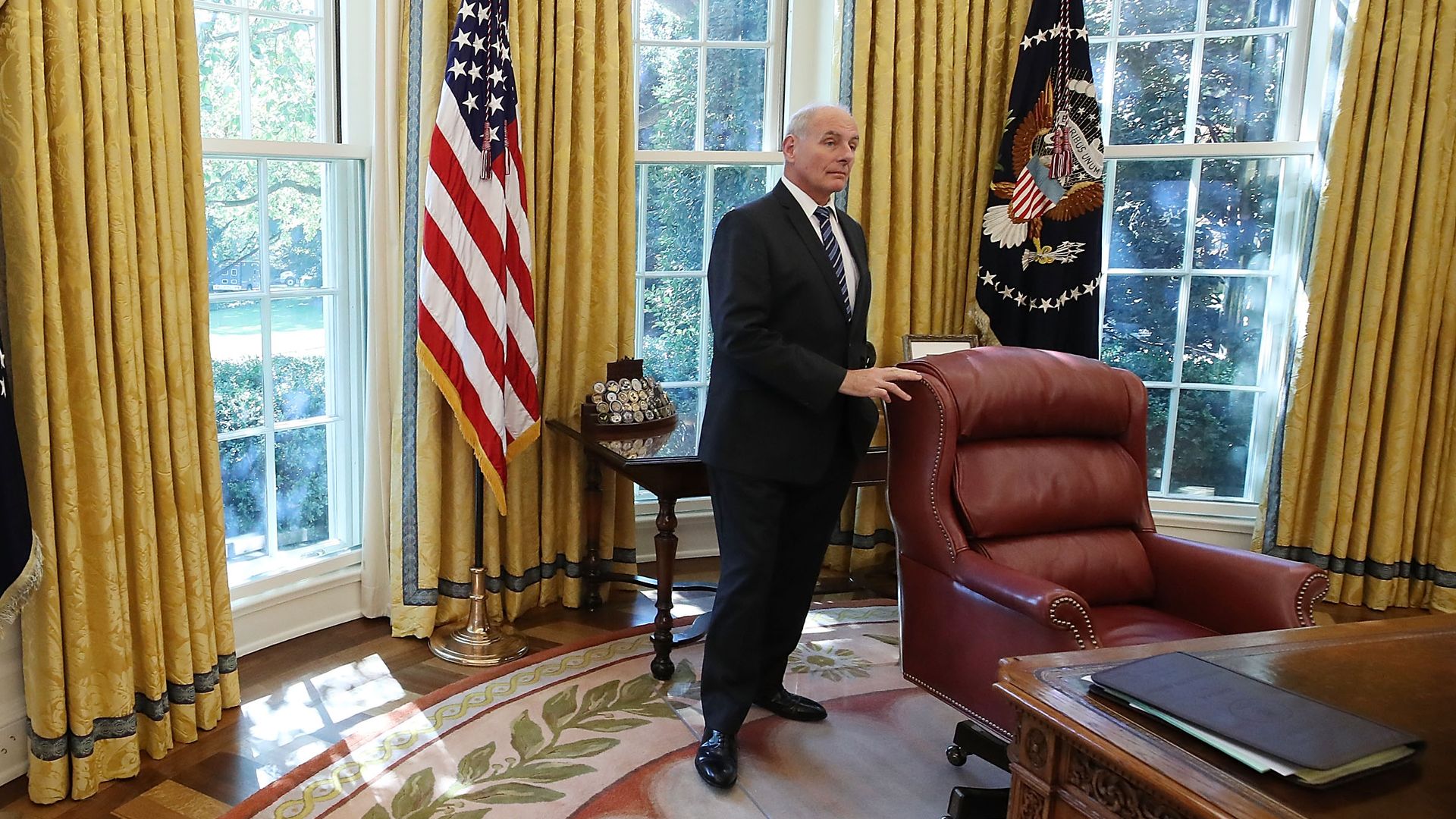 Here's the picture I've formed of White House Chief of Staff John Kelly, based on dozens of conversations over the past weeks with senior officials in the Trump administration.
Why it matters: In his 5 months as chief of staff, Kelly has successfully brought a measure of control to the West Wing but has failed to build deep alliances among much of the senior staff. Last night's interview on Fox News — where he publicly undercut Trump — provoked the president's first open break with his chief. 
He's universally admired for his service and was bestowed a level of deference and singular power that former chief of staff Reince Priebus could've only dreamed of.
He dramatically cut down everyone's access to President Trump. This irritated and alienated not only some key staffers but, increasingly, Trump himself. Trump loves — and thrives on — constant interaction and feedback. He's always informally polling people, asking whoever is in his company what they think of the issue of the day, whether it be a policy decision, or more frequently, whatever topic is dominating cable TV. 
Kelly can be short-tempered and is ruthless about keeping aides in their policy lane. National security advisers must stick to advising Trump about national security. Economic advisers shouldn't opine on anything beyond their specific remit. That's created a far more streamlined and orderly process.
But it's not how Trump likes to operate. This is a president who consulted his Interior Secretary Ryan Zinke — a former SEAL — about what his Afghanistan war strategy should look like. This is a president who had economic advisers Gary Cohn, Steven Mnuchin, and Wilbur Ross in the room — and asked all of them for their opinion — when he was planning his Syrian missile strike. 
A number of administration officials believe Kelly has woeful political instincts; they say he has disdain for political tactics, contempt for members of Congress, and overestimates his own ability to — as Kelly puts it to them — "work the Hill."
"He's maintained control and support because Trump empowered him, but also because people were deferential to an American hero," a senior administration official told me.
"But ultimately this workplace, like any, depends on building relationships and alliances to succeed. And Kelly has not built strong personal alliances with much of the senior staff."
Go deeper