Report: Trump wants to build up our nuclear stockpile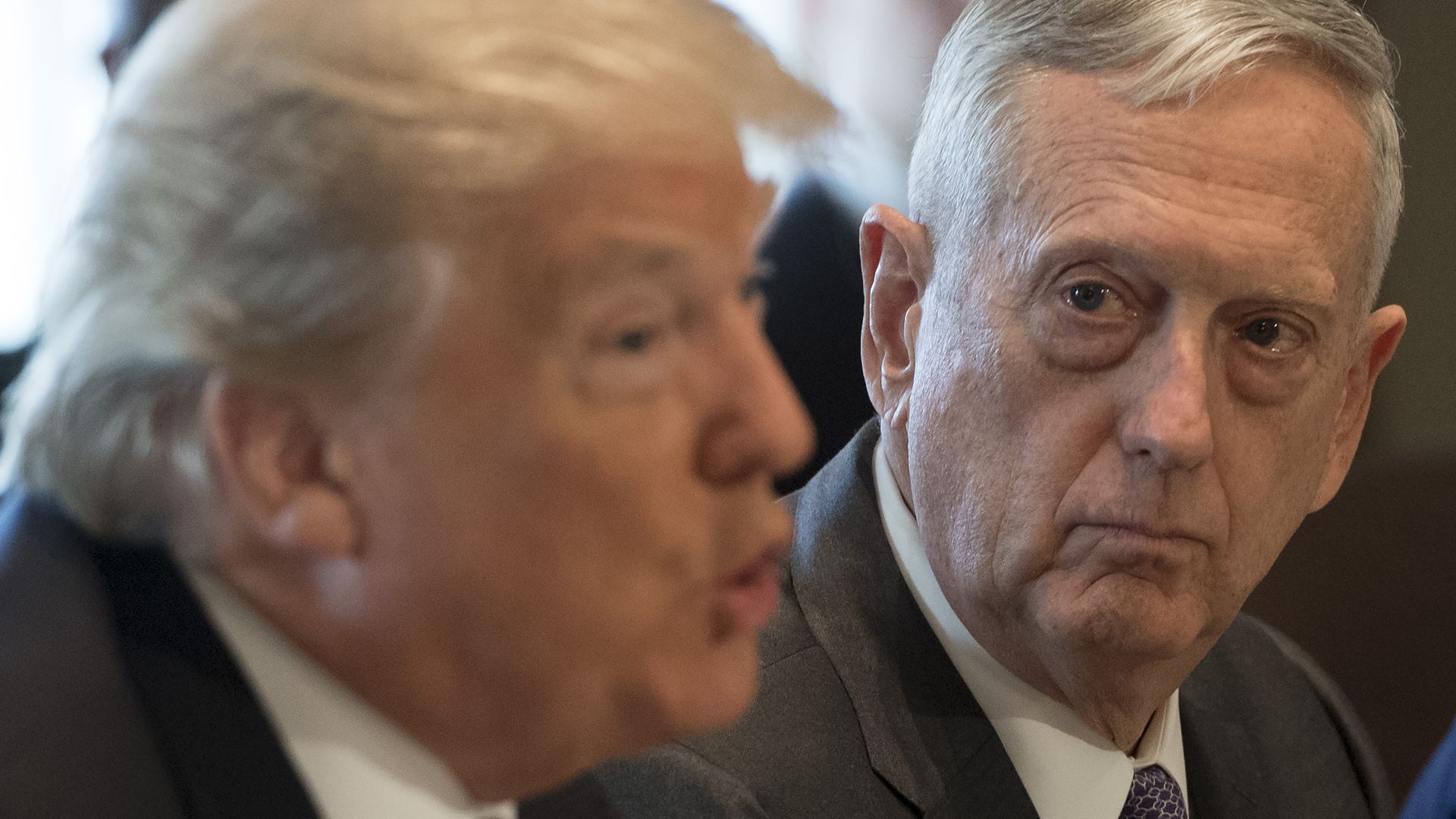 The Huffington Post obtained a pre-decisional draft of the Trump administration's 2018 Nuclear Posture Review (NPR), in which the Department of Defense calls for development of more nuclear warheads.
"The United States remains committed to its efforts in support of the ultimate global elimination of nuclear, biological, and chemical weapons...Nevertheless, global threat conditions have worsened markedly since the most recent 2010 NPR...The United States now faces a more diverse and advanced nuclear-threat environment than ever before."
— Excerpt from the the 2018 NPR draft
Why it matters: Former administrations have reduced the nuclear arsenal. President George W. Bush cut it by half, per the NYT, and his father reduced it by 41%. President Obama said that the U.S. was committed "to seek the peace and security of a world without nuclear weapons," although the Times reports he cut our supply "less than any other post-Cold War presidency."
Highlights from the NPR draft:
The DOD calls for development of "low-yield nuclear weapons." Per HuffPo, having low-yield warheads ensures "other countries...that we'd actually use nuclear force," whereas having only nukes that are "too big and too deadly to ever use" is a form of self-deterrence. But, the U.S. already has "over 1,000 nuclear warheads...with low-yield options," HuffPo reports.
This low-yield weapons initiative is reversing the 2010 NPR, which "essentially removed one tactical low-yield weapon from our arsenal," per the Post.
Intercontinental ballistic missiles "are not on 'hair-trigger alert,'" the DOD writes, and any ICBM use will "follow a deliberative process."
U.S. commitment to NATO is reassured: "A strong, cohesive nuclear Alliance is the most effective means of deterring aggression and promoting peace and stability."
Derek Johnson, the executive director of anti-nuclear group Ground Zero said: "Trump's plan to develop so-called 'low-yield' nuclear weapons and loosen restrictions on their use is a dramatic departure from long-standing U.S. policy that makes nuclear war more likely. The world is about to get a whole lot more dangerous."
But, Defense Secretary Mattis writes in the NPR: "The United States is not turning away from its long-held arms control, non-proliferation, and nuclear security objectives. Our commitment to the goals of the Treaty on the Non-Proliferation of Nuclear Weapons (NPT) remains strong."
The Pentagon released a statement saying the NPR "has not been completed and will ultimately be reviewed and approved by the President and the Secretary of Defense. As a general practice, we do not discuss pre-decisional, draft copies of strategies and reviews."
Go deeper