Trump to continue waiving Iran nuclear deal sanctions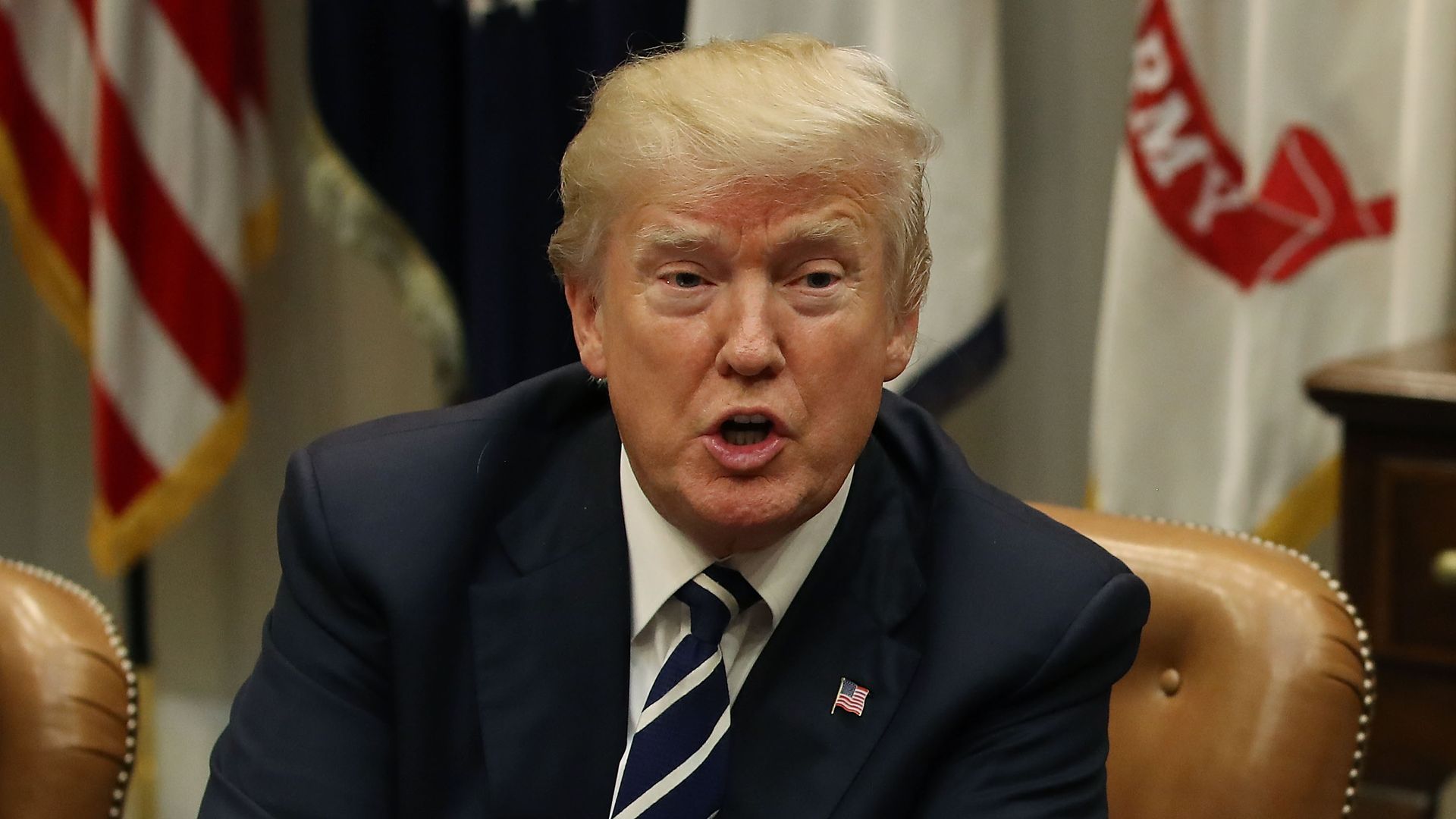 The Trump administration has decided to continue waiving sanctions as they relate to the 2015 Iran nuclear deal — but the president will "make clear this is the last waiver he will issue," one senior administration official told reporters in a briefing Friday.
Why it matters: This effectively keeps the U.S. in the Iran deal, for now, and goes against Trump's threats last year that he would cancel the nuclear deal.
The Treasury will also be issuing new targeted sanctions on 14 individuals and entities relating to human rights, as well as its ballistic missile program and the IRGC. Sanctions will, in particular, target the head of Iran's judiciary. These sanctions may inflame tensions in the region despite the fact that Trump is waiving economic sanctions related to the deal.
Trump still has until Saturday to determine whether he will certify Iran's compliance in the deal. Trump decided last October he would not certify Iran's compliance.
Catch up quick: The nuclear deal waived economic sanctions on Iran in 2015 in exchange for Iran easing up on its nuclear ambitions.
Why it might make sense that he is waiving the sanctions: His national security team was working to convince him this week to waive them, as we reported earlier this week. Experts say if he reimposed sanctions on Iran it would take away from the antigovernment protests in Iran.
Next: Trump intends to work with European partners to the nuclear deal for a "follow-on agreement" about limits for Iran's participation in the deal, per one senior administration official. These will be related to inspections and sunset clauses for the deal, some of which are set to expire in 2020, with other sunsets kicking in in 2023.
"The Trump administration faces a huge challenge in getting European allies to strengthen the JCPOA. While Britain may move to support the US on this, Germany and France are likely to be strongly opposed," said Nile Gardiner, director of the Thatcher Center for Freedom.
Senator Ben Cardin, Ranking Member of the Senate Foreign Relations Committee, said in a statement: "Congress, the President, and our European partners must remain open to constructive discussions on how to counter the Iranian threat without violating the JCPOA. Instead of leading an international negotiation on the agreement himself, however, the President's statement making threats and dictating final terms of potential negotiations with Congress and Europe makes it more challenging to achieve this objective."
Trump has a few demands for Congress as they work out legislative fixes to the Iran Nuclear Agreement Review Act (INARA), per the senior administration officials on the call:
That legislation mandate Iran allow timely, sufficient inspection at all sites from international inspectors.
That legislation ensure Iran does not come close to possessing a nuclear weapon, with close to a 1-year breakout timeline.
That legislation must address sunset flaws by allowing U.S. to snap back sanctions.
That legislation must state explicitly in U.S. law for the first time that we view Iran nuclear programs as unacceptable.
Go deeper: How the Iranian protests might affect Trump's decisions on Iran
Go deeper