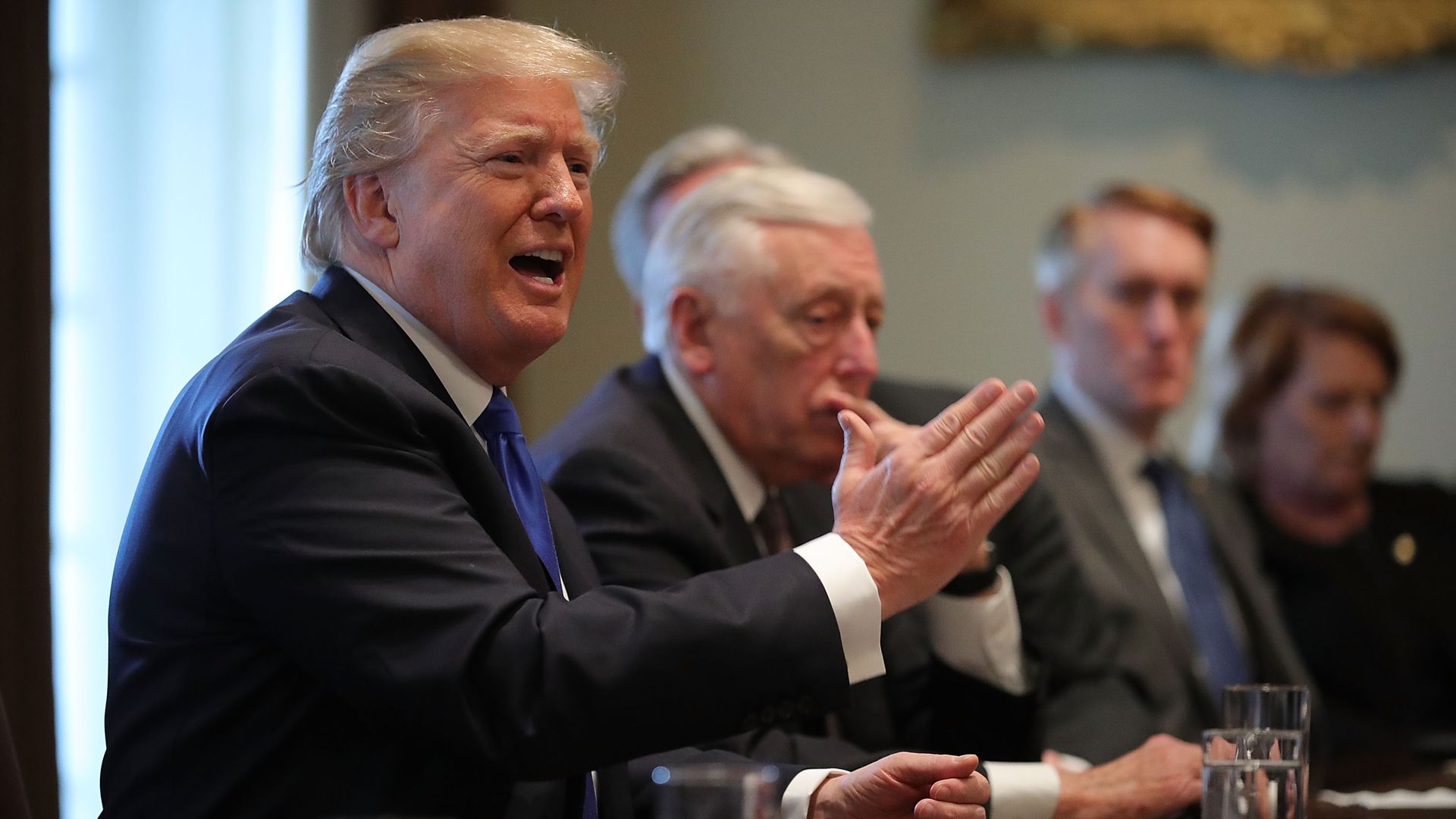 President Trump enjoyed yesterday's episode of "The Trump Show": He played the president he sometimes fantasizes being — a post-partisan leader, bigger than Republican or Democrat, a celebrity dealmaker with no firm attachments, who'd overwhelm Washington through the sheer strength of statecraft and deal-cutting genius. A real Davos man. P.T. Barnum with a pulpit. 
His presidency hasn't lived up to that vision. Trump's victories have been partisan victories — unwinding regulations, appointing conservative judges, withdrawing from the Paris climate deal, passing a Republican tax bill and repealing the cornerstone of Obamacare. 
But Trump yesterday showed the side we often hear about from behind closed doors:
He opened an immigration negotiation session to reporters for 54 minutes. During the meeting, he floated that he wanted a comprehensive immigration deal — something that scares the living daylights out of the right wing of his party. (N.Y. Times lead story: "Trump Receptive to Working Out Citizenship Path ... 'I'll Take the Heat,' He Says, Seeming to Back a Broader Deal.")
He lamented about how the two parties don't get along, and can't cut deals like they did in the good old days.
He said that maybe Congress should bring back earmarks — a.k.a. "pork" — another Republican apostasy.
We learned that he'll attend Davos — the clubby globalist conference in Switzerland (60 heads of state or government, plus top CEOs and over 1,000 leaders from civil society, academia and media).
Why this matters: When Trump is in these moods, he's at his most unpredictable (and therefore most dangerous, in the eyes of Republican leaders.)
Trump is in the middle of high stakes negotiations to avoid a government shutdown, and his lack of attachment to any ideology or principles means he could easily veer into Chuck and Nancy's arms.
Go deeper