Decision to back off Florida drilling plan makes waves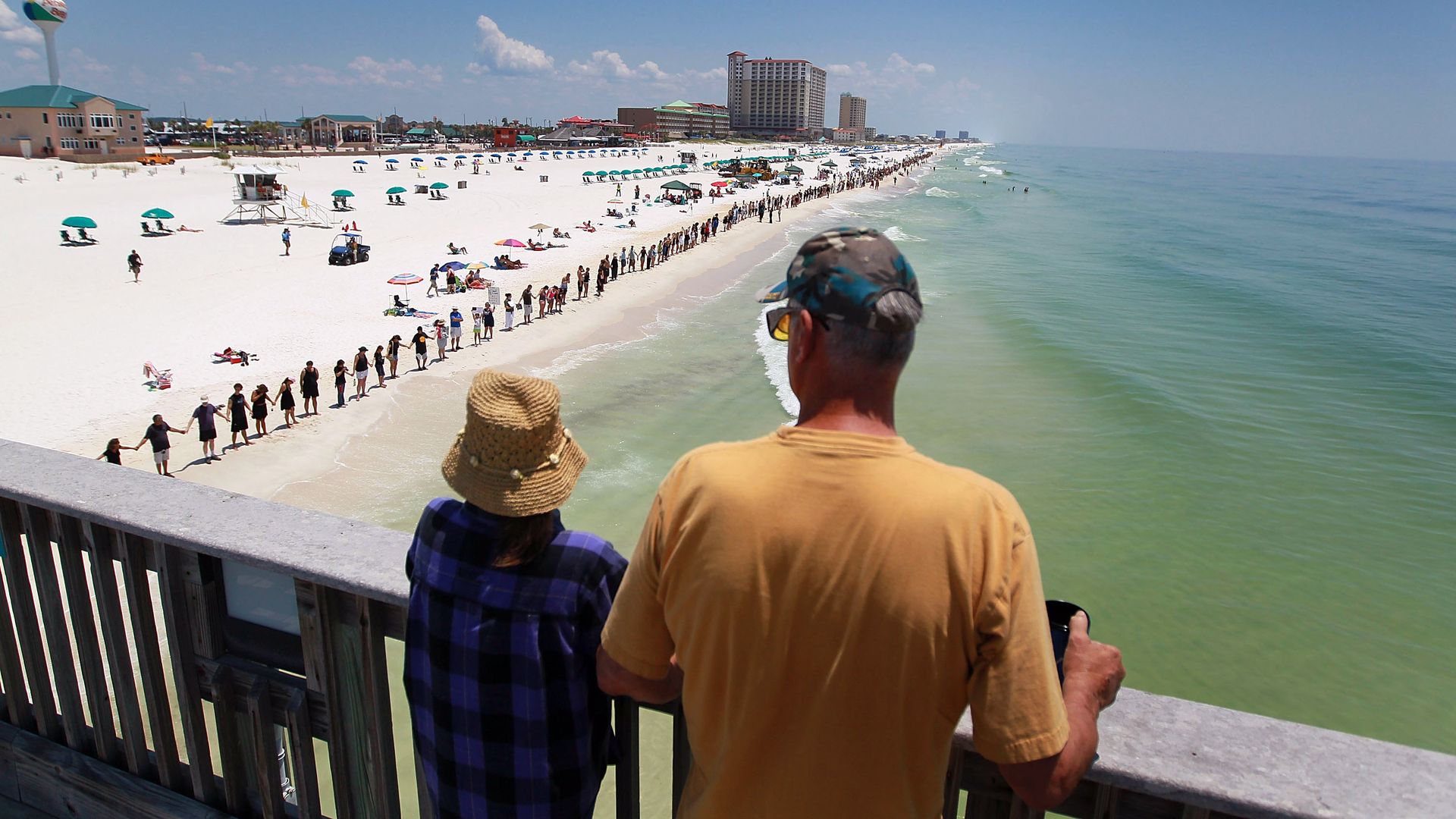 Interior Secretary Ryan Zinke's decision late yesterday to remove all of Florida from the agency's new offshore oil-and-gas leasing plan is immediately roiling the politics — and may complicate the legal future — of the sweeping proposal.
Why it matters: This announcement, which followed a meeting with GOP Florida Gov. Rick Scott, happened as the ink was still drying on the Trump administration's draft plan released last week. It takes away all of an area — the eastern Gulf of Mexico off Florida — that the industry has long had interest in exploring. And, some say it was decided rather arbitrarily and could become part of expected legal battles over the plan.
The politics: Some narrowing of the plan wasn't unexpected. The draft plan's wide scope lets the administration expand industry's access while giving some anti-drilling coastal Republicans political wins by removing areas as it's refined in the bureaucratic process.
Zinke said he made the decision because Florida is "unique" and heavily tourism-reliant. Nonetheless, critics yesterday were quick to allege political motives, given that Scott is weighing a Senate run against Democrat Bill Nelson, who called it a "political stunt" to aid the governor, via Twitter.
Immediate reaction from other states: Already, multiple Democratic governors and officials have called for similar concessions.
"We'd like a word in Virginia," says the state's Democratic Governor-elect Ralph Northam to Zinke via Twitter.
"Where do we sign up for a waiver," tweeted New York Gov. Andrew Cuomo.
California Attorney General Xavier Becerra also tweeted that under Zinke's rationale for removing Florida, his state's coast also should be removed.
One big question that emerged last night is whether the immediate concession to Scott could create any legal headaches once the plan is finalized in a year or so and inevitable litigation by drilling opponents follows.
The answer, based on some immediate reactions, is yes.
In a short note Wednesday morning, the firm Height Securities writes:
"Unfortunately for Zinke, his process needs to be significantly more transparent if his offshore leasing plan is to have any chance of advancing and surviving the inevitable legal challenges."
David Hayes, who runs the State Energy & Environmental Impact Center at NYU and was Obama's deputy secretary of Interior, says:
"Zinke's summary dismissal of Florida from the draft offshore proposal should have his lawyers cringing. It smacks of an impulsive, undisciplined, arbitrary process."
Hayes, whose group helps state attorneys general opposing Trump administration regulatory policies, notes that the Outer Continental Shelf Lands Act dictates that decisions on where to lease should be "informed by broad-based public input and a thorough environmental review. "
"Obviously, none of that happened here," he says.
Southern California Democratic Rep. Ted Lieu, an attorney who opposes the proposal to allow new Pacific coast exploration, says via Twitter that Interior's quick removal of Florida, but not California, "violates the legal standard of arbitrary and capricious agency action."
What's next: Litigation was expected to happen regardless once the plan is complete, and the detailed bureaucratic process gives Interior a way to add a more refined defense of the Florida decision.
But the episode underscores the tricky politics of the topic, and looking forward, coastal officials from both parties who oppose drilling and whose states have lots of tourism can say they deserve the same treatment.
Editor's note: This story has been updated with further news.
Go deeper