Axios Generate
January 05, 2018
Happy Friday! Today marks the 45th anniversary of the release of Bruce Springsteen's first album "Greetings from Asbury Park, N.J." Have a great weekend, even if you can't take month-long vacations in the stratosphere...
Making sense of Trump's big offshore drilling push, part 1
Let's explore the political future of the Interior Department proposal to massively expand areas made available for offshore drilling...
ICYMI: Yesterday, Interior issued a draft plan for lease sales between 2019–2024 that would open up the Pacific and Atlantic Coasts, the eastern Gulf of Mexico, and revive leasing in Arctic waters off Alaska that may contain massive hydrocarbon resources.
Thought bubble: There's been lots of initial focus on the clash between President Trump and GOP officials in Florida, Maryland and some other coastal states who opposes drilling.
But politically, this could ultimately be a feature, not a bug for Republicans. As the sweeping proposal is narrowed during the lengthy bureaucratic process for the plan and subsequent sales, these GOP officials can score political wins by having some regions kept off-limits, while the administration is still able to massively expand areas opened to drilling.
One place to watch that dynamic is the eastern Gulf of Mexico, which under current law is off-limits until 2022, but the new plan envisions lease sales there in 2023 and 2024.
Clearview Energy Partners, in a note Friday morning, said the eastern Gulf is one of the "biggest prizes" for oil-and-gas development in the proposal "due to the region's combination of prospectivity and proximity to existing infrastructure." But that said...
"[W]e think Eastern GOM leasing may offer even greater political value to Florida Republicans who want to run for reelection (or higher office) on claims of having stopped it," they add.
* * *
Why state power matters: Let's stay with Clearview for a moment. They predict that even if Pacific Coast lease sales remain in the plan once it's finalized, opposition from governors and communities in the region could deter industry interest because state and local officials have the power to make development very tough to pull off in practice.
Similarly, looking at the East Coast, they note: "Without backing from adjacent coastal states, we would suggest that the exploration and development of greenfield, Atlantic [outer continental shelf] acreage could prove even more challenging and even less economic."
Making sense of Trump's big offshore drilling push, part 2
Bloomberg's Jennifer Dlouhy makes a good point about another aspect of the new battle over opening massive new offshore areas to oil-and-gas exploration and production.
Be smart: The Trump administration, by putting basically all coastal waters on the table, creates a big tactical challenge for the green movement, she says.
"Its proposal, the biggest in U.S. history, will force opponents to stretch their resources and combat possible drilling on multiple fronts, rather than in the eastern Gulf of Mexico, Arctic waters and Atlantic Ocean where oil companies are believed to be most interested in nabbing new territory," Dlouhy writes.
Bottom line: It will be years before there's any way to know how much massive regulatory shift underway will have affect how much U.S. oil and gas is produced offshore, and where that production happens. The timeframe between leasing and production can be a decade or more, and as the shale boom has shown, the state of oil-and-gas markets can change massively in just a few years. So can the political winds.
But industry and conservative groups have lobbied heavily for the expanded access in order to keep their options open, and do the kind of testing that will make clearer what the resource base is.
Go deeper: My Axios colleague Amy Harder joined PBS NewsHour last night to talk about the new proposal. Check out the interview here.
Don't forget the Gulf of Mexico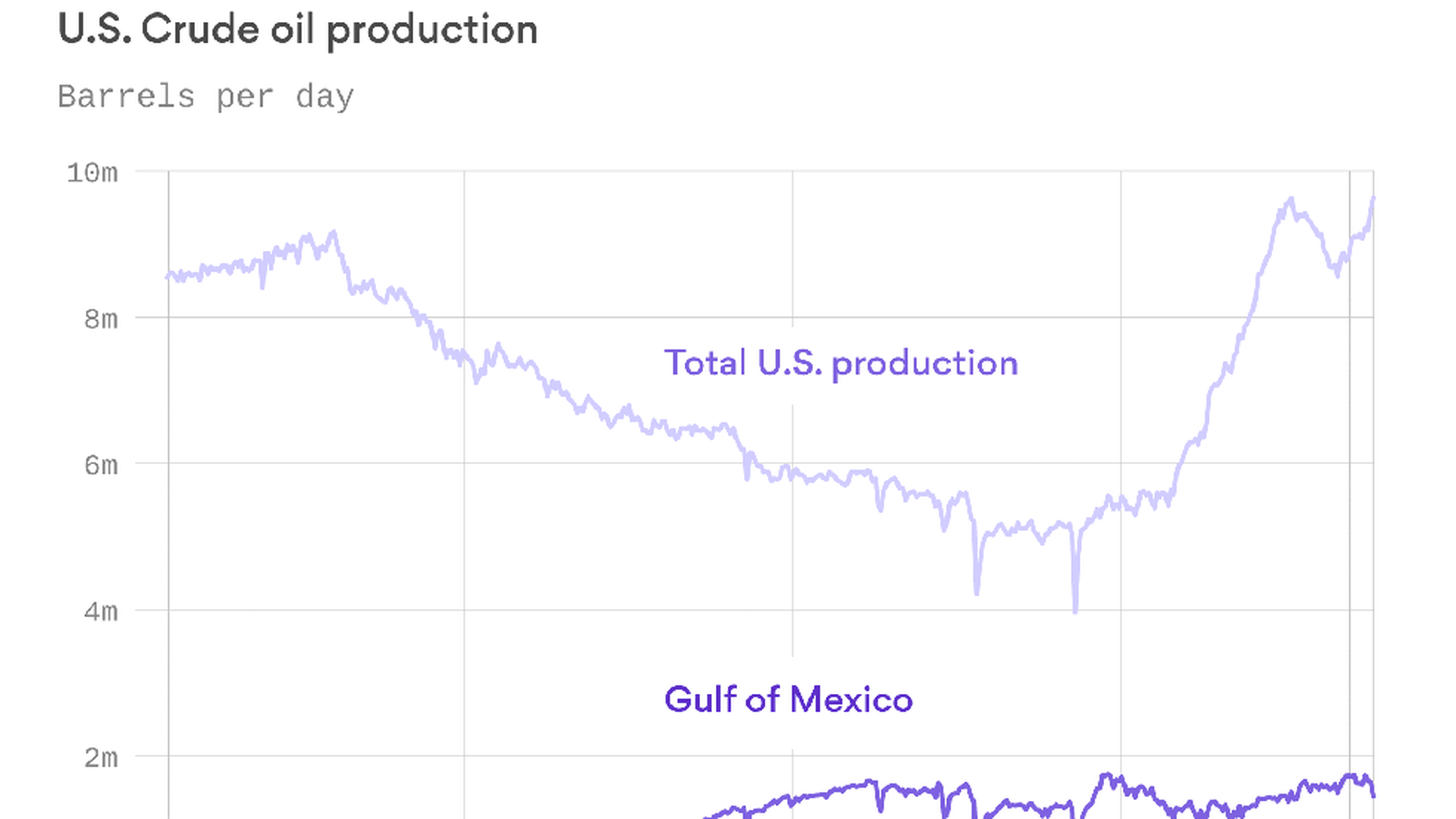 Changed landscape: As the White House seeks to expand coastal development, the chart above shows how the Gulf of Mexico — which accounts for almost all current U.S. offshore production — is a declining share of U.S. output, thanks to the onshore shale boom.
Yes, but: While Gulf of Mexico production has been basically stagnant for around a decade amid all the onshore growth, the consultancy Wood Mackenzie said this week that they're bullish on upcoming output, predicting record hydrocarbon production in 2018 and again in 2019.
In 2018 they expect to see 13% growth to nearly 2 million barrels of oil equivalent per day in output, breaking the 2009 record, with 80% of that being oil.
This year a half-dozen fields are expected to drive about half the increase, with Hess' Stampede field coming online imminently and other expansions of existing fields, says WoodMac analyst William Turner in this newly posted podcast.
Why it matters: It's something of a "forgot about Dre" moment. Their forecast is a reminder that for all the attention this week on the administration's push to open frontier areas, the Gulf will be the epicenter of U.S. offshore action for a long time to come.
Washington state readies carbon tax push
Over in the Axios stream, Amy has a new item this morning about Washington state Gov. Jay Inslee's upcoming carbon tax proposal next week. Here's some of the story...
What's happening: The state is undergoing a debate, which while unique to the Evergreen State, is also emblematic of the struggles any effort to push a federal carbon would face.
Washington state voters opposed a ballot measure that would have created a carbon tax in 2016.
That effort failed partly due to disagreements among environmental groups and others about what to do with the revenue raised from the tax: return it to taxpayers or use it to fund specific policy priorities. That's a question sure to drive any national carbon tax debate.
Inslee said in early December that he plans to use at least some of the revenue from the proposed carbon tax to fund education.
The plan would need to pass the state legislature, where Democrats recently gained control.
On the other hand: Amy spoke with Inslee on the sidelines of the UN climate change conference in Bonn, Germany in November. He rejected the notion that the ballot measure failed due to disagreements over how to spend the money, and expressed optimism for his push this year.
On my screen: climate policies, Iran, prices, Aramco
Interior moves: Interior Deputy Secretary David Bernhardt quietly issued a secretarial order just before Christmas rescinding several Obama-era climate change and conservation policies, saying they were "inconsistent" with Trump's quest for energy independence, The Washington Post reports.
Big picture: A new blog post by Council on Foreign Relations expert Amy Myers Jaffe looks at what the protests in Iran say about wider geopolitical risks to oil output in the Middle East, and how the Trump administration should approach the topic. She zeroes in on the key question of the next White House steps on the Iran nuclear deal and sanctions.
"Markets will be looking for any signs that U.S. action will make it more difficult for Iran to sell its oil or to raise new oil and gas investments in the Iranian industry. But as tempting as that grandstanding could be, the United States should probably take no hasty actions on this one until it can give the Iranian people a chance to be fully heard," she writes.
State of the oil market today: This morning oil prices are falling off what had been the highest levels since mid-2015 earlier this week.
Via Reuters, "soaring U.S. production undermined a 10-percent rally from lows hit in December that was driven by tightening supply and political tensions in OPEC member Iran."
Aramco IPO: The Financial Times reports that "Saudi Arabia is changing the legal status of state energy giant Saudi Aramco in a sign it is pressing ahead with plans for a 2018 initial public offering that is tipped to be the biggest ever."