How Bannon lost his political power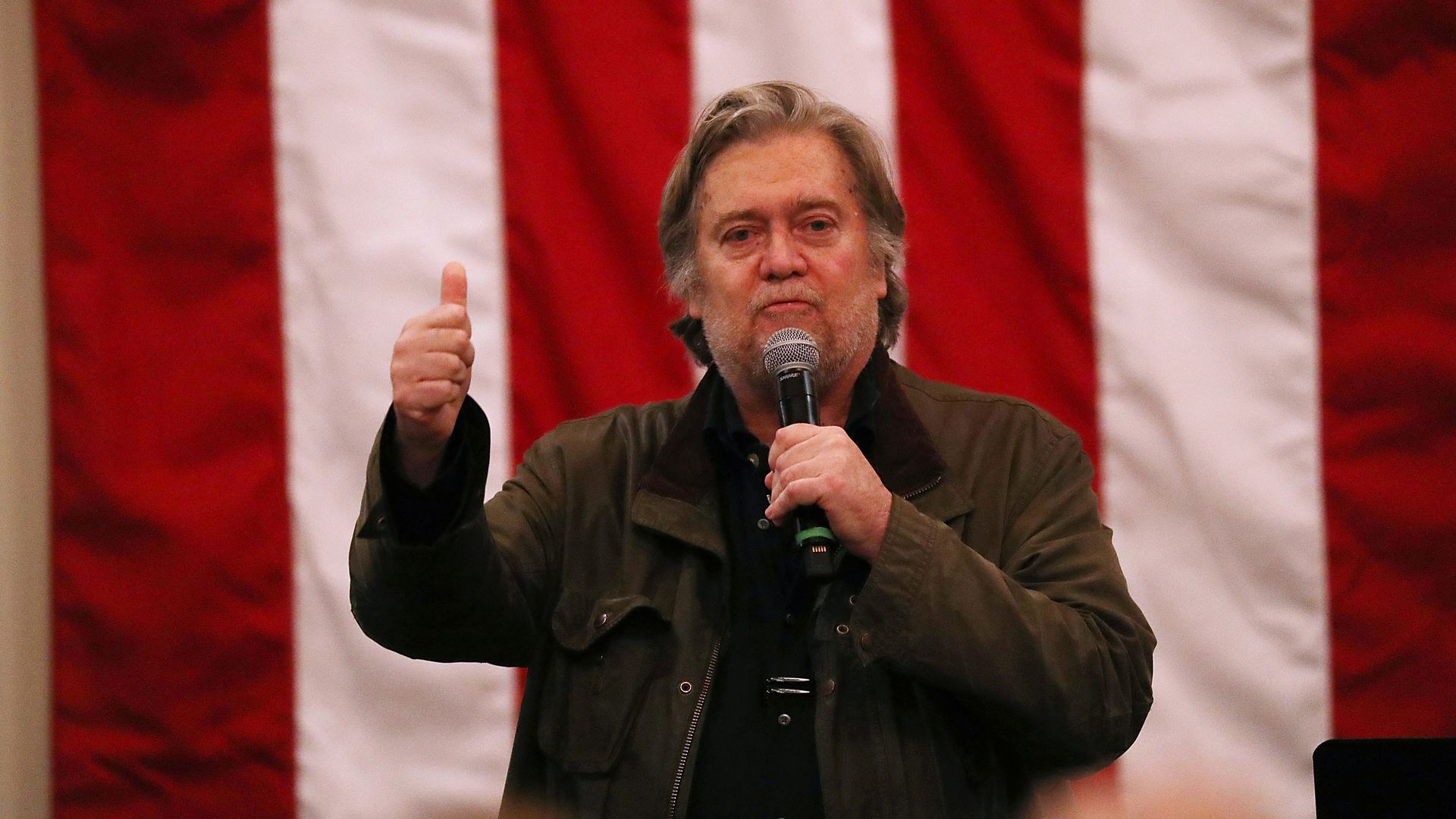 Steve Bannon built himself into a powerful political force over the last year and a half — from the head of Breitbart to the chief executive of Trump's presidential campaign to his chief White House strategist. Now he's lost all of his political power in a matter of 72 hours.
Why it matters: Bannon was an influential figure in elevating Trump's America First and Make America Great Again messages. He built a loyal and large following of conservatives via Breitbart, but particularly by selling this unique brand of Trumpism — and now that has all been stripped from him.
What they're saying, a former White House ally of Bannon's told Jonathan Swan: "I've gone from being sympathetic to Steve to believing he's a genuinely bad guy, totally duplicitous. It's a shame. He has a lot of talent. But his self-destructive streak is unlike anything I've ever seen."
Here's how Bannon fell from political power:
August: Left the White House.
He framed it as a positive step forward: "I feel jacked up," he said. "Now I'm free. I've got my hands back on my weapons."
Trump immediately said Bannon didn't deserve credit for his presidential win. "That f*cking Steve Bannon taking credit for my election," Trump said, per BuzzFeed.
He outlasted national security adviser Michael Flynn, Chief of Staff Reince Priebus and press secretary Sean Spicer
September: Bannon vowed to intervene in GOP primaries. (politico)
He planned to invest in a slate of GOP primary challengers, ultimately hoping to unseat some sitting Republican senators.
December: Roy Moore loses Alabama Senate race.
Moore lost a race that a Democrat hasn't won in decades, showing, in part, the start of Bannon's lack of political power.
Jan. 3: "Fire and Fury" quotes & scathing WH statement released.
Among other incendiary quotes, Bannon called Don Jr.'s Trump Tower meeting "treasonous."
"Steve Bannon has nothing to do with me or my presidency," Trump said in a statement issued by the White House. "Now that he is on his own, Steve is learning that winning isn't as easy as I make it look."
Jan. 4: Trump threatens Michael Wolff.
He sent a lawyer's letter that "demands that you immediately cease and desist from any further publication, release or dissemination of the Book."
Jan. 4: Rebekah Mercer picks Trump over Bannon, pulls funding.
In addition to Trump, she was one of his biggest supporters.
"That could be the final nail in his coffin," said Rep. Peter King, who for months has criticized Bannon as detrimental to the GOP. "And once that coffin's closed, it shouldn't be opened."
Jan. 4: Republicans pick Trump over Bannon.
Kelli Ward, who was endorsed by Bannon and is running to replace Jeff Flake, downplayed her ties to Bannon after the "Fire and Fury" drama.
Mitch McConnell said he aligns himself with Trump over Bannon.
Jan. 7: Bannon tries to apologize.
In an exclusive statement to Axios — but doesn't actually say the words "I'm sorry."
"I regret that my delay in responding to the inaccurate reporting regarding Don Jr has diverted attention from the president's historical accomplishments in the first year of his presidency."
"My support is also unwavering for the president and his agenda."
Jan. 9: Bannon out at Breitbart.
Don't forget: Bannon was behind some of Trump's most controversial moments and policies —
He brought Paula Jones and other women who accused former President Bill Clinton of sexual misconduct to a presidential debate as a way to try to mitigate the effects of the Access Hollywood tape on Trump's presidential prospects.
He forced the quick implementation of the travel ban in the first week of Trump's presidency which quickly resulted in lawsuits, mass protests and controversy.
Just one month into Trump's presidency, Bannon said the goal of Trump's administration would be "the deconstruction of the administrative state."
What to watch: How, if at all, Bannon tries to intervene in GOP primaries this year.
Go deeper