Behind-the-scenes at Camp David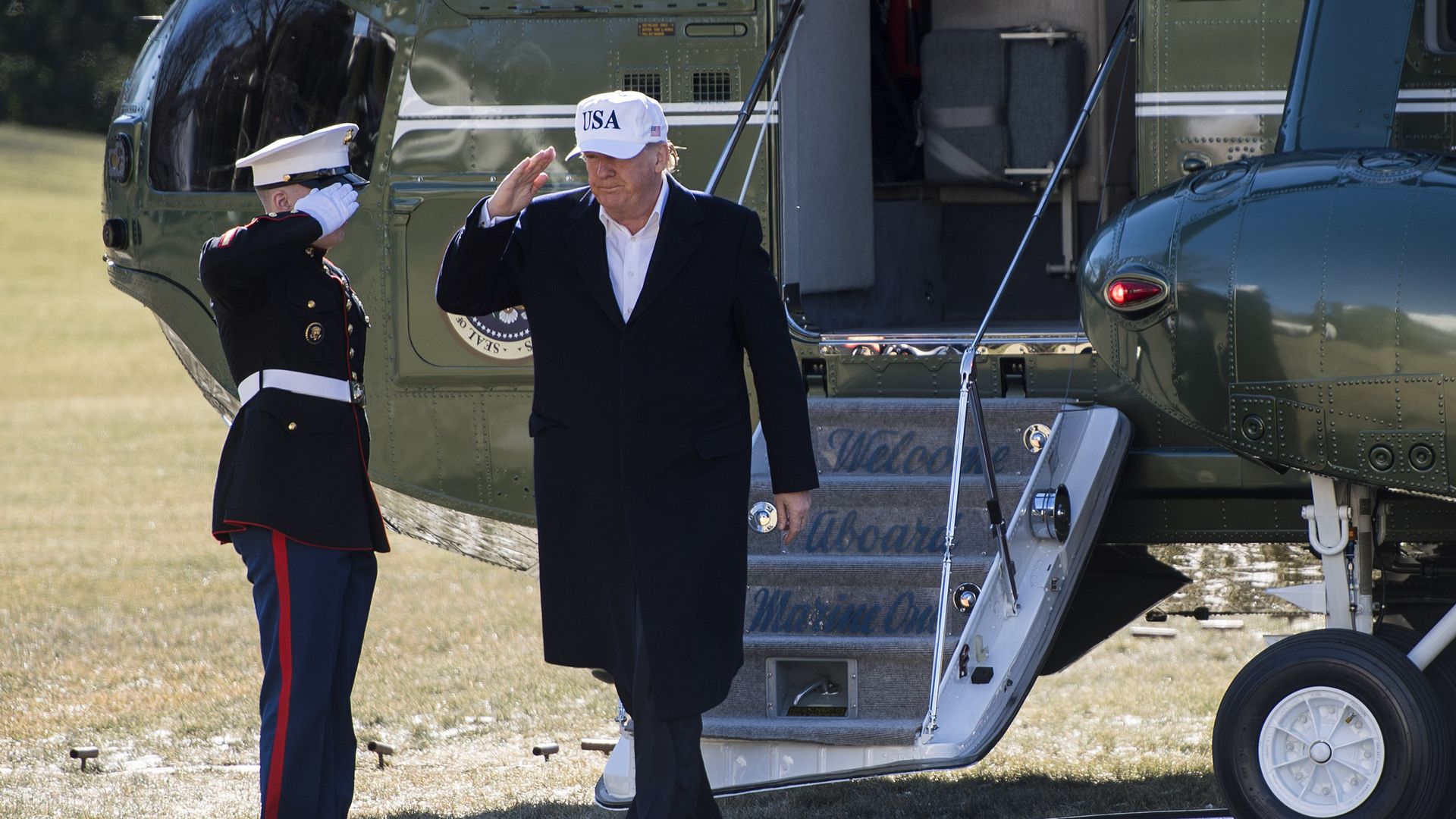 After his days of rage following the release of Michael Wolff's controversial book, President Trump spent some welcome time with his allies at Camp David.
A source familiar with the discussions — involving top administration officials and congressional leaders — told me the talks were important, above all, to re-establish a "feeling of camaraderie" after a rough few days. Trump was "very loose," the source added, "telling a lot of jokes to keep people in a good place."
Highlights from the private conversations, per sources familiar with them:
Downgrading expectations: The group acknowledged they'd have a tough time repeating the legislative accomplishments of 2017. Everybody understands how tight the margin is in the Senate, and that it's even worse than 51-49 given several unreliable senators like Susan Collins. Another unspoken reality: two GOP senators, John McCain and Thad Cochran, have serious health problems, meaning they sometimes can't be there to vote.
Sell 2017: They talked about doing a better job selling what they've already accomplished — and especially the tax bill they just passed, which remains very unpopular, according to polls. McConnell highlighted the confirmation of Neil Gorsuch to the Supreme Court, confirming a record number of circuit court judges, rolling back regulations, and of course the big tax bill, which also opened up Arctic drilling and repealed the Individual Mandate — the cornerstone of Obama's Affordable Care Act.
Bipartisan: They acknowledged reality — that with even less control over the Senate, Republicans are going to have to work with Democrats to get 60 votes to pass any major legislation this year.
More limited welfare reform: The group had an important conversation about defining what welfare reform means. Republicans now mostly agree that major entitlement reform won't happen this year but they're determined to push for work requirements for welfare recipients.
Big picture: Republican sources involved in the negotiations tell me they expect Democrats will not agree to a spending deal until Republicans make a deal with them to save DACA — the Obama-era program that temporarily protects immigrants who were brought to the country illegally as children. You'll hear plenty about DACA in the coming days but the reality is there's very little chance they'll agree on a DACA bill in the next 10 days.
We expect Congress will agree on yet another short-term funding deal — aka kicking the can down the road — to avoid a shutdown on Jan. 19. Then you'll probably see Republicans escalate their rhetoric, trying to blame Democrats for shutting down the government over DACA.
Go deeper