GOP divided over next steps: health care, welfare or neither?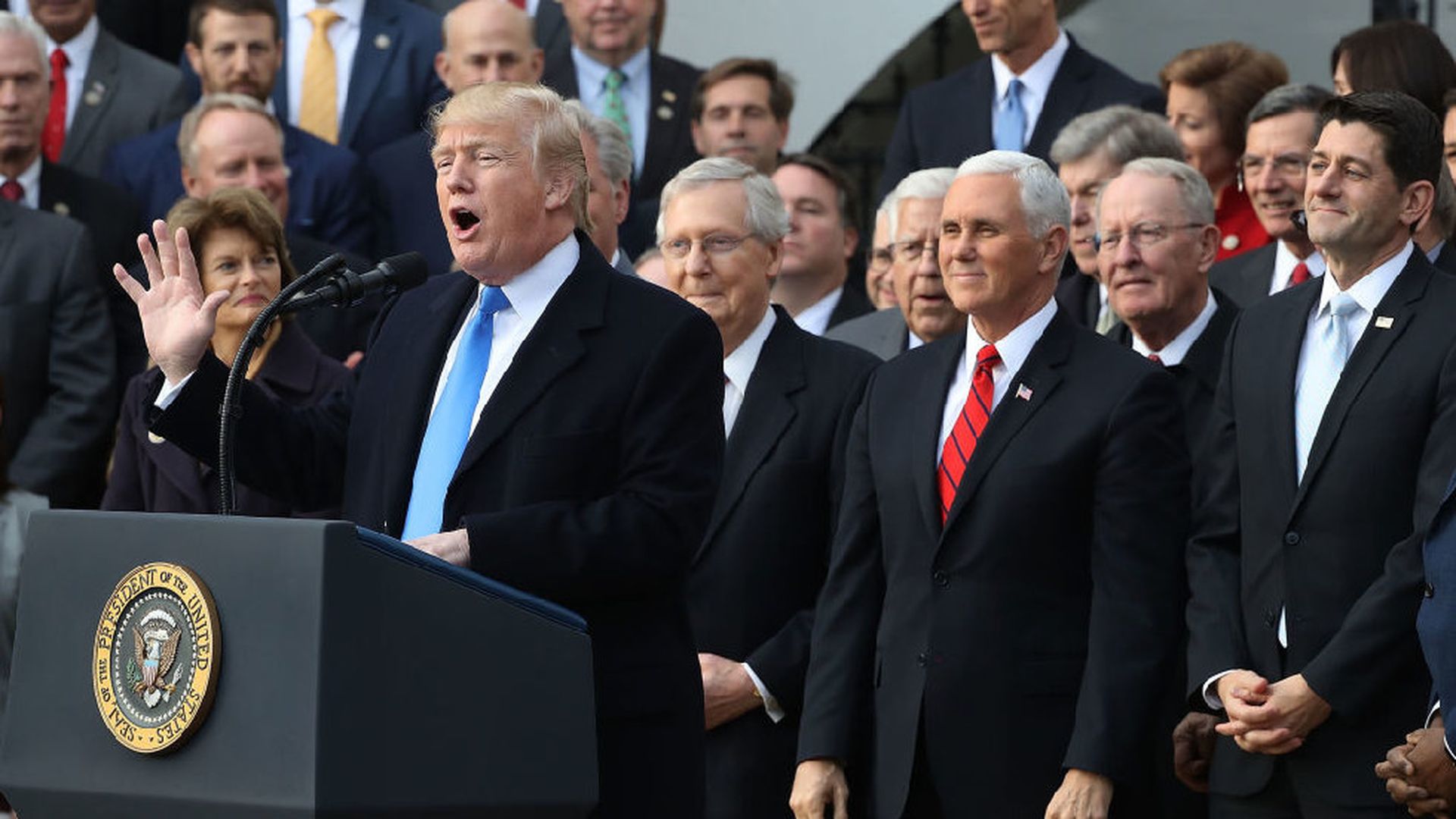 Republicans have begun the year divided over whether their legislative agenda should include the use of a special budget tool allowing them to pass legislation without Democrats, and if so, whether to use it for health care or a welfare overhaul. At the nexus of those two policy areas is Medicaid, which several lobbyists and aides have said House Speaker Paul Ryan wants to include in a welfare bill (Ryan's office didn't comment).
What to watch: This will likely be discussed more at length this weekend when GOP leaders meet with President Trump at Camp David.
While Ryan is chomping at the bit to tackle welfare and entitlements, Majority Leader Mitch McConnell has expressed a clear interest in doing bipartisan work this year. What Trump wants is likely to matter a whole lot.
The back story: Using the budget tool, reconciliation, is a heavy lift regardless of what it's being used for. Republicans pulled it off last year with tax reform, but failed repeatedly to come up with a health care plan that could get 50 Republican votes in the Senate. Now that the GOP has only 51 votes in the upper chamber, giving it only one vote to spare, passing a reconciliation bill would be that much harder.
Ryan's not the only one who wants to use reconciliation. Freedom Caucus Chairman Mark Meadows agrees. "The only significant things that have been accomplished in the first year of this administration are a result of the President's actions or 51 votes in the Senate. Having to count on 8 Democrats does not normally result in tremendous reform initiatives," he said.
The bottom line: There's little appetite to do this in the Senate, with a few exceptions. And the Senate is the chamber that needs reconciliation to pass party-line votes, not the House.
Reconciliation begins with passing a budget. That in and of itself is a steep hike this year.
McConnell has clearly said he doesn't want to overhaul entitlements on a partisan basis. None of the rest of the caucus seems eager to take on welfare programs, either.
While some Republican senators want to try to repeal and replace the Affordable Care Act again, most of the caucus isn't keen on this route either. It's also not clear what could be done differently this time around to get 50 votes.
Some senators did seem open to the idea of using reconciliation to do something, but said they didn't know what yet.
Yes, but: There's nothing stopping the House from doing a welfare rewrite through regular order. They'd just do it with the assumption that it wouldn't go anywhere in the Senate.
One source told me they'd heard Ryan himself say last fall that he wanted to include components for taxes, welfare, Medicaid, labor force participation issues, and transportation/infrastructure in a 2019 reconciliation bill. Of course, that was long before McConnell publicly quashed the idea of a partisan welfare bill.
The House has already passed a bill that includes major Medicaid changes.
There could be upsides to doing this. Politically, it could make the GOP base happy in an election year. And policy-wise, this is the second half of Republican philosophy: They already cut taxes, so the next step would be cutting spending. Bills are often written and passed with the knowledge they won't be signed into law.
A House GOP aide floated this idea to me, which they said was their own but made a lot of sense: The savings from entitlement reform could be used to pay for an infrastructure bill, which everyone seems to want.
A long shot: If reconciliation is set up, there's always the chance the House passes something and the Senate feels forced to pick it up. But right now, this scenario seems unlikely.
Go deeper