White House, GOP expect 2018 grind, more polarization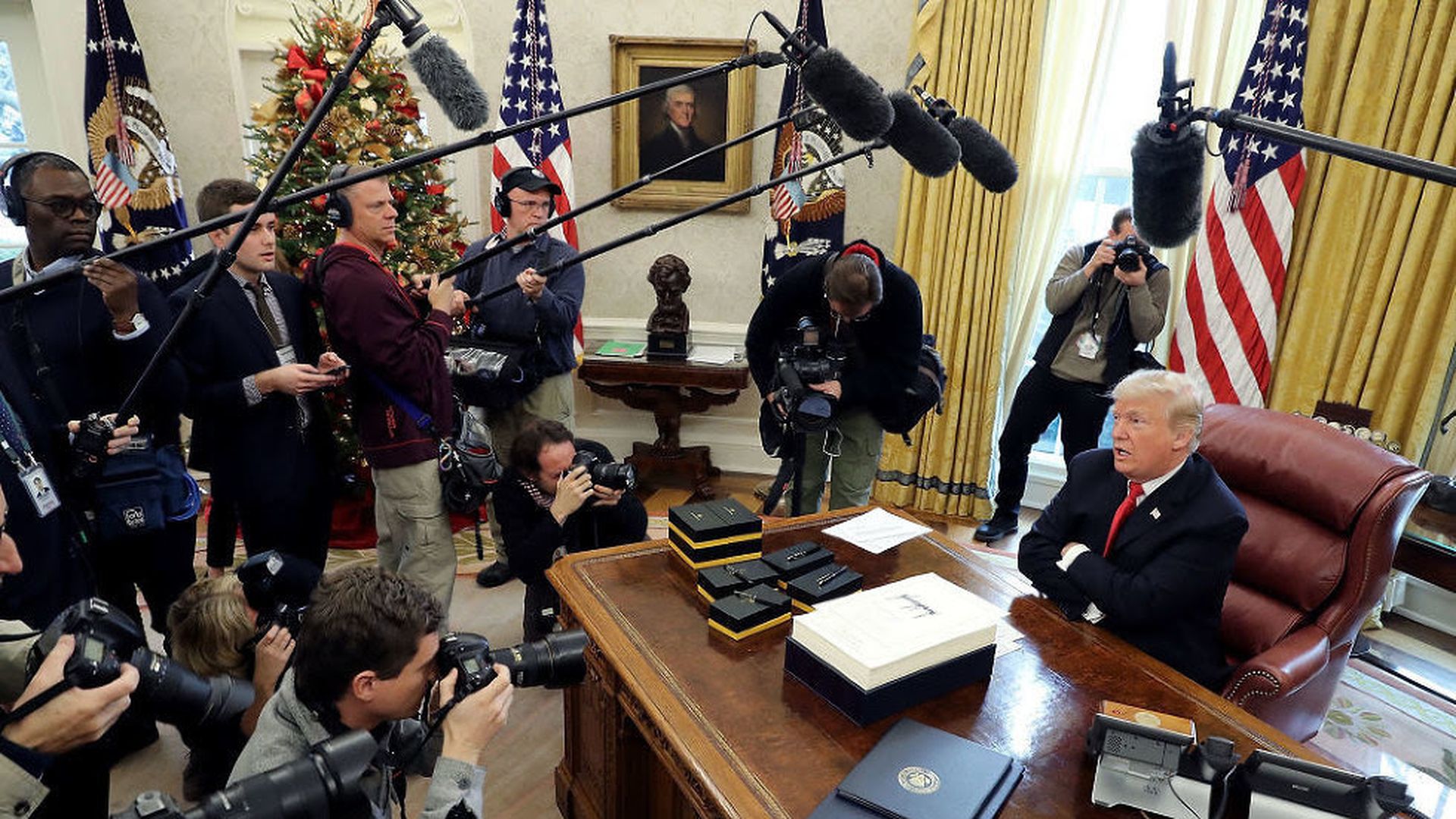 Top White House officials tell us they anticipate 2018 will be a legislative and accomplishments grind, exacerbated by the very realistic prospects of losing their congressional majorities.
Complicating matters, President Trump faces a wave of staff departures, with thin pickings for replacements.
During Year 1, Trump had a ready supply of executive orders that he could sign while Congress dithered. But we're told there's not a big cupboard of new ones for next year: The most feasible ones have been done.
In this most improvisational of presidencies, there isn't a clear answer to what domestic topic to tackle next. "It's tough to look out on the horizon and see another sure or easy victory," one official said.
What's ahead: Earlier this month, economic staffers got a calendar invite for a Jan. 3 meeting with Gary Cohn to begin a push on infrastructure.
The top targets include reform of a permit quagmire that can last decades for a major project, and funding for what the White House calls "transformational technologies" — infrastructure for self-driving vehicles, and a boost for "tunneling" to make way for underground high-speed rail.
That could get some Democratic votes. But fiscal conservatives in the Republican base are never going to be wild about spending on public works.
A source close to the White House said that in a midterm year, "Do you really want a bipartisan issue? What is going to mobilize people to go to the polls and say. 'I have to vote for a Republican?"
At the same time, the White House will begin promoting welfare reform, with a job-training element to try to attract Democrats:
Speaker Paul Ryan is all for this. But Senate Majority Leader Mitch McConnell coolly choked the idea during an Axios News Shapers conservation with me this week: The measure would need 60 votes, and he doesn't see it attracting a single Democrat, making it a mathematical dead end.
There are other possibilities. At the Axios event, McConnell said for the first time that a bipartisan banking reform bill will get "early consideration" on the Senate floor in 2018, calling it "an important thing to do." But that really isn't a base-motivator, either.
AP's Alan Fram points out in a lookahead story for Congress: "Since Republicans will have just a 51-49 Senate majority next year — well shy of the 60 votes needed to pass most bills — Democrats will have leverage for most things, including a deal to prevent a politically jolting January federal shutdown."
Be smart: Most people ignore midterm elections and don't bother voting. Next year feels different: The Trump show has grabbed a sustained audience and Democrats, especially women, want it canceled ASAP. This will further galvanize Democrats and polarize the two parties.
Sleeper issue: Still lots of rumblings of another Supreme Court retirement. Nothing would light up D.C. like the chance for a Trump Court to rule the land for a generation.
Go deeper