Warner sees fire in Russia probe; wants Kushner, Trump Jr. to face senators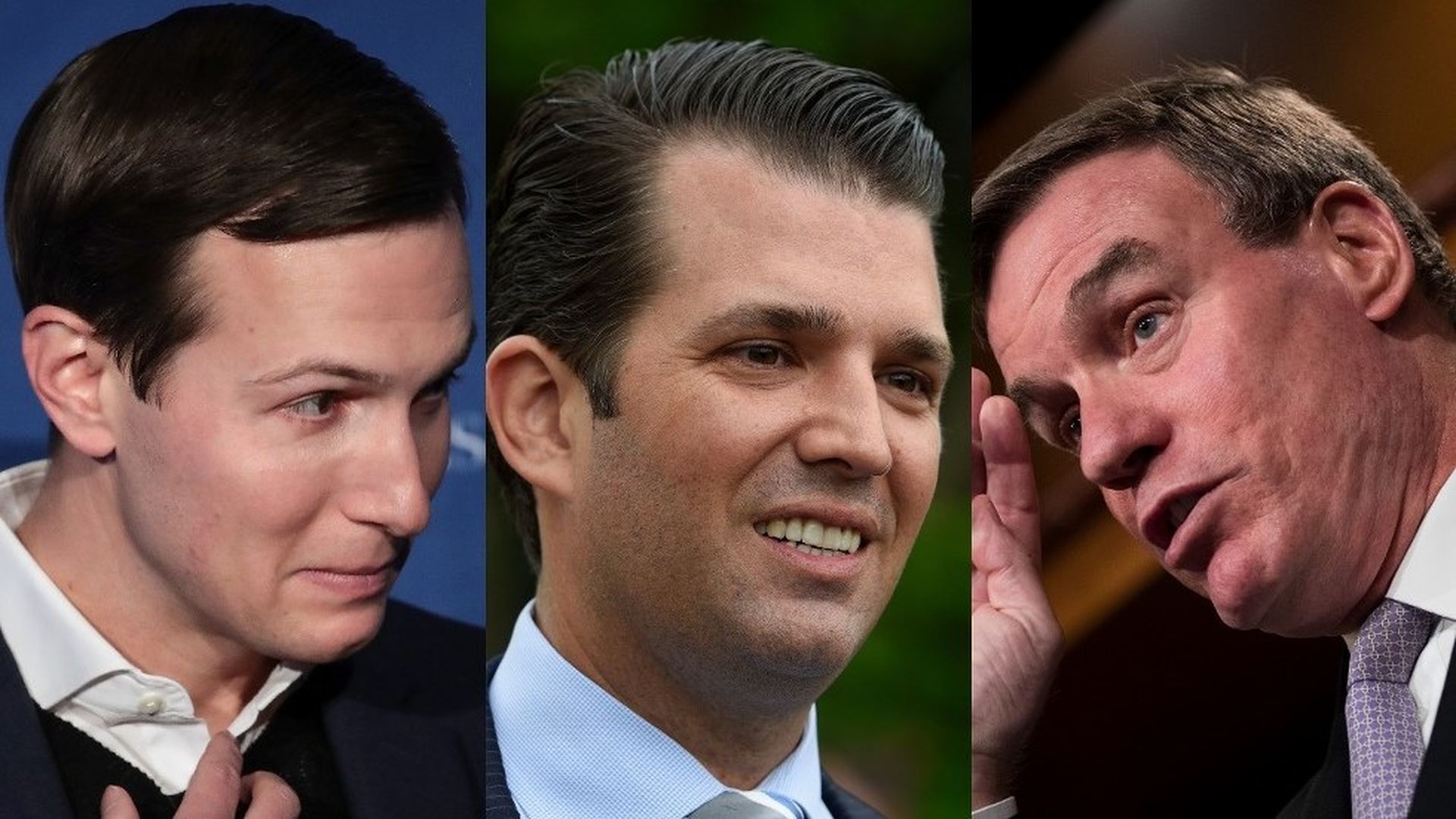 Robert Mueller isn't the only one hot on the trail of the Russians' election interference and Facebook manipulation.
Sen. Mark Warner (D-Va.), vice chair of the Intelligence Committee, tells us that based on witness testimony and documents that he has seen behind closed doors, the Russia probe is "the most important thing I will ever work on."
"I feel that more strongly today than even a year ago. And we don't even have near the tools that Robert Mueller has in his investigation."
— Warner at an Axios News Shapers event on Thursday
In TV interviews over the past year, Warner has been candid as he vacillated between thinking there's more smoke or more fire. Now, he clearly sees fire.
The committee plans to go hard after Facebook to cough up more about Russia-sponsored ads, and after Trump's inner circle to spill more about connections to Putin people.
Up first: Calling back Jared Kushner, Donald Trump Jr. and other "principals involved in some of these activities" for more Intelligence Committee questioning.
When those witnesses came to the committee before, they were interviewed by staff. This time, they'll be questioned by the senators themselves.
Warner: "We could debate whether they come back in public or private. I would lean more towards public."
What's next for Facebook: Warner said that Facebook still hasn't been fully candid, and plans to require more information about what happened in 2016, and more transparency on future political ads.
Warner wants independent experts to have access to the Russia targeting data, to provide "a third‑party, almost academic, analysis."
Warner on Facebook: "I would like to have a higher confidence they've really done the investigation of all possible Russian [connections]. And some of the Russian sites were actually ... started or activated outside of Russia but are were still controlled by them."
Why this matters: President Trump believes this investigation is wrapping up, and he'll soon be cleared. But few others agree.
Mueller, Warner and others plan to make sure that the same story that dominated the end of 2016 — and all of 2017 — is the story of 2018, too.
Go deeper: Axios Sourced videos on Mike's News Shapers conversations yesterday with Sen. Mark Warner (YouTube) and Senate Majority Leader Mitch McConnell (YouTube).
Between now and New Year's Day, Axios CEO Jim VandeHei and I will bring AM readers our year-end thoughts on the topics that matter most. Sign up here.
Go deeper