Some White House officials fear accidental war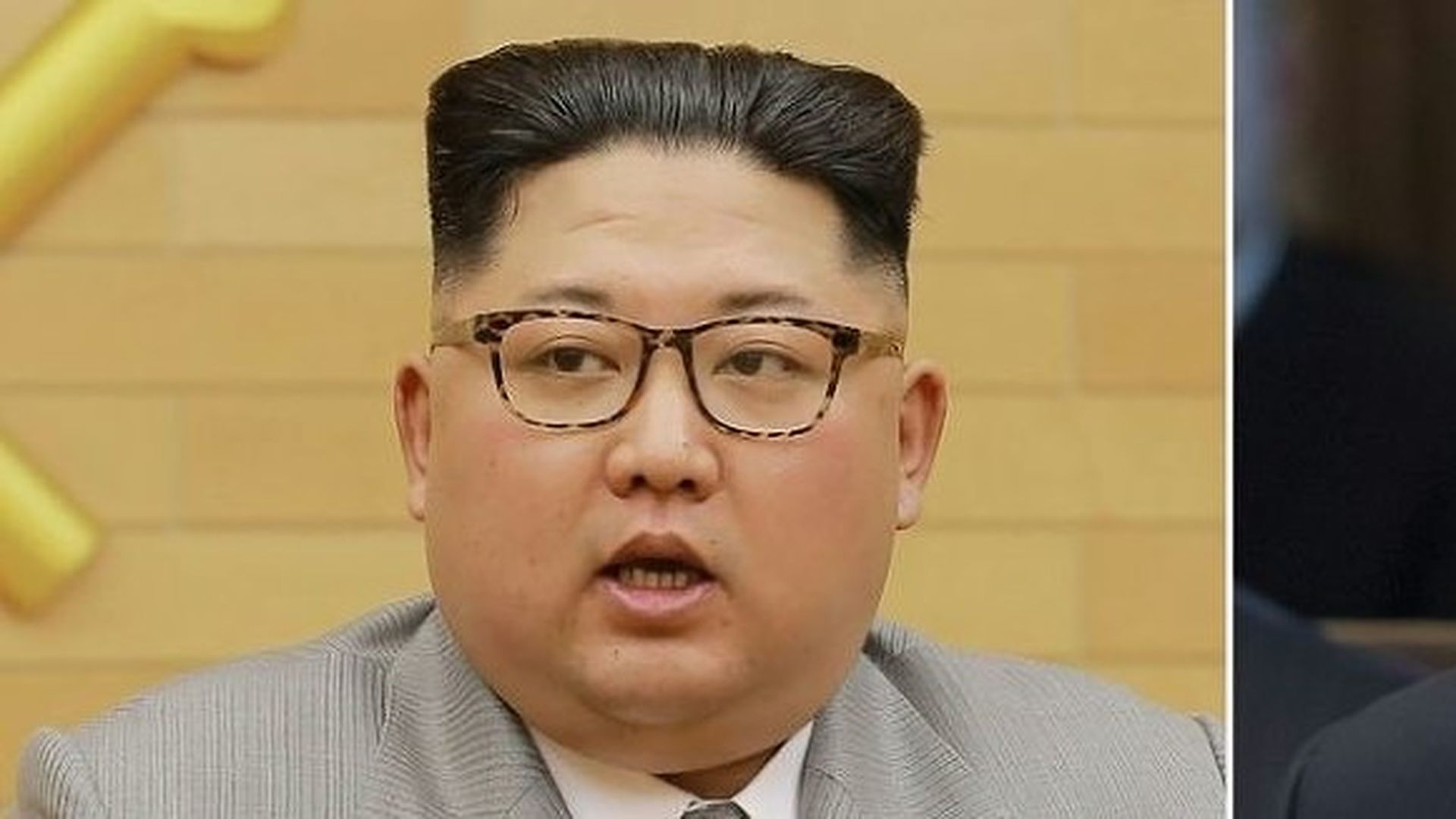 President Trump's boast last night that he has a "bigger & more powerful" Nuclear Button (caps, Trump's) than North Korea has some administration insiders worried that we could blunder into war.
What they're saying: "Every war in history was an accident," said one administration insider. "You just don't know what's going to send him over the edge."
The "him" was Trump, but could also refer to North Korean leader Kim Jong-un, who started the "nuclear button" exchange with a New Year's Day speech on Monday in which he said: "The U.S. should know that the button for nuclear weapons is on my table" (desk).
The N.Y. Times' succinct homepage headline: "Trump Taunts Kim."
But, but, but: Trump insiders caution that the media tends to over-interpret and over-cover statements that Trump has made just to stir the pot, and with little prior thought.
Their view is basically: Sometimes, a tweet is just a tweet.
Why it matters: The danger here is that Kim is also an unpredictable actor, and not one fully understood by U.S. intelligence.
As one outside adviser to the West Wing told me: "This is the most important issue on the president's desk. We are in a hair-trigger environment. And this is potentially a shooting war with nuclear risk."
The adviser added: "What intel analysis or foreign policy advice leads to employing this as a tactic?"
Be smart: Some West Wing insiders remain convinced that the risk of war is higher than most outsiders realize.
Reality check: No button — just a football and a biscuit ... "[T]he president doesn't actually have a physical button," by AP's Matthew Pennington notes:
"The process for launching a nuclear strike is secret and complex and involves the use of a nuclear 'football,' which is carried by a rotating group of military officers everywhere the president goes and is equipped with communication tools and a book with prepared war plans."
"If the president were to order a strike, he would identify himself to military officials at the Pentagon with codes unique to him. Those codes are recorded on a card known as the 'biscuit' that is carried by the president at all times. He would then transmit the launch order to the Pentagon and Strategic Command" (USSTRATCOM, located at Offutt Air Force Base near Omaha, Neb.)
Same for Kim ... Per the N.Y. Times: "[O]fficials ... dismissed Mr. Kim's comment that he now has a 'nuclear button' on his desk as a rhetorical flourish"
"Currently, Mr. Kim cannot launch a weapon in seconds, as his declaration seemed intended to suggest. All of the tests he has conducted of intercontinental ballistic missiles have involved liquid-fuel weapons that take hours, sometimes days, to prepare for a launching."
Go deeper: "Here's how Trump launches a nuclear weapon," by Axios' Shannon Vavra.
Go deeper