Inside the new trade arguments Trump is hearing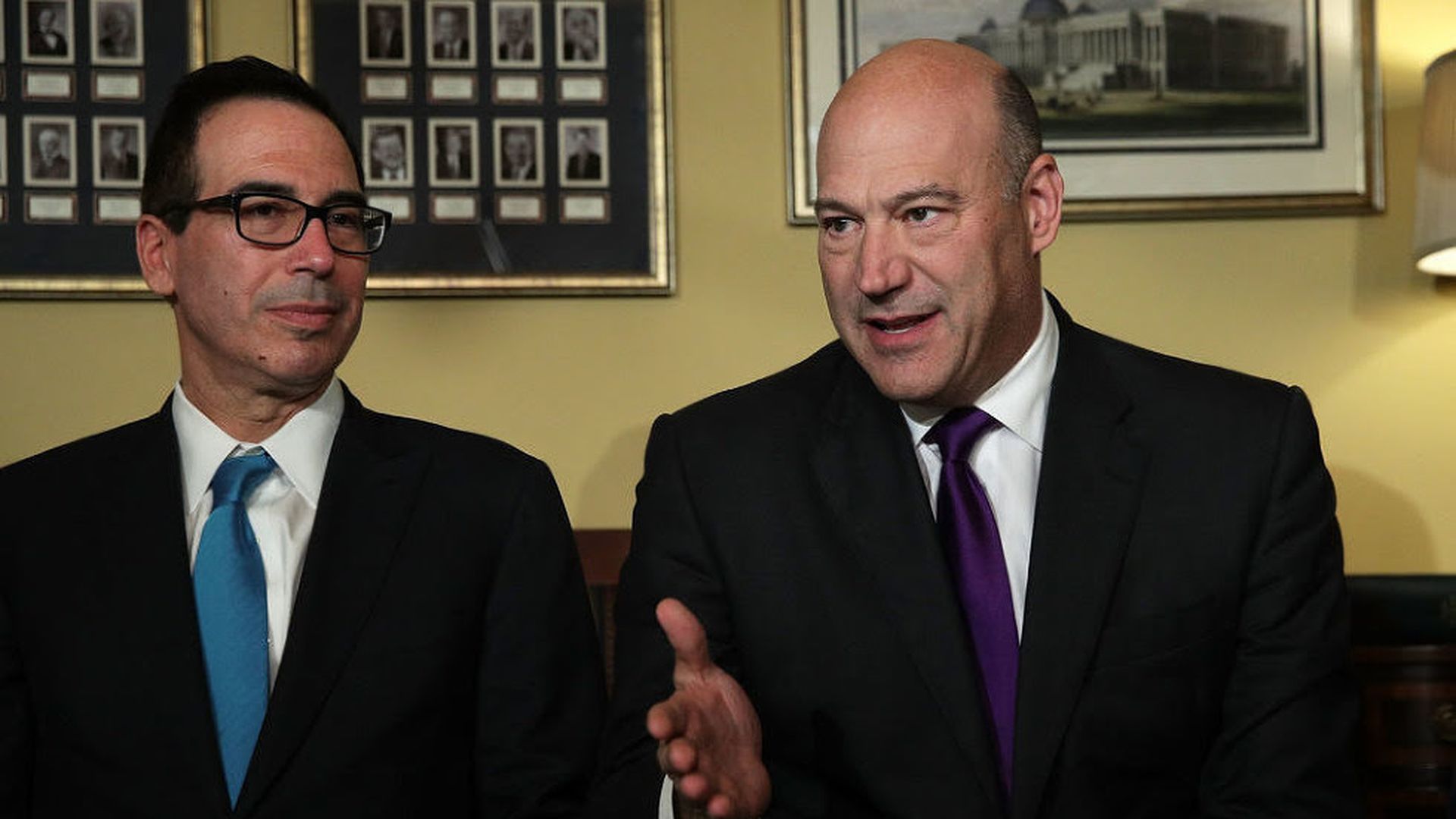 Gary Cohn and Steven Mnuchin successfully kept President Trump from making any disruptive trade actions during the tax reform fight. Now that tax reform is done — and Trump remains hell-bent on tariffs — they're making new arguments to try to mellow his hardwired trade-warrior impulses.
Cohn and Mnuchin are now appealing to Trump's obsession with the record-breaking run of the stock market under his presidency, according to four sources with direct knowledge.
They're telling him the stock market is at an all-time high, and that new tariffs on whole industries like steel and aluminum would hurt it.
They're also telling him — and others are joining them in making this argument directly to the president — that he's just given the middle class a tax cut, and that any tariffs making consumer goods more expensive would undo the pay raise he just gave them.
Why this matters: Sources who've spoken with the president say he's often said he wants to slap massive tariffs against entire countries, industries and product categories. They worry that doing so would roil global markets, start a costly trade war, and harm America's relationships with allies.
Behind Trump's thinking: He and his hawkish trade advisers, Peter Navarro and Bob Lighthizer, are deeply skeptical of the World Trade Organization's ability to resolve complaints between nations. They want to resurrect arcane laws — sections 232 and 301 of Trade laws from the 1960s and 70s — to circumvent the WTO and unilaterally retaliate against exploitive trade practices, especially from the Chinese.
It's quite likely Trump will use 301 authority — in January, we're told — to put tariffs on Chinese consumer electronics as retaliation against the country's widespread theft of American companies' intellectual property. Though Cohn and Mnuchin don't like tariffs, they're comparatively comfortable with targeted actions against truly bad actors, as in this case.
What you need to know:
In January, Trump will need to decide whether or not to temporarily protect American manufacturers from competition with imported solar panels and washing machines.
In the near future, Trump will decide whether or not to announce that global production of aluminum and steel presents a national security threat to the U.S., and then slap massive tariffs on those two industries.
Wall Street and Congressional free traders are most concerned about potential steel and aluminum actions.
Trump has not made firm decisions on any of this.
In fact, he held a recent meeting with top officials in the Situation Room, and the debate was hot.
Staff Secretary Rob Porter has been convening a trade meeting every Tuesday in the Roosevelt Room, attended by Cohn, Mnuchin, National Security Adviser H.R. McMaster, Commerce Secretary Wilbur Ross, hardline trade adviser Peter Navarro and top trade negotiator Bob Lighthizer. I'm told that at last Tuesday's meeting, there was still a "robust discussion" with "sharply diverging points of view."
Porter — typically a neutral arbiter — has argued for targeted actions rather than broad, blunt tariffs. Defense Secretary Jim Mattis is also an important voice; the Pentagon doesn't agree with Trump that global excess steel capacity is a national security threat.
Secretary of State Rex Tillerson shares Mattis' view that broad tariffs that hit allies who haven't engaged in unfair practices is bad policy that would unnecessarily harm relationships.
Bottom line: As we've repeatedly written — but can't stress enough — Trump believes this stuff to his core. Perhaps the only policy position he has consistently held for more than 30 years is that foreign countries are taking advantage of America, and that America needs to fight back. At the start of his presidency, he told President Xi that he would be gentler on trade if Xi took a harder line on North Korea's nuclear program. But in the months since, Trump has concluded that China won't play its part. So he's ready to begin the second year of his presidency with a big trade bang.
Go deeper