Amazon is harder on mom-and-pops than big-box stores ever were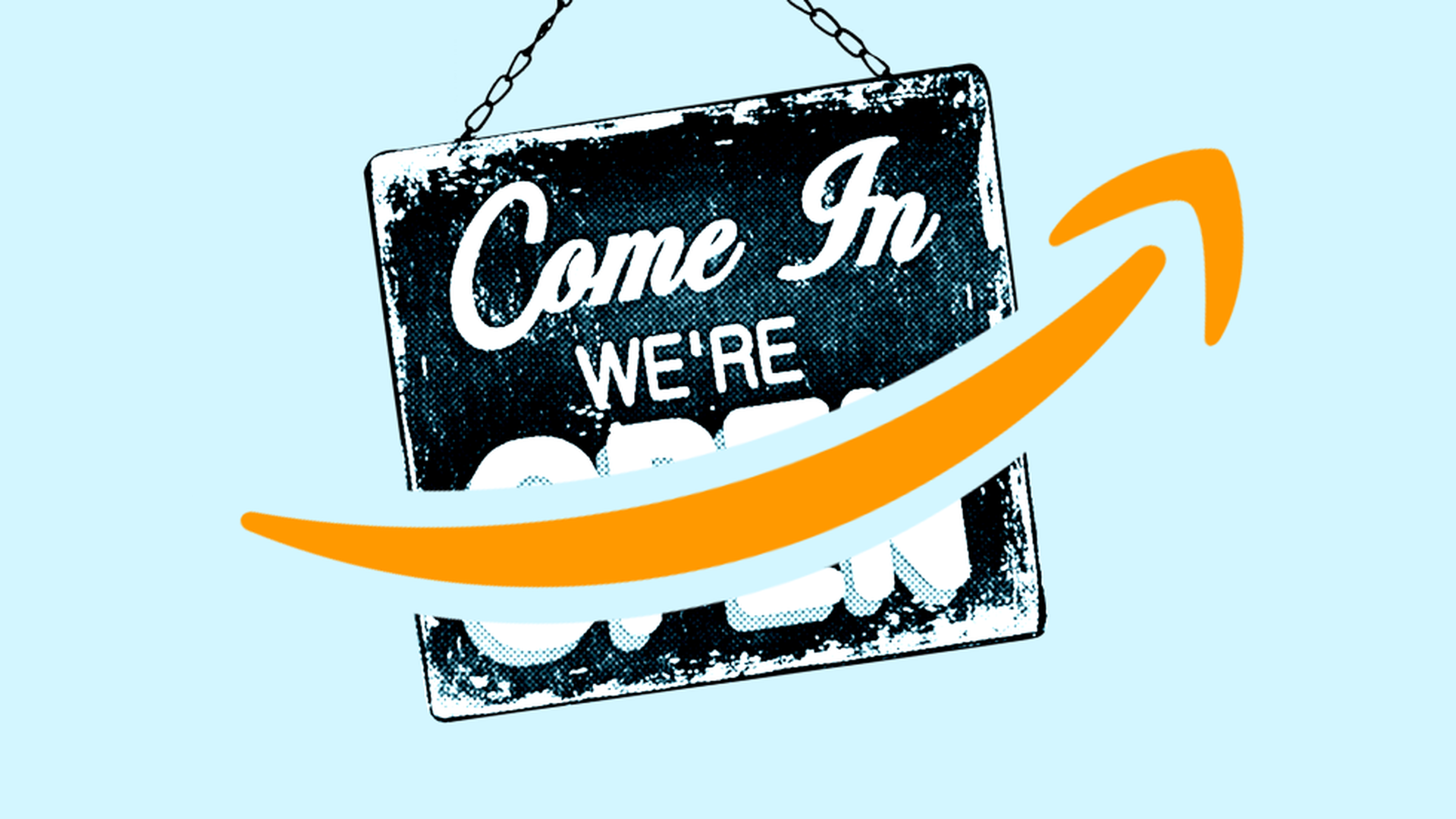 By the time Walmart reached the level of sales that Amazon enjoys today, it had become the focus of a buy-local movement that accused the company of hollowing out local economies and labor markets. Amazon has so far avoided a similar backlash, but it has had a similar impact on local communities, say mom-and-pop retailers, manufacturers, and industry observers.
Why it matters: Small retailers say Amazon is their No. 1 threat, surpassing big-box chains and rising health insurance costs, according to a recent poll by Advocates for Independent Business and the Institute for Local Self Reliance.
Amazon differs from the big-box threat of the 1990s.
Half of all items sold on Amazon are from small, third-party sellers, according to Amazon. And it's the conduit for about 100,000 small American retailers that do more than $100,000 in business a year on the platform.
Stacy Mitchell of the Institute for Local Self Reliance says the net effect has been the continued weakening of small retail that began during the 1990s. According to the Census Bureau, there were 572,000 mom-and-pops in 2007, accounting for 22% of retail jobs, but by 2015, the number had fallen to 505,000, or 19% of such jobs.
"Entrepreneurship used to be a reliable path to the middle class," Mitchell says. But that new business formation is on the decline: The number of new U.S. startups has declined from 107.7 per 1,000 businesses in 2007 to 85.4 in 2016, according to the Kauffman foundation. "This is one factor driving higher income inequality," Mitchell says.
Here are some stories from the Amazon Age.
Gina Schaefer opened her first hardware store in 2003 as part of the Ace Hardware buying cooperative. She now owns a dozen locations in the Washington, D.C. area, successfully navigating competition from Home Depot and Walmart at a time many small business retailers closed in the face of this new competition.
Schaefer said that mom-and-pops such as hers worried about losing a share of their sales to big-box stores. But she said the threat from Amazon and other platforms is scarier because each year they offer a growing number of products — and make them cheaper and more convenient.
Rick Karp, owner of four Ace hardware outlets in San Francisco, says the threat has grown worse in recent years, which he detects from a 2% decline in sales each year for the past five years. "This year it'll be 3%," he says.
Dottie Munger owns Toad Hollow Athletics, a specialty sporting goods business with single locations in Paoli, Penn., and Wilmington, NC, launched in 1983. She began selling on Amazon Marketplace in 2012, and it now accounts for half her sales. But because price competition on Amazon is so fierce, her online margins are much lower.
Another strain is Amazon's strict rules against late shipments and other infractions that can get you suspended from the platform, a critical blow for businesses that have become dependent on it.
Then there are the Amazon "gray-market" sellers.
Gray-market sellers are unauthorized dealers of excess inventory who sell below the minimum advertised pricing agreed to by manufacturers and their authorized retailers.
Munger says this leads to her competing on Amazon both against the product manufacturer and gray-market sellers.
Unauthorized selling has become a consuming problem for many small manufacturers as well. Michael Levin, owner of InnovateKids, a manufacturer of children's games and books, says he spends a growing number of hours and dollars each week tracking the pricing of unauthorized sellers, and figuring out how they got ahold of his inventory (one way may be through bots, Forbes reports).
But, but ... Amazon has helped, or even made possible, other small businesses.
Douglas Cormier of Hubbardston Candle Company raves about his experiences selling on Amazon. He says it enabled him and his wife to ramp up a business making and selling beeswax candles out of their home within a matter of months. "We never would have started this business without Amazon," he says.
Michael Mandel, an economist at the Progressive Policy Institute, argues that the shift to e-commerce has actually led to more, better paying jobs in e-commerce warehouses that have more than compensated for the recent decline in traditional retail jobs. Mandel estimates that from the third quarter of 2015 through the third quarter of 2017, while brick and mortar stores have cut 123,000 jobs, e-commerce has added 236,000 jobs.
"The Amazon Marketplace is a win for customers looking for great products and prices, and for small businesses to reach customers around the world," says Amazon spokesperson Tom Cook.
Retailers are responding with a variety of strategies.
Leveraging the store any way they can: Retailers are throwing events ranging from happy hours to home-repair workshops, attracting new customers and also establishing themselves as a neighborhood fixture that residents want to support.
Aligning with brands: Retailers are attempting to persuade brands to work with an independent retailer who will advertise and support their products with the help of a knowledgeable staff.
Evangelizing: Schaeffer advocates telling customers how Amazon's growing power affects the neighborhood. "I cried the day Amazon bought Whole Foods," she says. "And that's the last day I shopped at Whole Foods. It sounds cheesy, but that's what you have to do when Amazon is breathing down your neck."
p.p1 {margin: 0.0px 0.0px 0.0px 0.0px; font: 12.0px Helvetica; -webkit-text-stroke: #000000; background-color: #f8f8f8} span.s1 {font-kerning: none}
p.p1 {margin: 0.0px 0.0px 0.0px 0.0px; font: 12.0px Helvetica; -webkit-text-stroke: #000000} span.s1 {font-kerning: none}
Go deeper