A rising White House power: true-believer Stephen Miller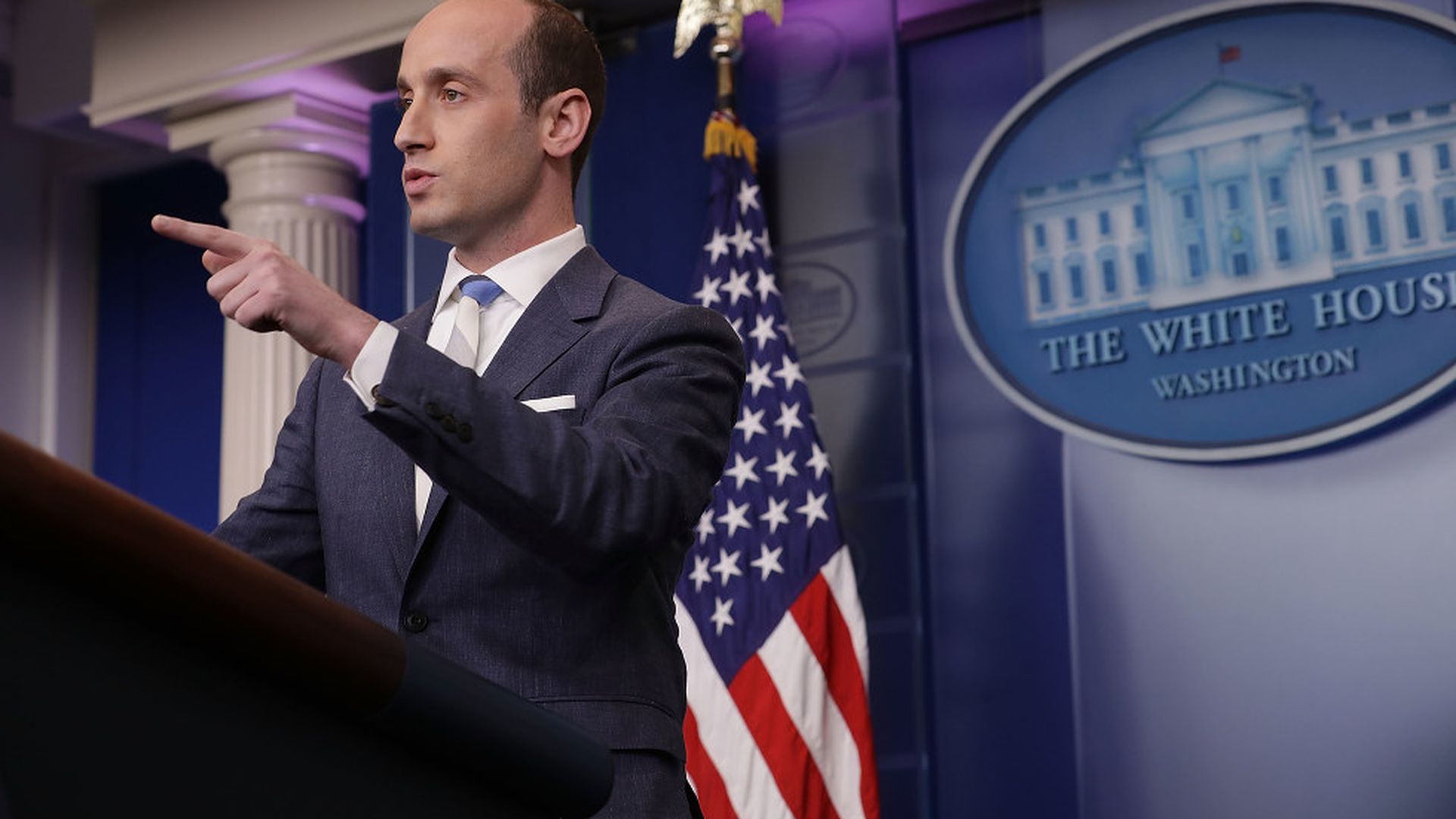 Guess who's likely to stick around for all four or eight years, and will be empowered in 2018? Stephen Miller, the true-believer senior policy adviser, who trumps Trump on hardline immigration views — and may outlast almost everyone.
The two issues Miller cares and knows most about, immigration and trade, will be front and center.
And Miller channels (and believes) Trump campaign rhetoric more than anyone internally.
Although some of Miller's allies speculate that he could one day wind up as chief of staff, he's seen more as an advocate and adviser than manager or leader. He works super-hard, but doesn't delegate.
Some West Wing officials are putting pressure on economic adviser Gary Cohn to stay: He would be vital to a push for a big infrastructure package, one of the year's policy centerpieces. And he's a crucial goalie on trade.
But Wall Street sources tell us Cohn may depart.
Deputy National Security Adviser Dina Powell — like Cohn, a major moderating influence — has said she's leaving early next year.
Finding big establishment names to replace them will be hard, especially with the tax cut already in the win column.
If National Security Adviser H.R. McMaster leaves in the dominoes that would follow the expected departure of Secretary of State Rex Tillerson, one possible replacement is hardliner John Bolton, who was U.S. ambassador to the U.N. under President George W. Bush.
Among key advisers likely to stay:
Chief of Staff John Kelly, who has imposed order and seems to enjoy running the place, despite occasional frustrations with the boss.
Treasury Secretary Steve Mnuchin, who is good at engaging Trump in briefings.
Defense Secretary James Mattis, a moderate voice in Situation Room meetings.
Communications Director Hope Hicks, the closest adviser — period.
Staff Secretary Rob Porter, respected for his intellect and instincts.
Marc Short, the legislative affairs director, coming off the big tax-cut win.
Nick Ayers, chief of staff to Vice President Pence.
Go deeper ... "Scoop: White House reshuffle expected in new year," by Jonathan Swan:
Sign up for Axios newsletters to get our smart brevity delivered to your inbox every morning.
Go deeper