Why the White House doesn't think Jerusalem move will kill peace plan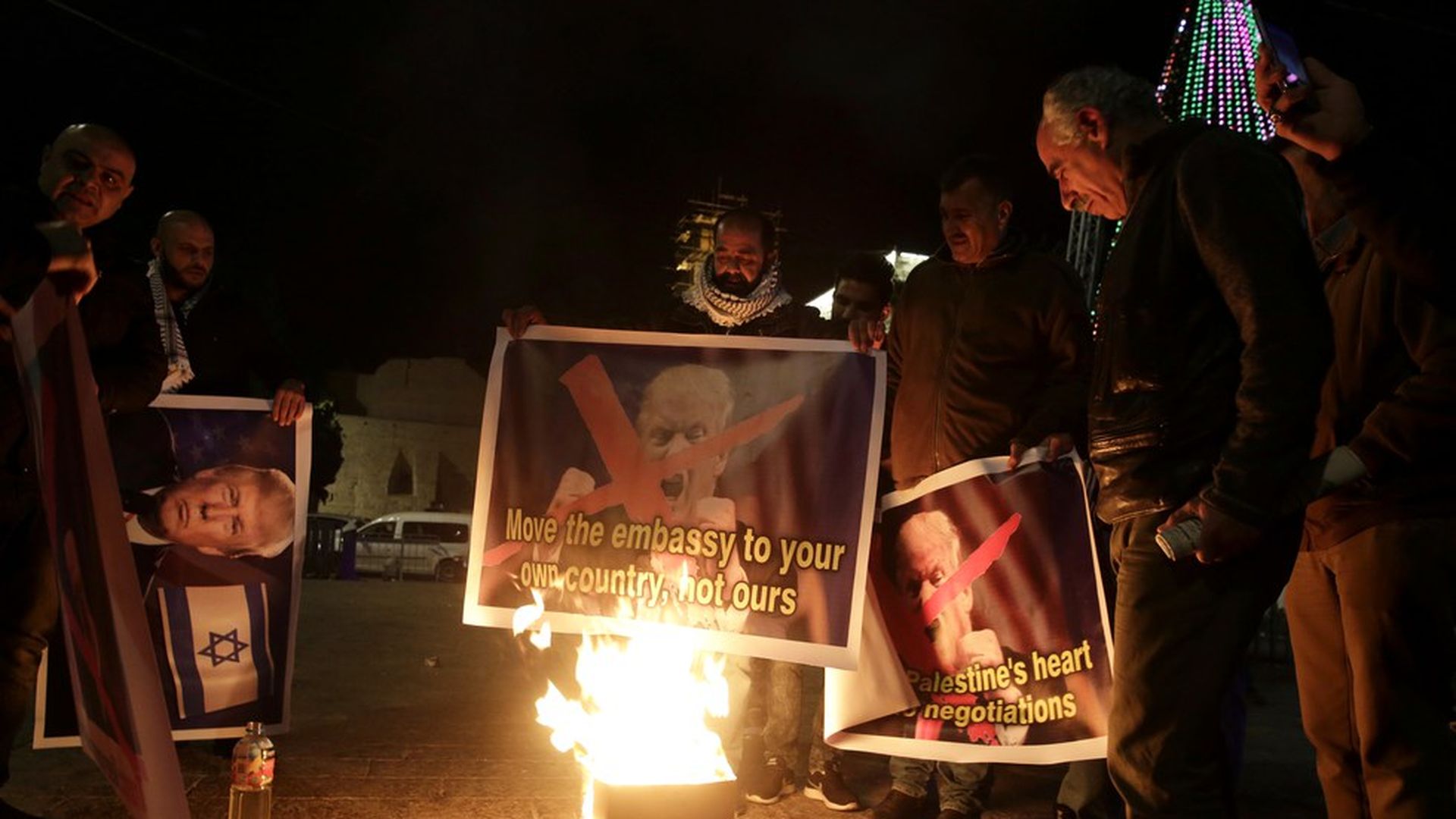 Just hours before President Trump's highly anticipated speech on Jerusalem, the White House is engaged in damage control. The challenge Trump and his team are facing: how to fulfill his campaign promise of moving the U.S. embassy to Jerusalem and still get a peace deal between Israel and the Palestinians — and prevent a wave a violence across the West Bank and the Middle East.
Between the lines: White House officials think Trump's decision to follow through on his campaign promise — even if only partially — strengthens his credibility around the world as a someone who stands by his word, isn't intimidated by threats, and doesn't cave to international pressure.
What we're hearing: Trump believes that even if other world leaders don't like the decision to recognize Jerusalem as the capital of Israel and start the process of moving the U.S. embassy to the city, they will nevertheless respect him for doing what he said he would do.
As a senior administration official told me: "The president will reiterate in his speech how committed he is to peace. While we understand how some parties might react, we are still working on our plan which is not yet ready. We have time to get it right and see how people feel after this news is processed over the next period of time."
Trump's peace team – mainly senior adviser Jared Kushner and special envoy Jason Greenblatt — supported Trump's decision. The peace plan Kushner and Greenblatt are working on is still in the making, and is expected to be presented in the next few months.
Behind the scenes: Trump's peace team sees the current crisis with the Palestinians as a bump in the road. The White House expected the Palestinians to get mad at Trump's decision, and also expected the angry statements by Arab governments. Kushner and Greenblatt are planning to put their heads down for a while, keep working quietly on the peace plan and wait for the dust to settle in order to make a renewed push.
Notable: The Trump speech will have something for the Palestinians too. A senior administration official said Trump will say for the first time since he won the Oval Office that he is prepared to support a two-state solution if both Israelis and Palestinians agree to it.
Why it's a big deal:
A statement by Trump in support of a two-state solution was one of the main demands the Palestinians made in the last few months.
By saying that, Trump will align himself with his three predecessors — Bill Clinton, George W. Bush and Barack Obama.
The Trump peace team sees this part of the president's speech as something that can contribute to the re-launch of peace talks.
What to watch: The White House is concerned about possible escalation of tensions as a result of Trump's decision, but hopes the president's good relations with the leaders of Saudi Arabia, Egypt and Jordan will help in calming down the situation as soon as possible.
Senior U.S. officials said Trump asked King Salman of Saudi Arabia, Egyptian President Abdel Fattah al-Sisi, and Jordan's King Abdullah II to help in lobbying the Palestinians to refrain from violence and return to peace talks. This might not be that easy. Israeli officials say the Israel Defense Forces and Shin-Bet see riots and escalating violence as a likely scenario and are getting prepared.
Be smart: Trump's decision on the embassy will fulfill his campaign promise only symbolically. On the ground, not much is going to change. The planning and building of a new embassy might take at least three to four years, according to senior U.S. officials.
Until then, Trump will continue to sign waivers to delay the move once every six months — as the previous presidents did — and the U.S. embassy will stay at its current location on the golden beaches of Tel Aviv. If Trump wants to inaugurate the new embassy, he will probably have to win a second term in office first.
Go deeper