Weinstein dominos, updated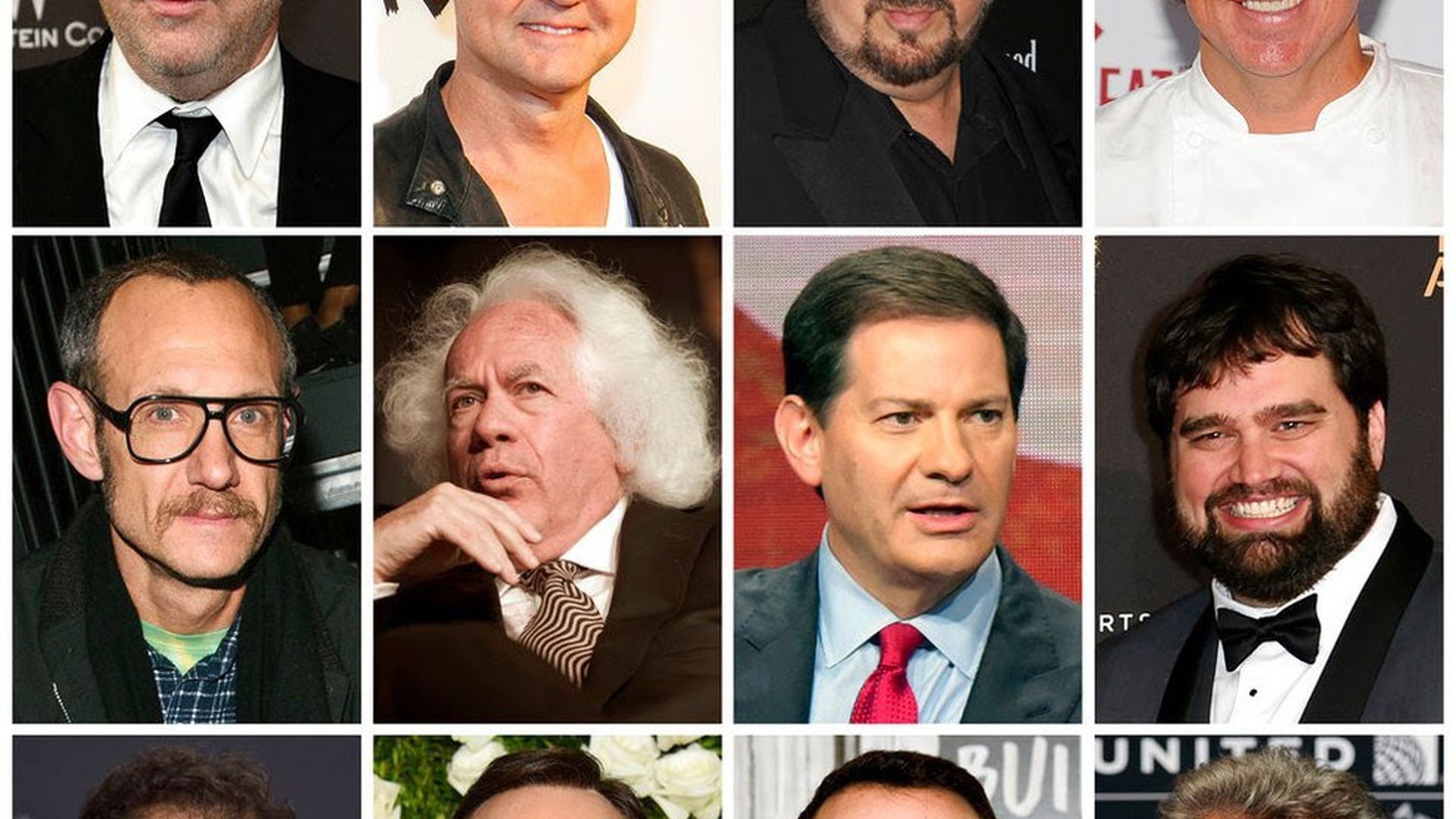 Some stories move so fast and far, we lose sight of the scale. So here's a freeze-frame on a defining story of our time: Men accused of sexual misconduct post-Weinstein, compiled by AP (click for details on each):
Entertainment:
Celebrity chef John Besh
Comedian Louis C.K.
Cinefamily executives Hadrian Belove and Shadie Elnashai
Actor Richard Dreyfuss: One woman alleges sexual harassment. He denies the allegation.
Director-producer Gary Goddard
Casting employee Andy Henry
Actor Dustin Hoffman: Accused by woman of sexual harassing when she was 17. He has apologized.
Actor Robert Knepper
Showrunner Andrew Kreisberg
Actor Jeremy Piven: Accused by three women of sexual misconduct. He denies all allegations.
Filmmaker Brett Ratner
Comedy festival organizer Gilbert Rozon
Producer Chris Savino
Actor Steven Seagal: Accused by two women of rape. He denies the allegations.
Actor Tom Sizemore: Accused of groping an 11-year-old actress in 2003. Utah prosecutors declined to file charges, citing witness and evidence problems. He denies the allegation.
Actor Kevin Spacey
Actor Jeffrey Tambor
Actor George Takei
Writer-director James Toback
"Mad Men" creator Matthew Weiner
Actor Ed Westwick
Media, publishing and business:
Billboard magazine executive Stephen Blackwell
Penguin Random House art director Giuseppe Castellano
New Republic publisher Hamilton Fish
Mark Halperin
Artforum publisher Knight Landesman
NPR news chief Michael Oreskes
Amazon executive Roy Price
Webster Public Relations CEO Kirt Webster
Rolling Stone publisher Jann Wenner: Accused by one man of sexual harassment. He says he did not intend to make the accuser uncomfortable.
New Republic editor Leon Wieseltier
NBC News booking exec Matt Zimmerman
Politics:
Sen. Al Franken (D-Minn.)
Senate candidate Roy Moore (R.-Ala.)
Florida Democratic Party Chairman Stephen Bittel: Accused of sexually inappropriate comments and behavior toward a number of women, Bittel resigned Friday.
Florida Democratic state Sen. Jeff Clemens resigned after a report that he had an extramarital affair with a lobbyist.
Florida Republican state Sen. Jack Latvala is being investigated by the Senate over allegations of harassment and groping. Latvala has denied the allegations.
Kentucky House Speaker Jeff Hoover
British Defense Secretary Michael Fallon
Sports:
International Olympic Committee member Alex Gilady
Former South African soccer association president Danny Jordaan
Former FIFA president Sepp Blatter
P.S. L.A. Times front page today: "[Brett] Ratner, [Russell] Simmons face new allegations of misconduct: Powerful Hollywood friends shared party lifestyle."
Go deeper