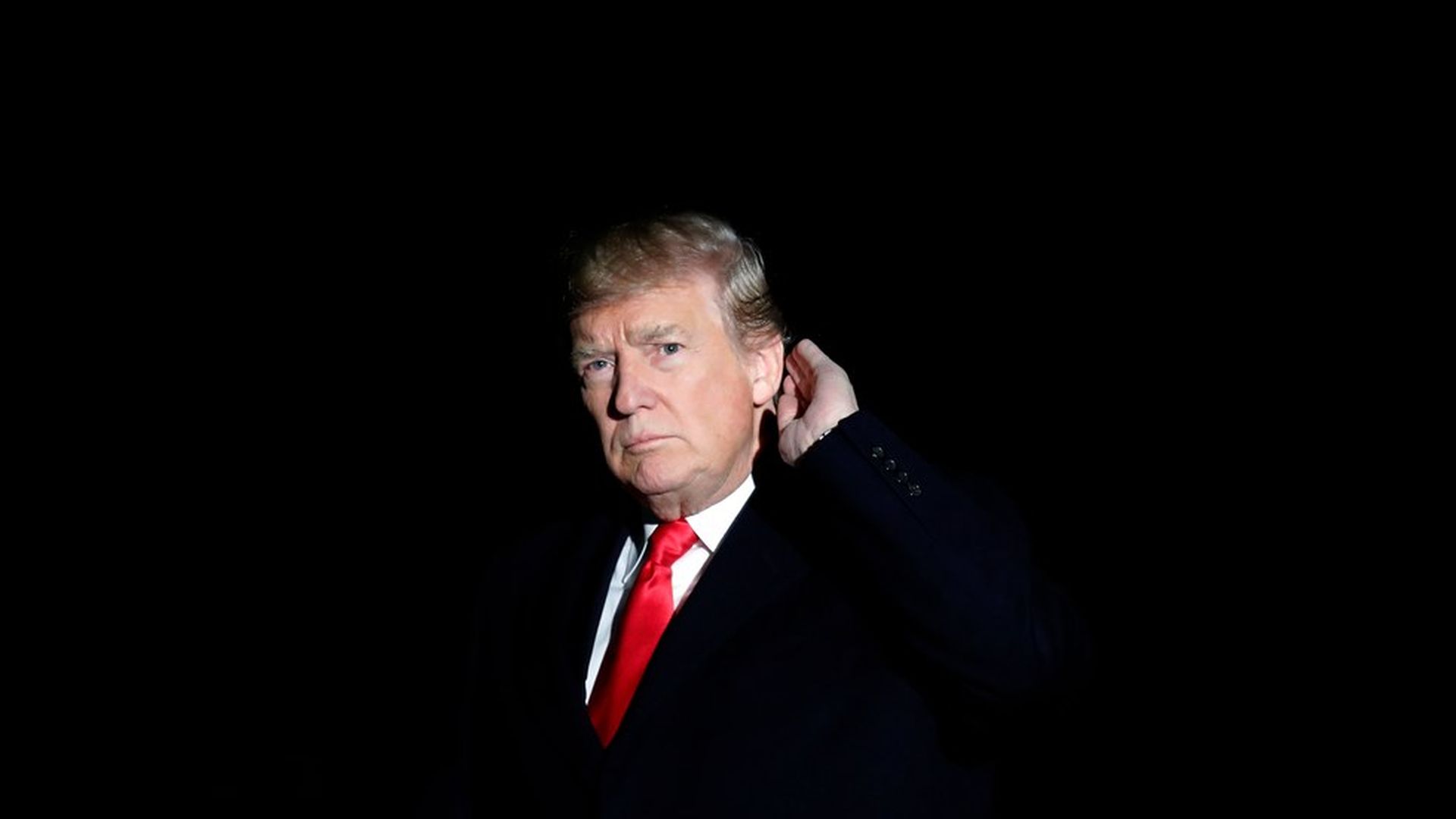 President Trump, his lawyers and his political team are telegraphing with increasing precision their strategy for fighting any charges against the president in the unfolding Russia investigation:
1. Wishful thinking: Cooperate with special counsel Bob Mueller, and tell Trump everything is fine. White House lawyer Ty Cobb continues to argue that the facts will be fine for the president, and that Mueller's probe will wrap up "shortly after the first of the year absent some unforeseen delay."
Trump often buys this, and it's partly what keeps aides sane: They know charges may come, but the happy talk gives them hope.
Aides know Mueller would not hire a team of prosecutorial "killers," and give Mike Flynn a break, unless bigger game was in clear range. But the aides point out that Trump has spent most of his adult life in litigation. He erupts in 30-second bursts but usually settles down.
2. Fight: Trump's lawyers will argue Trump either did not violate any law — or, even if it appears he did, that the president, because of his broad power, cannot be charged and should not be impeached.
Trump lawyer John Dowd told me the president cannot be charged for obstruction of justice.
Jay Sekulow, another member of the president's legal team, told The New Yorker that Trump can't be charged with a crime that doesn't exist: "For something to be a crime, there has to be a statute that you claim is being violated ... There is not a statute that refers to criminal collusion. There is no crime of collusion."
3. Fog: This part of the plan has been in full motion for many months: The Trump fog machine blows daily. The idea is to taint the prosecutor, the FBI, the process, the media, the Democrats, the critics. Trump is playing not for a court, per se, but the court of public opinion — and, more importantly, the court of House Republican opinion.
Worth noting: Look how many Republicans came around to the president's way of thinking on Russia, and more recently Roy Moore. His power over Republicans is formidable, and flows from popularity among the base. He knows this and exploits it.
4. Fudge: Trump and his legal team need to muddy things that might seem clear. Case in point: the Trump tweet in which he appears to admit knowing Flynn lied to the FBI. Not only did Dowd claim he drafted the tweet, but staff leaked word that other tweets were written by people other than Trump. How convenient.
Go deeper