Texas church shooting: Air Force error, anger at in-laws preceded attack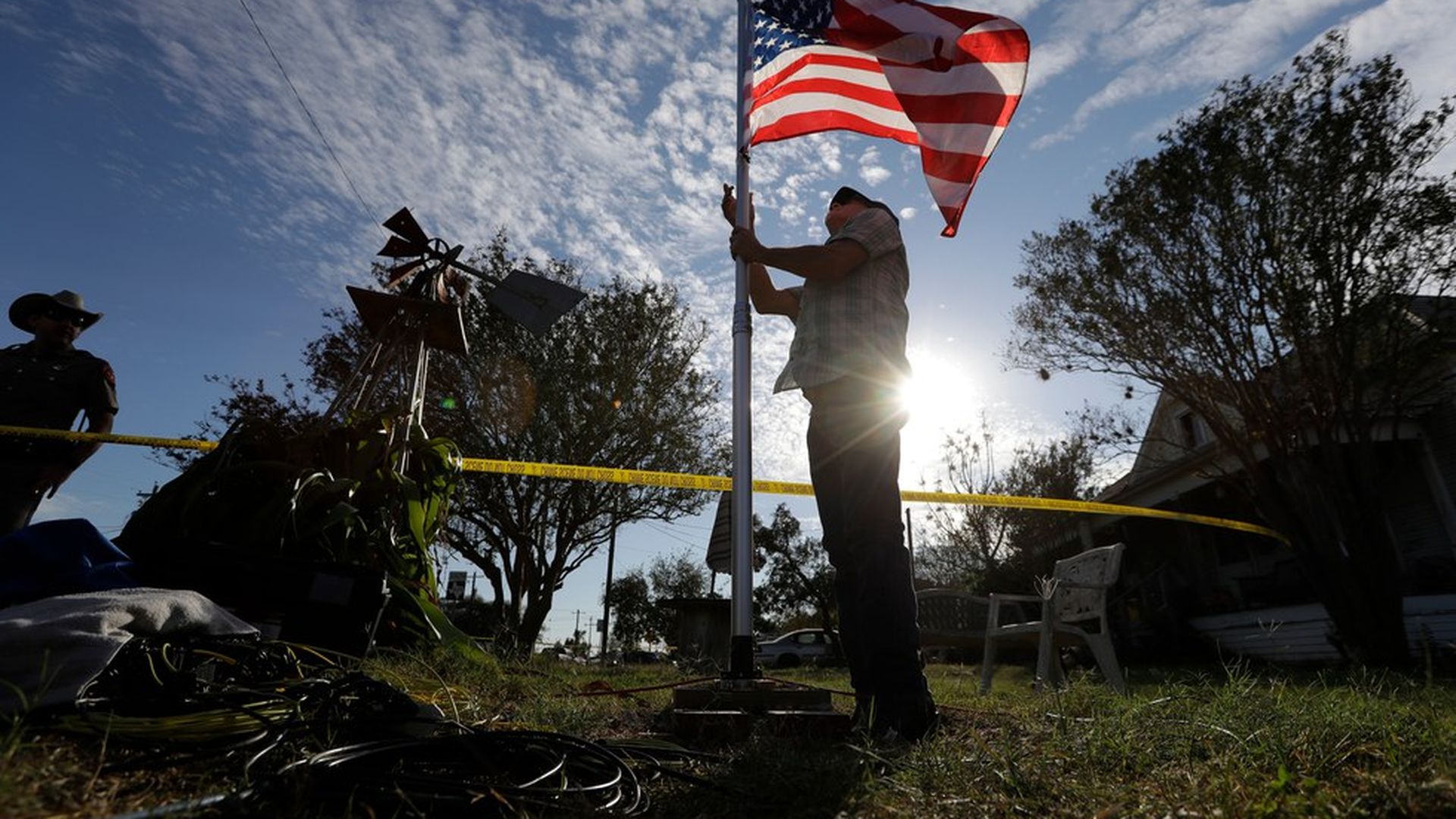 Devin P. Kelley — who shot 46 people, 26 of them fatally, in a Sutherland Springs, Texas church on Sunday — should not have been able to legally buy a gun after being convicted of domestic violence against his wife and infant daughter, but the Air Force never entered his name into a federal database.
Tuesday, a NYT report revealed that Kelley was placed in a psychiatric facility while he served in the Air Force after being charged in a military court for repeatedly assaulting his wife and baby stepson. Kelley escaped the facility in 2012 and was taken back into police custody.
President Trump addressed the shooting from Japan and said it was not "a guns situation," instead calling "mental health" the problem. He ordered that American flags flown at the White House, all public buildings and grounds, and military posts be flown at half-staff through sunset on Thursday.
The investigation:
On Monday, FBI investigators flew Kelley's phone to headquarters in Quantico, Virginia after they were unable to get into the device to access information that may be key in deciphering his motives.
Law enforcement officials recovered the suspect's rifle from the scene of the crime as well as two handguns from his car. All of the weapons, including a fourth, were purchased by the suspect himself, and all were purchased after his conviction.
A video recording from the scene revealed that Kelley carried out execution-style killings, shooting his victims — half of whom were young children — in the head.
The suspect:
Kelley was a resident of the neighboring county and served in the Air Force from 2010–2014 who left with a "bad conduct" discharge and was sentenced to a year's confinement for the assault, per the LA Times. Investigators said there was a "domestic situation going on" between the suspect and his in-laws, and Kelley's grandmother-in-law was among the people he gunned down at the church, CNN reports.
Kelley also "expressed anger at his mother-in-law," before the shooting, investigators said. He reportedly sent her messages that investigators will be able to view if they can access information on his phone. Authorities have confirmed that the shooting was not linked to race or religion, and the FBI does not have a terrorism investigation open at this time.
The timeline:
The church service began at 11 a.m. Sunday morning.
At 11:20 a.m., Kelley was spotted at a gas station near the church. He was dressed in black and wearing tactical gear, including a ballistic vest.
Shortly after, at about 11:30 a.m., he crossed the street to the church and began shooting at it, using a Ruger AR-15, similar to a military rifle. He then moved to the right side of the church and kept shooting, before entering the church to open fire inside.
When the suspect exited the church, a local man, who was armed, confronted him and shot him twice — once in the arm and once in the leg. At that point, the suspect dropped his weapon and fled in his vehicle.
A second local man, Johnnie Langendorff, was driving by when he saw the encounter between Kelley and the resident, according to local TV station KSAT. The two men chased after Kelley in Langendorff's car until the suspect ran into a ditch.
During the chase, which lasted about 11 miles, Kelley used his cell phone to call his father and notify him that he had been shot and "probably would not make it," per investigators.
Law enforcement later arrived and found Kelley dead inside his vehicle — killed by a self-inflicted gunshot to the head, per investigators.
The victims:
The victims of the shooting at First Baptist church range in age from 18 months to 77 years old, and include the pastor's 14-year-old daughter. "Nearly everyone had some type of injury" and about half of those killed were children, Sheriff Joe Tackitt said. The deceased include at least 8 members of a single family, CNN reports. A pregnant woman and three of her children were killed along with her brother-in-law, his child and additional members of their family. The visiting pastor leading the service was also gunned down.
There were 20 people wounded and taken to local hospitals after the attack, including 6 in stable condition, 4 in serious condition and 10 in critical condition. The death count may rise, authorities said. Of the deceased, 23 people were killed inside the church, two died outside and one person died at the hospital.
How to help: Officials are setting up two bank accounts, including one with Wells Fargo, to collect donations for the victims and their families.
Sutherland Springs is a small town in South Texas, about 35 miles east of San Antonio. Parishioners present at the First Baptist Church's Sunday service — when the shooter attacked — were likely all members of Sutherland Spring's small community of around 700 people. About 4% of them were gunned down Sunday morning. The local community center has been turned into a resource center for families of the victims to wait for information.
This was the worst church shooting in U.S. history and the deadliest mass shooting in Texas's history.
Go deeper: The victims of the attack; The deadliest mass shootings in modern U.S. history ... This one is tied for the 4th spot.
Go deeper