Netanyahu to Macron: I'll make concessions for Trump peace plan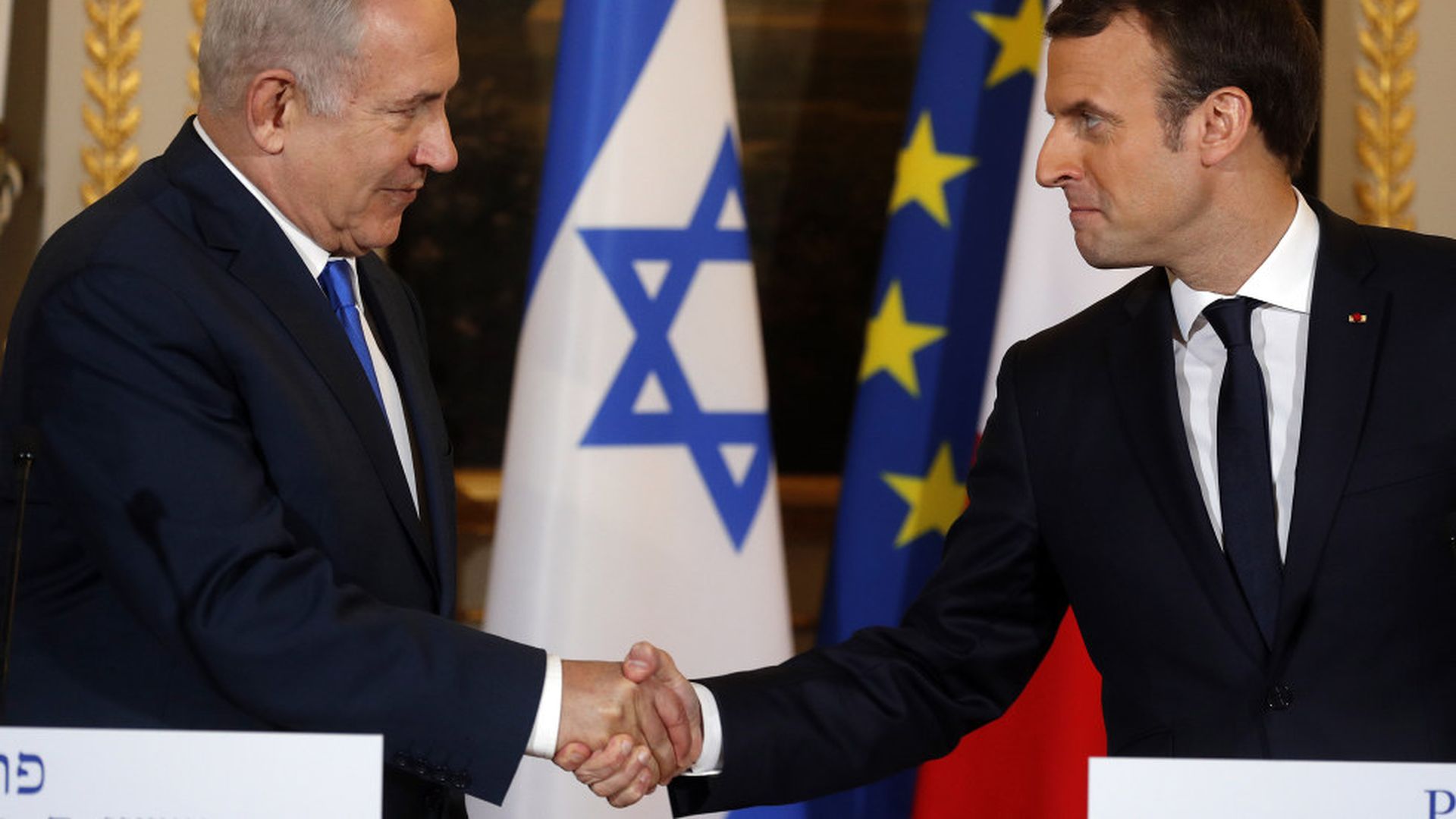 Israeli Prime Minister Benjamin Netanyahu told French President Emanuel Macron on Sunday that he will be ready to make concessions in the context of a Trump peace plan, according to two European diplomats who were briefed on their meeting at Élysée Palace in Paris. Why it matters: Netanyahu didn't say what kind of concessions he had in mind, but the fact that he would offer them shows how optimistic he is about Trump's plan. Macron doesn't share his enthusiasm. According to the diplomats, Macron told Netanyahu Trump's peace plan will be "disruptive" for the status quo.
What we're hearing: The European diplomats, who asked for anonymity due to the sensitivity of the matter, said Macron told Netanyahu he spoke several times with Trump in the last week. Macron added that Trump told him that in a few months, he will present a peace plan that will be different from all previous Middle East peace initiatives.
The diplomats said Netanyahu told Macron he is still waiting to see what Trump is going to come up with, and added he doesn't know what Trump will put on the table. Netanyahu told Macron he thinks Trump's plan will be a challenge for both him and Palestinian Authority President Mahmoud Abbas, but added he is will be willing to take risks. Netanyahu's office confirmed most of the description provided by the European diplomats, but denied that Netanyahu spoke about possible concessions. Israeli officials said Netanyahu only told Macron he thinks the Trump plan will challenge both him and Abbas. "There might be a European interest to give a different description of the conversation," the officials said.The other side: According to the diplomats, Macron was skeptical that it will be possible to promote a peace initiative in the current political atmosphere after Trump's announcement that the U.S. will recognize Jerusalem as the capital of Israel. Macron's message to Netanyahu: "We will have to wait a few months for everybody to cool down."A day later, Netanyahu met in Brussels with the EU foreign policy chief, Federica Mogherini, and with the foreign ministers from EU member states. According to European diplomats, Netanyahu told Mogherini and the EU foreign ministers that Trump is preparing a serious peace plan and they should take him seriously.The bottom line: Netanyahu said there's a lot of turmoil now because of the Jerusalem announcement, but once it calms down, the U.S. peace plan will come up again.
Go deeper