Another House Republican announces retirement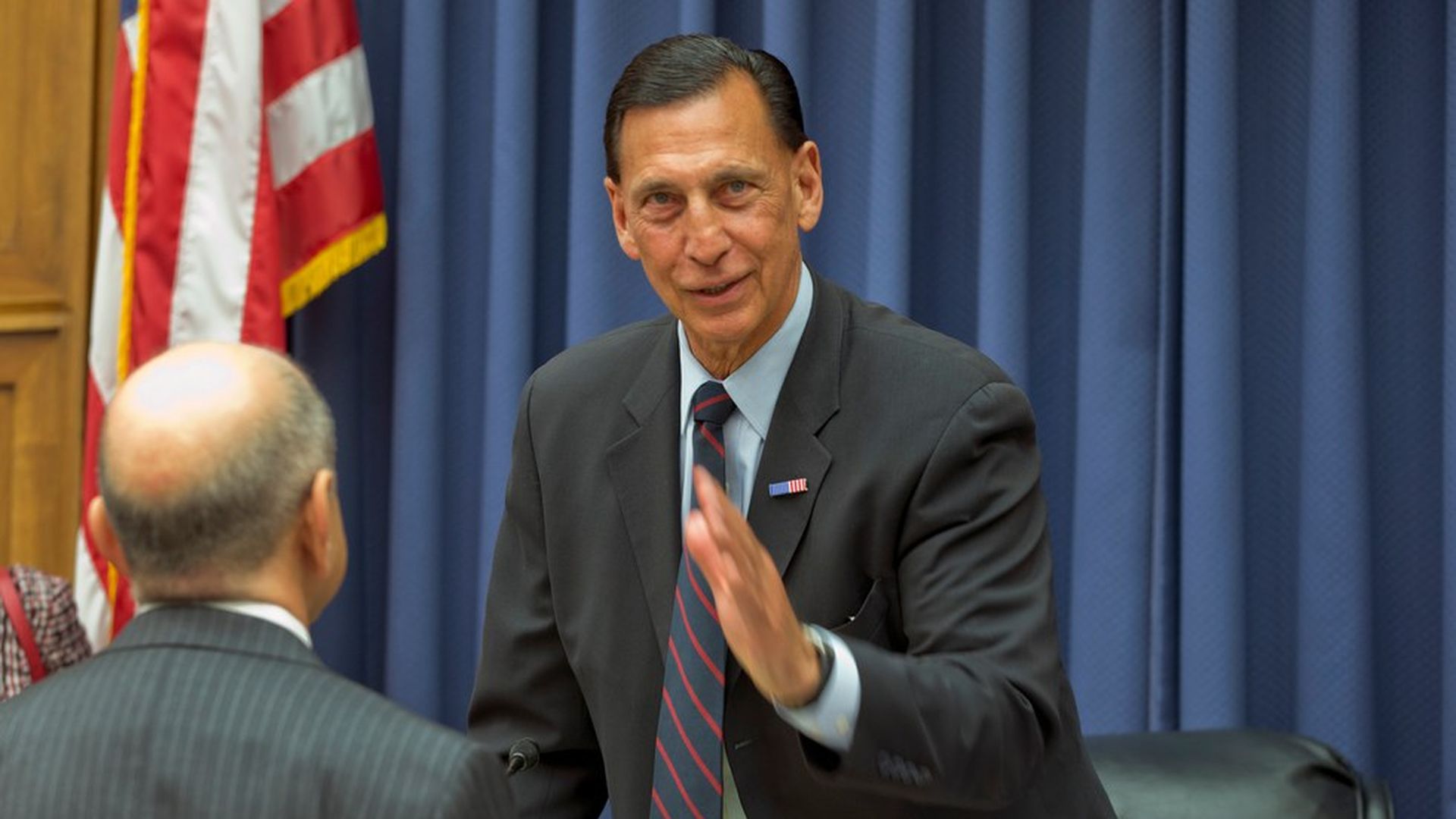 Rep. Frank LoBiondo of New Jersey is the latest in a series of House Republicans to announce he'll retire at the end of this term, he announced Tuesday. According to Nate Cohn of the New York Times, this is a big one for Democrats:
Wow. Probably the single most valuable retirement for Democrats left on the board. Can't name another seat that would go from safe Republican to toss up https://t.co/vwmwtgoTpK— Nate Cohn (@Nate_Cohn) November 7, 2017
There are now 12 Republicans departing in 2018 and just one Democrat. In addition, Jason Chaffetz resigned his seat in June, and his replacement is being elected Tuesday.
Outlier check 1: According to Brookings, the average terms served for retiring members has hovered around 8 over the last 40 years, but dropped to 5 in the 2016 cycle. The average among these 12 Republicans is 9.5.
Outlier check 2: The number to watch for to help determine if this trend is notable is 23. That's the average number of retiring representatives over the last five election cycles. Over that time, there has been more attrition from Republicans than from Democrats. However, the 12-to-1 ratio of retiring Republicans to Democrats is a considerable disparity.
A look at the 12 departing Republicans...
Frank LoBiondo of New Jersey:
Date announced: Nov. 7
Terms: 12
2016 margin of victory: 22 points
2016 presidential: Trump by 5 points
Lamar Smith of Texas:
Date announced: Nov. 2
Terms: 15
2016 margin of victory: 31 points
2016 presidential: Trump by 10 points
Jeb Hensarling of Texas:
Date announced: Oct. 31
Terms: 8
2016 margin of victory: 61 points
2016 presidential: Trump by 28 points
Pat Tiberi of Ohio:
Date announced: Oct. 19
Terms: 9
2016 margin of victory: 37 points
2016 presidential: Trump by 11 points
Tim Murphy of Pennsylvania (resigned in scandal):
Date announced: Oct. 5
Terms: 7 full terms
2016 margin of victory: uncontested
2016 presidential: Trump by 20 points
Dave Trott of Michigan:
Date announced: Sept. 11
Terms: 2
2016 margin of victory: 13 points
2016 presidential: Trump by 5 points
Charlie Dent of Pennsylvania:
Date announced: Sept. 7
Terms: 7
2016 margin of victory: 20 points
2016 presidential: Trump by 8 points
Dave Reichert of Washington:
Date announced: Sept. 6
Terms: 7
2016 margin of victory: 20 points
2016 presidential: Clinton by 3 points
John J. Duncan Jr. of Tennessee:
Date announced: July 31
Terms: 15 full terms
2016 margin of victory: 51 points
2016 presidential: Trump by 35 points
Ileana Ros-Lehtinen of Florida:
Date announced: April 30
Terms: 14 full terms
2016 margin of victory: 10 points
2016 presidential: Clinton by 20 points
Lynn Jenkins of Kansas:
Date announced: Jan. 25
Terms: 5
2016 margin of victory: 28 points
2016 presidential: Trump by 19 points
Sam Johnson of Texas:
Date announced: Jan. 6
Terms: 13 full terms
2016 margin of victory: 27 points
2016 presidential: Trump by 14 points
Go deeper