Woodward and Bernstein on how to cover Trump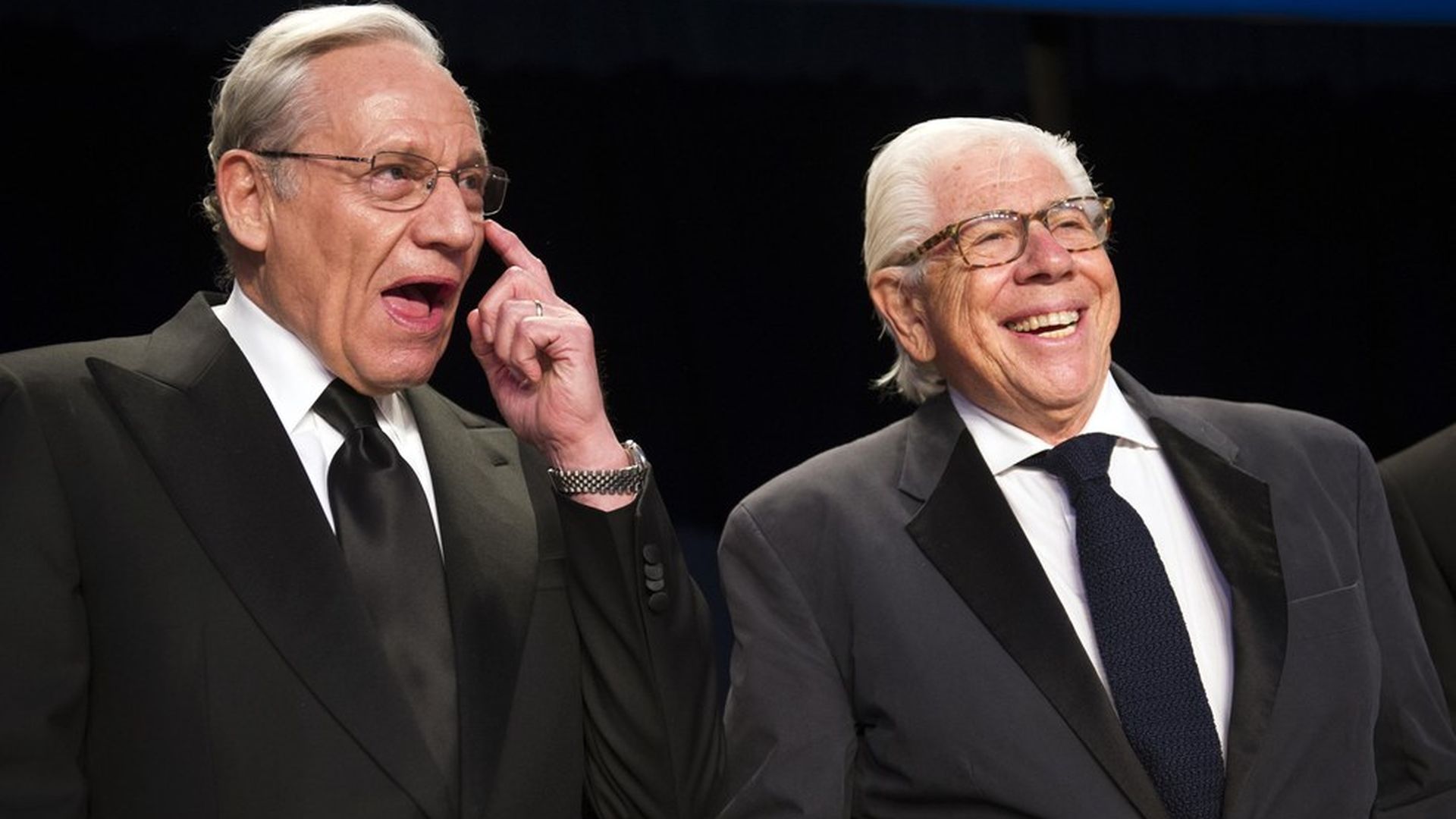 Bob Woodward and Carl Bernstein performed a rare duet last night as they presented awards at the White House Correspondents' Association Dinner, and they offered reflections and advice on covering the presidency.
Bernstein:
"Shortly after Richard Nixon resigned the presidency, Bob and I were asked a long question about reporting. We answered with a short phrase that we've used many times since to describe our reporting on Watergate and its purpose and methodology. We called it: 'The best obtainable version of the truth.'"
"Richard Nixon tried to make the conduct of the press the issue in Watergate instead of the conduct of the President and his men. We tried to avoid the noise and let the reporting speak."
"Almost inevitably, unreasonable government secrecy is the enemy — and usually the giveaway about what the real story might be. [Applause] And when lying is combined with secrecy, there is usually a pretty good roadmap in front of us. Yes, follow the money. But follow also the lies."
"I know of no important story that I've worked on in more than half a century of reporting that ended up where I thought it would go when I started on it."
"Almost all of our sources in Watergate were people who had, at one time or another, been committed to Richard Nixon and his presidency."
"Incremental reporting is essential. We wrote more than 200 stories in Watergate."
Woodward:
Carl "obtained a list of people who worked at Nixon's reelection campaign committee, not surprisingly, from a former girlfriend. [Laughter] He's finally embarrassed."
"No one would talk. Carl said, 'Here's what we have to do,' launching a system of going to the homes of people, knocking on doors when we had no appointment."
"[I]n 2017, the impatience and speed of the Internet — and our own rush — can disable and undermine the most important tool of journalism ... that luxury of time to inquire, to pursue, to find the real agents of genuine news, witnesses, participants, documents, to dive into the cab."
"Like politicians and presidents, sometimes, perhaps too frequently, we make mistakes and go too far. When that happens, we should own up to it. But the effort today to get this best obtainable version of the truth is largely made in good faith. Mr. President, the media is not fake news." [Applause]
"The indispensable centrality of fact-based reporting is careful, scrupulous listening and an open mind. President Nixon once said, 'The problem with journalists is that they look in the mirror when they should be looking out the window.' That is certainly one thing that Nixon said that Carl and I agree with."
"Whatever the climate, whether the media is revered or reviled, we should and must persist, and I believe we will. We also need to face the reality that polling numbers show that most Americans disapprove of and distrust the media. This is no time for self-satisfaction or smugness."
Go deeper