Why Trump hopes the new Trump sticks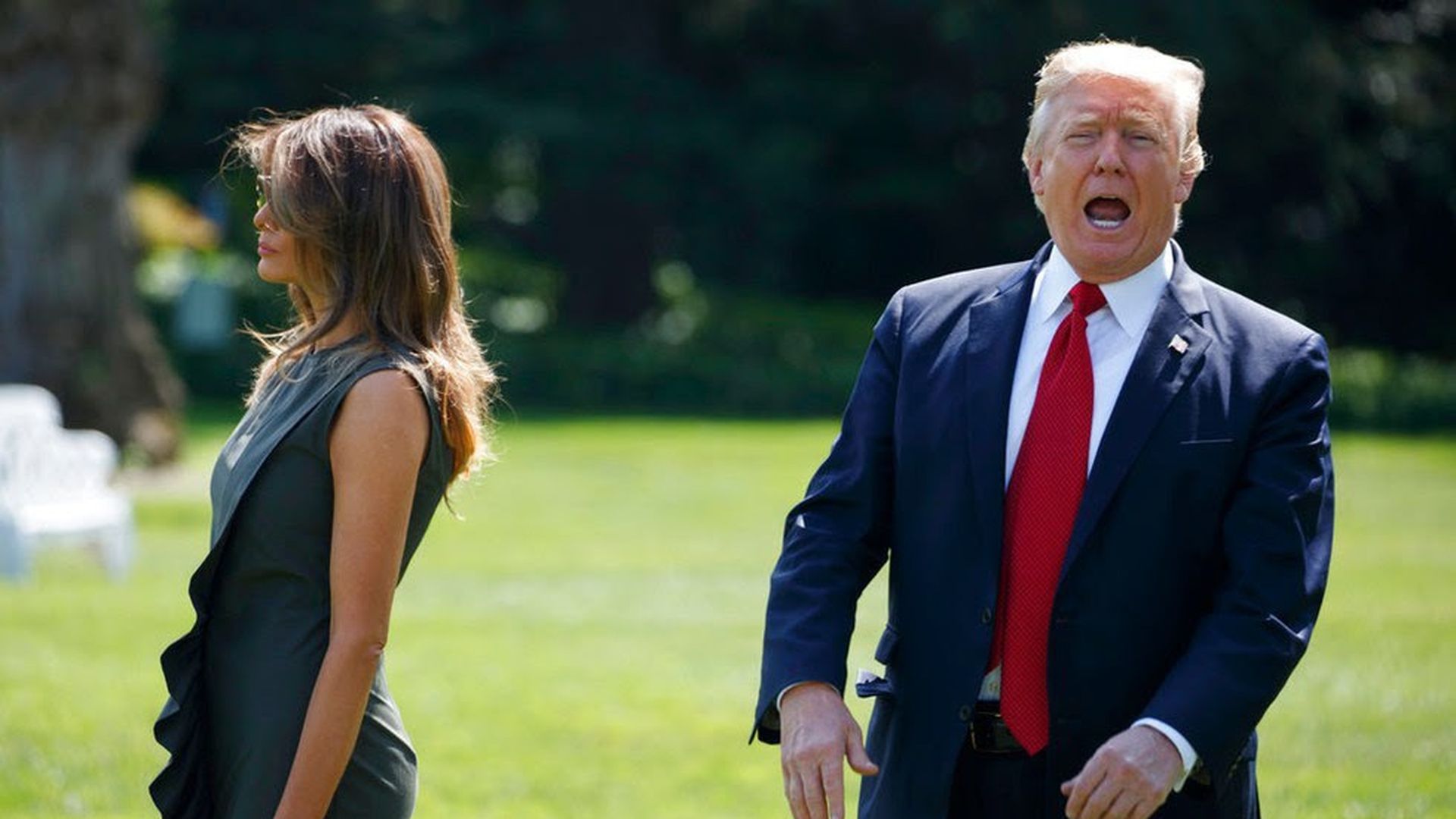 A Trump adviser says that after a tumultuous seven months in office, it had finally dawned on the president: "People really f@&@ing hate me." For someone who has spent his life lapping up adulation, however fake, it was a harsh realization. This is a man with an especially acute need for affirmation.
This week's bear hug of Nancy Pelosi and Chuck Schumer opened Trump's eyes to one solution: Stop doing things that people hate, and start striking deals.
Who knows if this will stick. But there's reason to think it might, according to Trump's friends and aides. Here's why, based on conversations Jonathan Swan and I had in the aftermath of the surprising deal:
He can blame Republicans for his troubles. Trump has convinced himself he was duped by GOP leaders into repealing health care and blowing his first seven months on a fool's errand. If he can strike a few deals, he can reshape history to make the party — not himself — the culprit.
He can please the kids and New Yorkers. With the banishment of Bannon and his allies, Trump is left with a largely moderate to Democratic staff.
A senior administration official said of Trump's deal with Chuck and Nancy: "He just wanted to do something popular." He's reveling in the coverage, including lavish praise from "Morning Joe."
He can spend money, not take it away. Trump hates complex topics and gravitates to things you can build, such as planes or new infrastructure projects.
Remember he told Republican senators the House healthcare bill was "one mean sonofabitch." He said he wanted the Senate version to be much more generous, with no worry about cost.
One senator recalled Trump saying: "We're going to have so much ... economic growth, that we'll have so much money — more than you imagine."
He can liberate himself. He feels boxed in inside the White House and felt handcuffed to GOP leaders. No more. He had it with McConnell — thinks he's past his prime, no longer capable of leading. Considers him low-energy. He has much more natural rapport with Schumer, a friend from the New York days.
Be smart: With the expiration of vehicles allowing simple-majority votes in the Senate, Trump achievements soon will require substantial Democratic votes. So he was going to have to pivot at some point anyway, building bridges and finding new dance partners.
But we can't overstate the level of despair among Republicans. One person very close to Republican leadership told us: "He accepted a shakedown when he was holding all the cards. ... This is quite literally a guy who watches 'ER' trying to perform a surgery."
Will it stick? With Trump, who the hell knows?
Go deeper