Why top White House officials won't quit Trump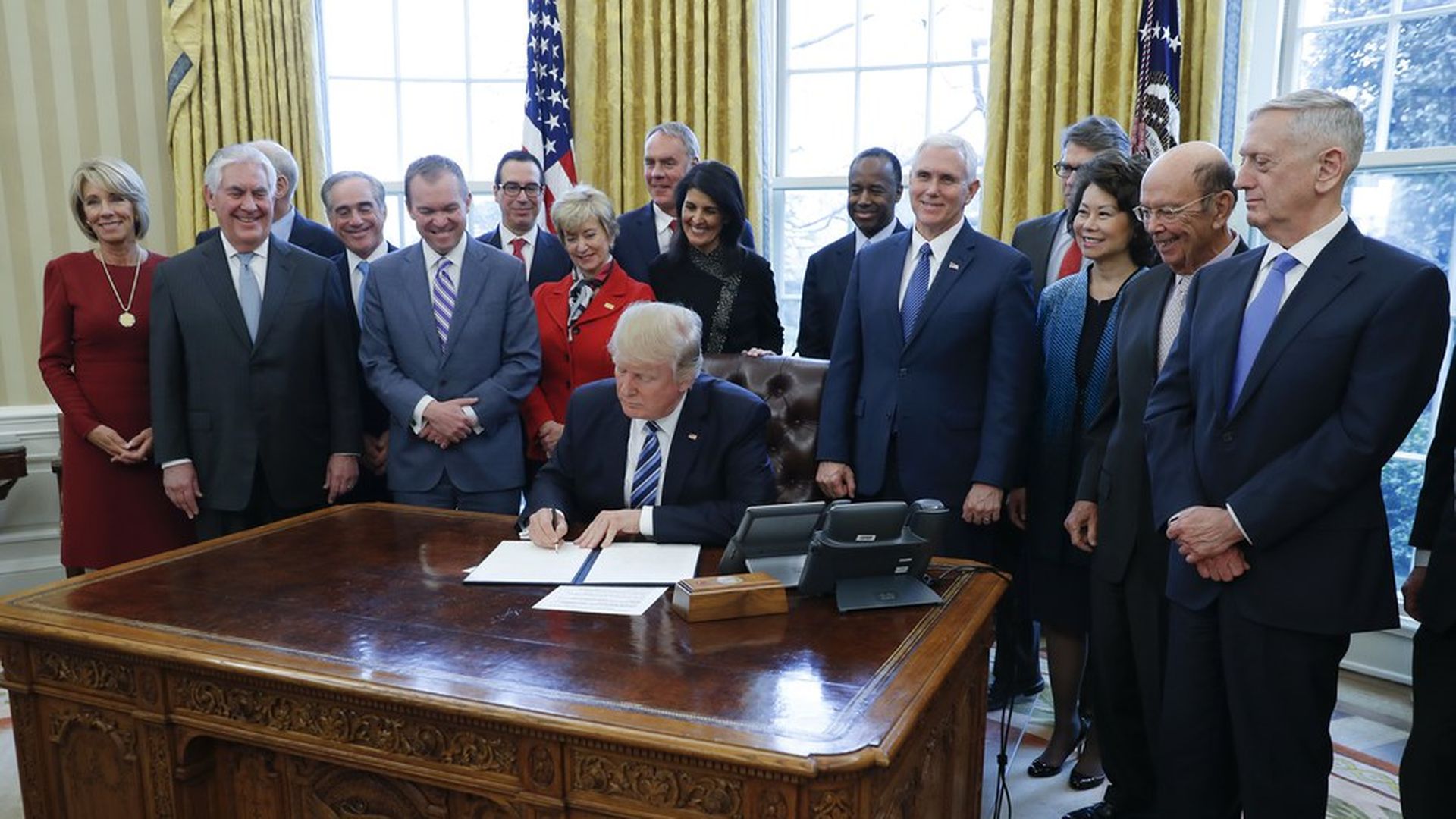 There's lots of punditry about why people like Gary Cohn, Rex Tillerson, Dina Powell, Steve Mnuchin and many others don't quit the Trump White House in protest over Charlottesville.
New Yorker Editor David Remnick writes "The Divider," the lead item of the forthcoming "Talk of the Town" section: "This latest outrage has disheartened Trump's circle somewhat; business executives, generals and security officials, advisers, and even family members have semaphored their private despair."
Treasury Secretary Mnuchin yesterday posted a passionate response to Yale '85 classmates who had published an open letter calling on him to resign:
"[A]s someone who is Jewish, I believe I understand the long history of violence and hatred against the Jews (and other minorities)."
"I feel compelled to let you know that the President in no way, shape or form, believes that neo-Nazi and other hate groups who endorse violence are equivalent to groups that demonstrate in peaceful and lawful ways."
"I don't believe the allegations against the President are accurate, and I believe that having highly talented men and women in our country surrounding the President in his administration should be reassuring to you."
So why do the others stay? We talked to a half dozen senior administration officials, who range from dismayed but certain to stay, to disgusted and likely soon to leave. They all work closely with Trump and his senior team so, of course, wouldn't talk on the record. Instead, they agreed to let us distill their thinking/rationale:
"You have no idea how much crazy stuff we kill": The most common response centers on the urgent importance of having smart, sane people around Trump to fight his worst impulses. If they weren't there, they say, we would have a trade war with China, massive deportations, and a government shutdown to force construction of a Southern wall.
"General Mattis needs us": Many talk about their reluctance to bolt on their friends and colleagues who are fighting the good fight to force better Trump behavior/decisions. They rightly point out that together, they have learned how to ignore Trump's rhetoric and, at times, collectively steer him to more conventional policy responses.
"Trump's not as evil as portrayed": All of them talk up the president as more reasonable off Twitter and TV than on it. This gives them hope (though almost all increasingly say it's fleeting hope) he will listen to his better angels, or at least the pleas of Ivanka.
"We like the power": Well, no one comes out and say it this blatantly. But working in the White House, even this one, is intoxicating and ego-stroking. They have enormous say over regulations and rules, invites and implementation, government jobs and access to the Oval. They also know they are one step away from an even bigger job in government, so it's hard to just walk away.
One White House aide had a memorable response after I asked the question: "It puts Trump's tortured staff in a bigger jam: How do they look their African American friends in the eye, and rationalize their support of Trump?"
The aide gave me permission to share the thinking, which synthesizes what we hear from many administration officials:
I have absolutely no difficulty looking anyone in the eye. Here's why:
Will I have the same, incredible opportunities to make a true difference somewhere else? No.
If I leave, who will take my spot? Someone with my heart for making things better for ALL Americans? Maybe, maybe not. Huge value to country in good people serving right now.
The Presidency is bigger than the person. And the WH has expansive influence on execution of broad range of administrative authorities.
Be careful: This White House and key federal agencies are starving for well-intentioned talent. The possibility of a catastrophic crisis, abroad or at home, is real. Rookies or boot-lickers are not what we need in those moments.
Go deeper