Why the Obamacare repeal effort is suddenly a huge mess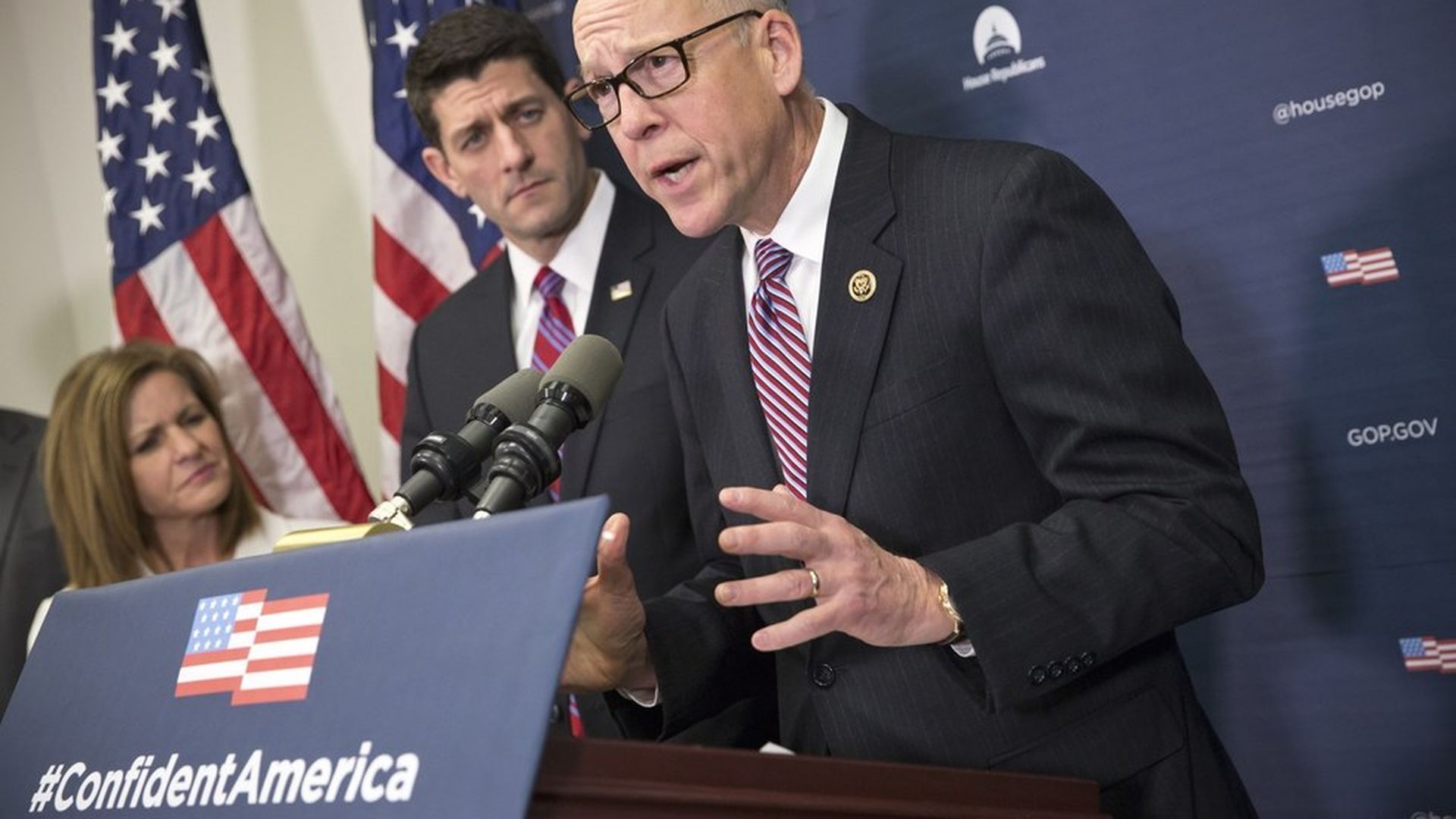 Despite Republican leaders' insistence that the Obamacare repeal effort is making steady progress, deep rifts have split the caucus. Hardliners in both the House and the Senate have threatened to oppose any repeal that isn't aggressive enough, which could kill the effort in both chambers if a bill loses either conservatives or moderates.
Perhaps the most irreconcilable issue among different factions is, of all things, Medicaid expansion. That was a big topic at Tuesday's Senate GOP caucus lunch, attended by both House Speaker Paul Ryan and Vice President Mike Pence. While Republicans from states that expanded Medicaid don't want to throw constituents off their coverage, others say it's not fair for their states to be penalized for not taking the expansion.
Another problem: While the House Freedom Caucus won't say it collectively opposes including pieces of a replacement in the repeal bill, it prefers a straight repeal — even though the leadership is already planning to include replacement. Some individual members in both chambers have said they're opposed to the replacement strategy, largely because it's slowing down the repeal process.
Put it all together and it's a tenuous path forward, at best. At worst, the repeal effort is falling apart.
The Medicaid problem: The House Freedom Caucus voted Monday evening to oppose anything narrower than the 2015 repeal bill passed by both chambers, which included a repeal of the Medicaid expansion. But how to convince members from expansion states to vote for something that would effectively strip some of their most vulnerable constituents of health coverage — or force states to pick up the tab — is an open question.
"That is a $1.3 trillion question that's out there, if we're really being honest about it," said House Freedom Caucus Chairman Mark Meadows. He acknowledged that Republicans have to be fair to states like Ohio, which expanded Medicaid, and North Carolina, which didn't.
When I asked Ohio Sen. Rob Portman what he thought about voting on the 2015 repeal bill again, he shot the idea down: "I don't think that's likely to happen. 'Cause it was a different context." But Missouri Sen. Roy Blunt described his state's problem as a non-expansion state: "Missouri and 18 other states didn't expand Medicaid, and I don't think they should be penalized forever in a new program because they didn't expand Medicaid."
The bottom line: Republicans are going to have to figure out whether people newly eligible for Medicaid under Obamacare will continue receiving federal assistance under a new program, like one that sets per-person limits on Medicaid funding. They can reform the program however they want to, but that essential question is going to have to be answered.
What will almost certainly fail: An attempt to pass the 2015 repeal bill without any pieces of replacement included in it, which is what Meadows told me Monday afternoon he wants to see happen.
Here's what the moderates have to say about voting on the old repeal bill:
Sen. Susan Collins: "I disagree with that."
Sen. Bob Corker: "My preference, let me put it that way, would be to try to deal with replacement simultaneously."
Sen. Lisa Murkowski: "You're asking a question that is not in sync with where I think we're going ... which is making sure that we've got something in place before we push send on repeal."
Sen. John Thune: "I think whatever we do will probably stay fairly close to the contours of the 2015 bill ... But we're assuming that will include pieces of [replacement]."
The wishful thinking: Energy and Commerce Committee Chairman Greg Walden said he's not concerned about conservatives' demands. "I think they will be pleased with what we come up with because we share a goal of doing, starting with and using the reconciliation bill from 2015. So we're there. We think we can actually do more, which is what they called for in terms of more reforms."
Go deeper