Why it's complicated for Justice Dept to ask AT&T to sell CNN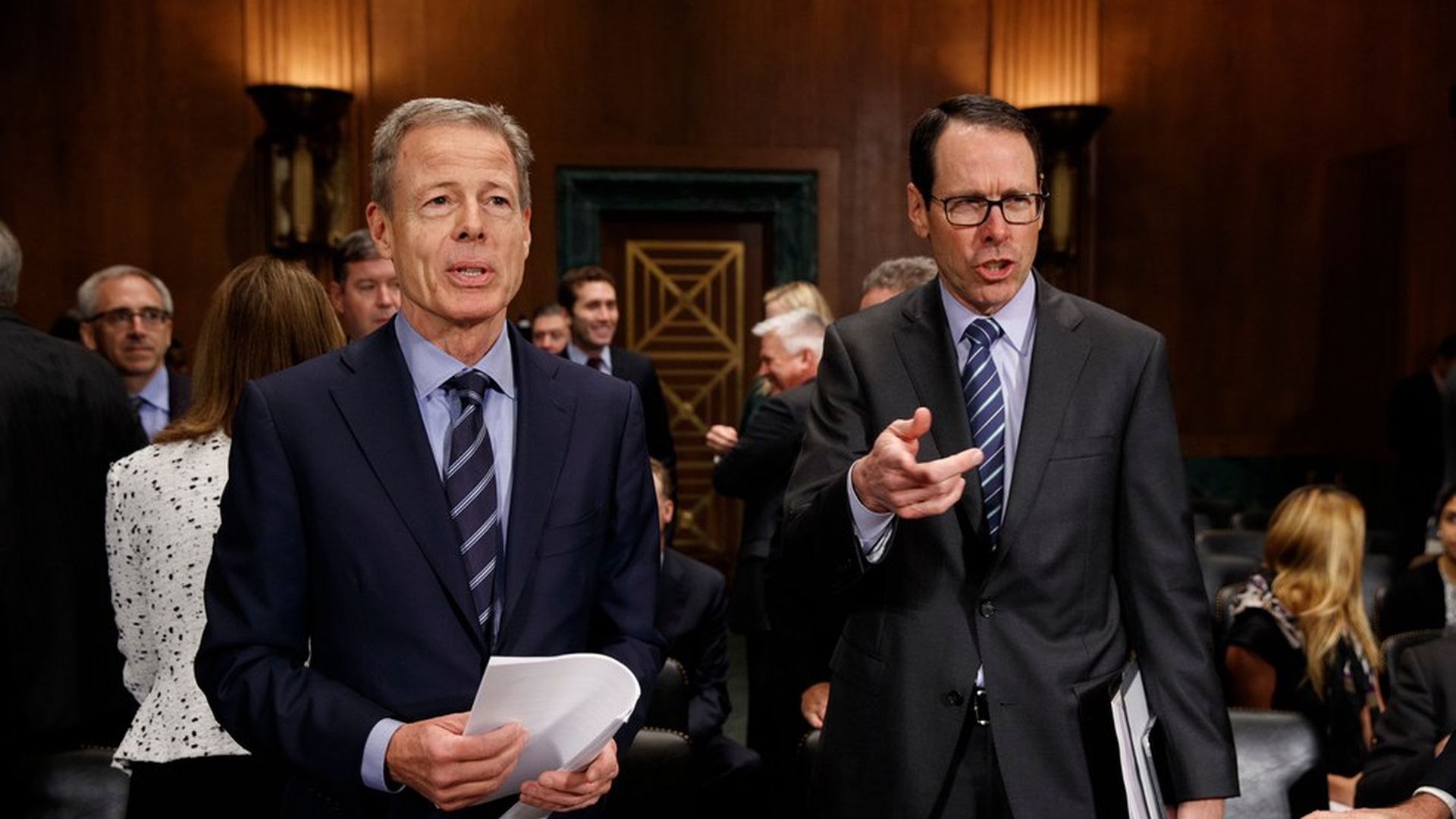 If the U.S. Justice Department were to sue over its demands that AT&T sell Turner (owner of CNN and other channels) or DirecTV in order to have its $85 billion purchase of Time Warner approved, as reported Wednesday, lawyers say the regulators will be fighting decades of precedent.
Why it matters: Speculation is swirling about the DOJ's motives, in light of President Trump's campaign trail promise to block the deal, and his vocal disdain for CNN's coverage.
Theory of the case: Critics of the proposed AT&T-Time Warner merger argue that a combination of companies in different but related markets (i.e., a vertical deal) can be as harmful as a horizontal combination of two companies that compete directly with one another.
Asking AT&T to sell either DirecTV or Turner could be based on the idea that owning both a major content producer (particularly in sports and news) and a nationwide video provider would enable the combined entity to push competitors around.
For example, AT&T+Time Warner could provide free data for customers to watch certain content (a.k.a. "zero rating"). Currently, AT&T customers using the DirecTV Now streaming service can watch most programs without eating into their monthly data allotment. Zero-rating has been one recent focus in the DOJ's evaluation of the case. A source familiar with the matter says that the agency has looked into the effect that DirecTV Now has on DirecTV's broader customer base.
Where it gets complicated: For decades, antitrust regulators have worried more about horizontal mergers than vertical ones, and courts have generally backed up that approach.
They'd also be bucking the status quo on another front. If antitrust enforcers have concerns about a deal, they typically ask the companies to commit to not engaging in certain actions. Asking the companies to sell off the parts of their business that could cause trouble for competitors, as the DOJ is considering, is more unusual.
AT&T's CEO said he doesn't plan to sell CNN and a Justice spokesperson said the agency doesn't comment on ongoing investigations.
The bottom line: The transaction is unexpectedly imperiled and may head into uncharted territory, were it to spark a lawsuit over over the right way to police competition.
Go deeper: The New York Times has a rundown of the different stories emerging from Ma Bell and DOJ.
Go deeper