Why 4-H is focusing on tech along with tractors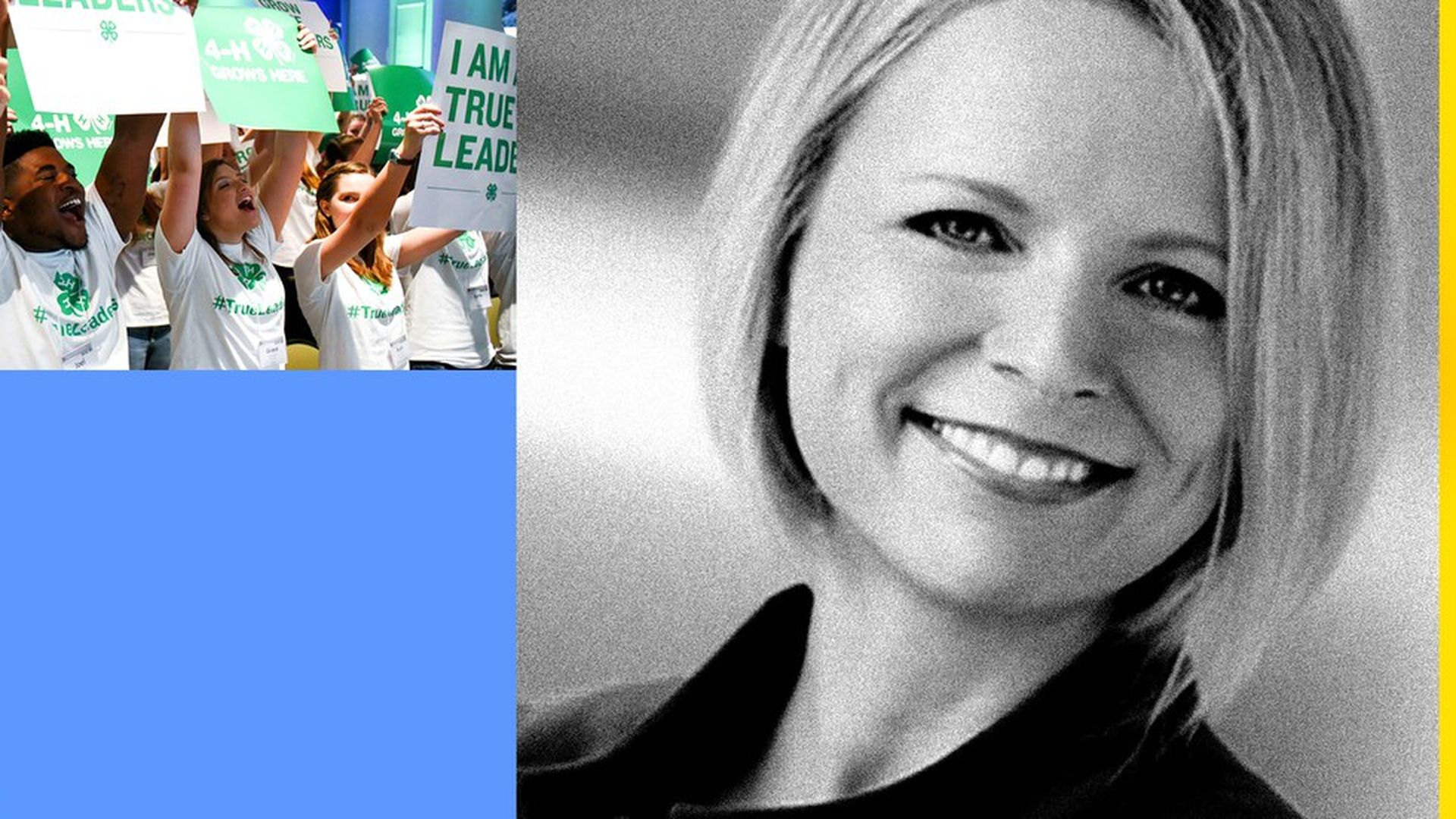 Though best known for teaching about plows and cows, 4-H is increasingly playing a role in cities and focusing on teaching skills like science, technology, engineering and math (STEM).
Why it matters: "Estimates show that 65% of today's students entering grade school this year will be employed in jobs that don't exist yet, and 60% of new jobs created this century will require skills in STEM-related fields," CEO Jennifer Sirangelo told Axios.
Edited transcript below:
Why is 4-H getting into STEM?
Today and in the future, there is a tremendous need for young people to know how to create technology, not just consume it. This is true across every industry, from business to fashion to agriculture.
Estimates show that 65% of today's students entering grade school this year will be employed in jobs that don't exist yet, and 60% of new jobs created this century will require skills in STEM-related fields.
However, the stark reality we continue to face is that not enough of today's young people are being drawn to STEM in school. As a result, young people are not being adequately prepared for the jobs of tomorrow. This poses a major threat to the country's economic prosperity.
At 4-H, we know a major part of the solution to this problem is to expose kids to STEM topics at an early age through experiences that are hands-on, fun and relatable to the real world.
How are you seeing tech reshape the agriculture industry (role of the farmer)?
Technology and agriculture go hand-in-hand. From the plow, to the tractor, to the combine harvester, to biotech and now digital and precision farming – technology has always transformed the way farmers do business. And for over 100 years, 4-H has been on the forefront of integrating the latest technology into agriculture by teaching young people the power of technological innovation.
As technology continues to improve, the opportunities for ag innovation are nearly endless. Exciting new developments in areas like robotic planting and harvesting, precision farming, and crop analytics mean that farmers will have unprecedented tools to be more sustainable, efficient and profitable. Technology and digital farming have the potential to have the same kind of impact in agriculture over the next decade as biotechnology did over the last 20 years.
What role can 4-H play in addressing the underrepresentation of girls/women in tech?
In 4-H, we believe in the power of young people, all young people. It is our mission to ensure youth of all ages, gender, backgrounds, and beliefs, have access to the tools, resources and expertise they need to learn and develop into the next generation of leaders.
A longitudinal study conducted by Tufts University, The Positive Development of Youth: Comprehensive Findings from the 4-H Study of Positive Youth Development, revealed 4-H programming does indeed grow young people who are two times more likely to participate in STEM programs. Specifically, the research found that girls who participate in 4-H are two times more likely by grade 10 and nearly three times more likely by grade 12 to take part in science programs, compared to girls in other out-of-school time activities. So, we are already making headway in ensuring girls are represented in the next generation of leaders in STEM.
What don't people know about today's 4-H?
One thing that tends to surprise people about 4-H is the breadth of our programming. A lot of people think 4-H only offers programming in agriculture, and that's far from the case. Of course, our roots are in agriculture and we'll never lose that. Ag is hugely important to us as an organization, and to the future of the world.
A lot of people are surprised to learn that STEM is our largest program growth area. Every year, 4-H youth complete more than 5 million 4-H STEM projects in computer science, robotics, agricultural science, engineering, environmental science and more.
In 2007, we started one of our leading STEM initiatives, called 4-H National Youth Science Day (4-H NYSD) as a nationwide effort to spark kids' interest in STEM. Today, 4-H NYSD is the world's largest youth-led science challenge, reaching over 100,000 kids annually across all fifty states. For example, this year's project, Incredible Wearables, allows kids to design and build a wearable fitness tracker. Over the last ten years, we've done everything from building robots, to launching rockets, to working with drones.
People think of 4-H as farms and agriculture but increasingly the group is doing more work in cities, why?
Of the 53 million school age youth in the U.S. today, 4-H and its peer organizations only serve 18 million in out-of-school time. This leaves out 35 million youth who could benefit from positive youth development. More young people need the hands-on and leadership experiences that are proven to grow the life skills that can prepare them today to lead for a lifetime. As an organization founded by educators, 4-H knows schools cannot do it alone.
Bonus Fun Facts: Sirangelo is also a yoga enthusiast and, huge baseball fan (especially for her hometown Kansas City Royals.) She also wants to visit all fifty state capitols and is currently at 32.
Go deeper