White House factions take fight to front pages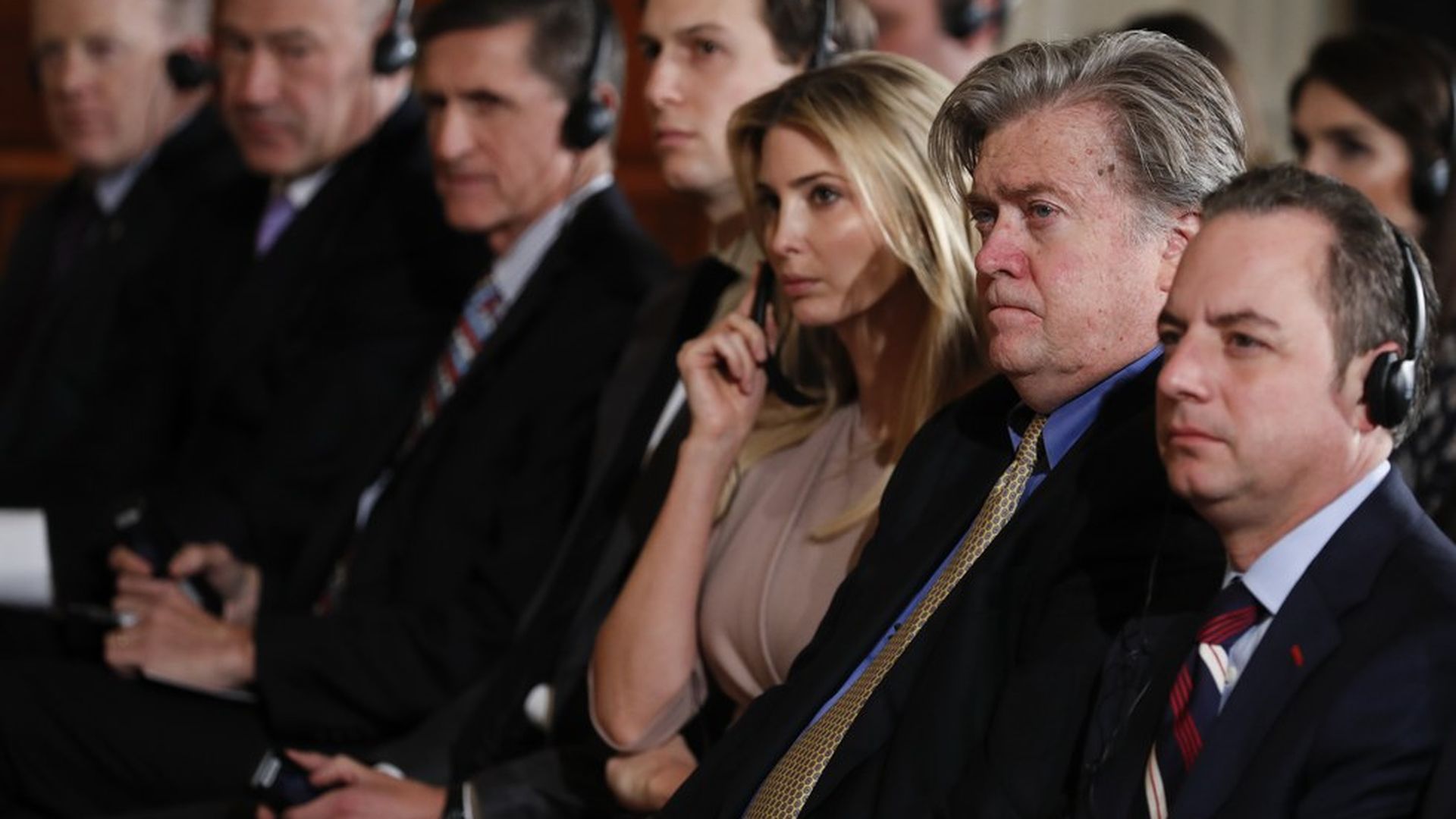 Two White House factions trashed their rivals in mirror-image stories on the Sunday front pages. We have talked to both sides, and they think they know with dead certainty who the sources are. And they're going to react. So this Kremlinology is just beginning to play out.
The feud was at the top the WashPost front page, "Inside White House, a class war brews: Trump's populist aides tangle with N.Y. executives," by Phil Rucker and Bob Costa:
"[T]hey are dismissed by their rivals as 'the Democrats.' ... Led by Gary Cohn and Dina Powell — two former Goldman Sachs executives often aligned with Trump's eldest daughter and his son-in-law — the group and its broad network of allies are the targets of suspicion, loathing and jealousy from their more ideological West Wing colleagues."
"On the other side are the Republican populists, ... led by chief strategist Stephen K. Bannon, who has grown closer to Chief of Staff Reince Priebus in part to counter the New Yorkers."
"For the most part so far, the ideologues are winning."
"Cohn, Powell and other aides have chafed at Priebus's protocols because he and Deputy Chief of Staff Katie Walsh tried to exert complete control over the president's daily schedule. ... Priebus recently started giving other senior staffers and Cabinet members more influence over ... face time with Trump."
Here's the view from the other faction, in the 12th graf of a New York Times front-pager by Julie Davis and Maggie Haberman:
"Gary Cohn ... is on the rise, and has the ear of the president's powerful son-in-law, Jared Kushner. Mr. Kushner also gained an ally on the National Security Council with the appointment of Dina Powell, a Republican and another former Goldman official who worked with Mr. Cohn, as a deputy for strategy."
Be smart: This is a White House of many factions — by design. Trump likes the chaos but it creates insane levels of rivalry, backstabbing and leaking. This is the rare instance where the hour-to-hour reality is even worse than what you read.
Be even smarter: You think it's a coincidence that every story about Ivanka, Jared and Dina portray them as the sane, soft ones? They want the world to know Operation Normal is underway.
Go deeper