White Christians now less than half of U.S. population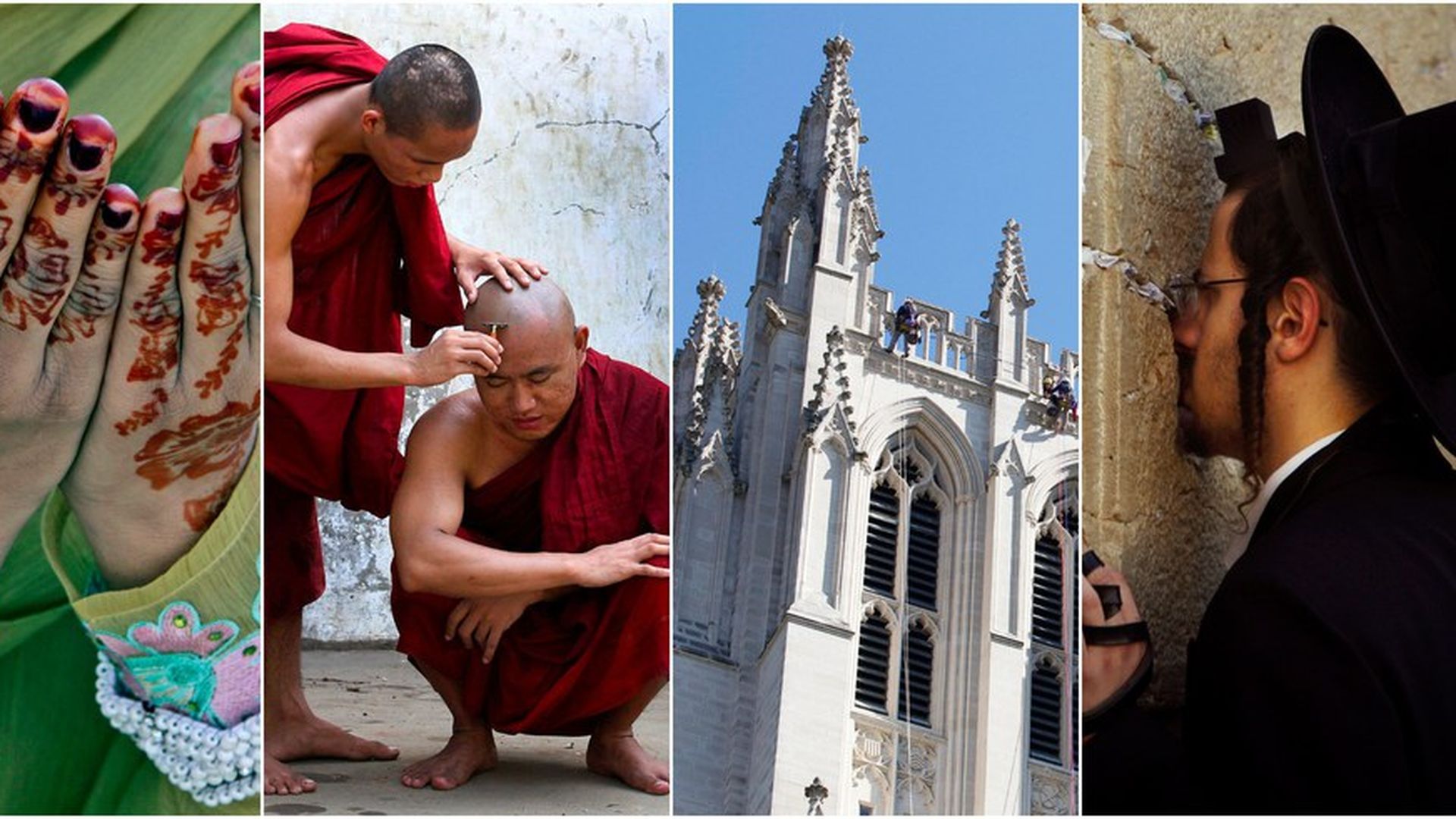 White Christians now make up only 43% of the American population, according to a survey of 101,000 Americans by PRRI. The share of those who claim to be unaffiliated with religion has grown to 24%, up from a low of 6% in 1991, and 38% of young Americans (18-30) say they are unaffiliated.
Why it matters: This is a dramatic demographic change in the U.S., which has been dominated historically by white protestant Christians. In 1976, 81% of Americans identified as white and Christian with 55% claiming Protestantism. Now those numbers are 43% and 30%, and this trend is likely to continue, as the younger generations are increasingly less likely to identify as white and Christian and more likely to identify as unaffiliated.
Decline of White Christianity:
Only 11% of white evangelical Protestants, 11% of white Catholics and 14% of white mainline Protestants are under the age of 30, while 38% claim to be unaffiliated with religion.
In 1991, 83% of all Protestants were white, while only 67% are white today and 33% are not white.
Growth of religiously unaffiliated & non-Christian religious groups:
In 1976 only 7% of Americans claimed to be unaffiliated with religion, today that number has grown to 24%.
The religiously unaffiliated make up the most popular religious group in 20 states.
Non-Christian religions have grown, but still represent less than 10% of the total population — 2% are Jewish, and Muslims, Buddhists and Hindus each make up 1%. Another 1% is made up of "other" religions.
Religious Diversity:
Mississippi is the least religiously diverse state, with Protestants the most popular religious choice and 60% of those Protestants part of the Baptist church.
New York has the greatest religious diversity.
Rhode Island is still the most Catholic state in the country, with 41% of its residents following Catholicism.
The most educated groups are Jews, Hindus, and Unitarian-Universalists, with 34%, 38% and 43% receiving post-graduate educations. Muslims are 8% more likely to have a Bachelor's degree than white evangelical protestants.
46% of LGBTQ Americans are religiously unaffiliated.
Political parties:
White Christians are a minority in the Democratic party — 29% compared to 50% 10 years ago. Only 14% of Democrats aged 18-29 are white Christians.
73% of Republicans belong to a white Christian religious group.
Go deeper: With the full study by PRRI.
Go deeper