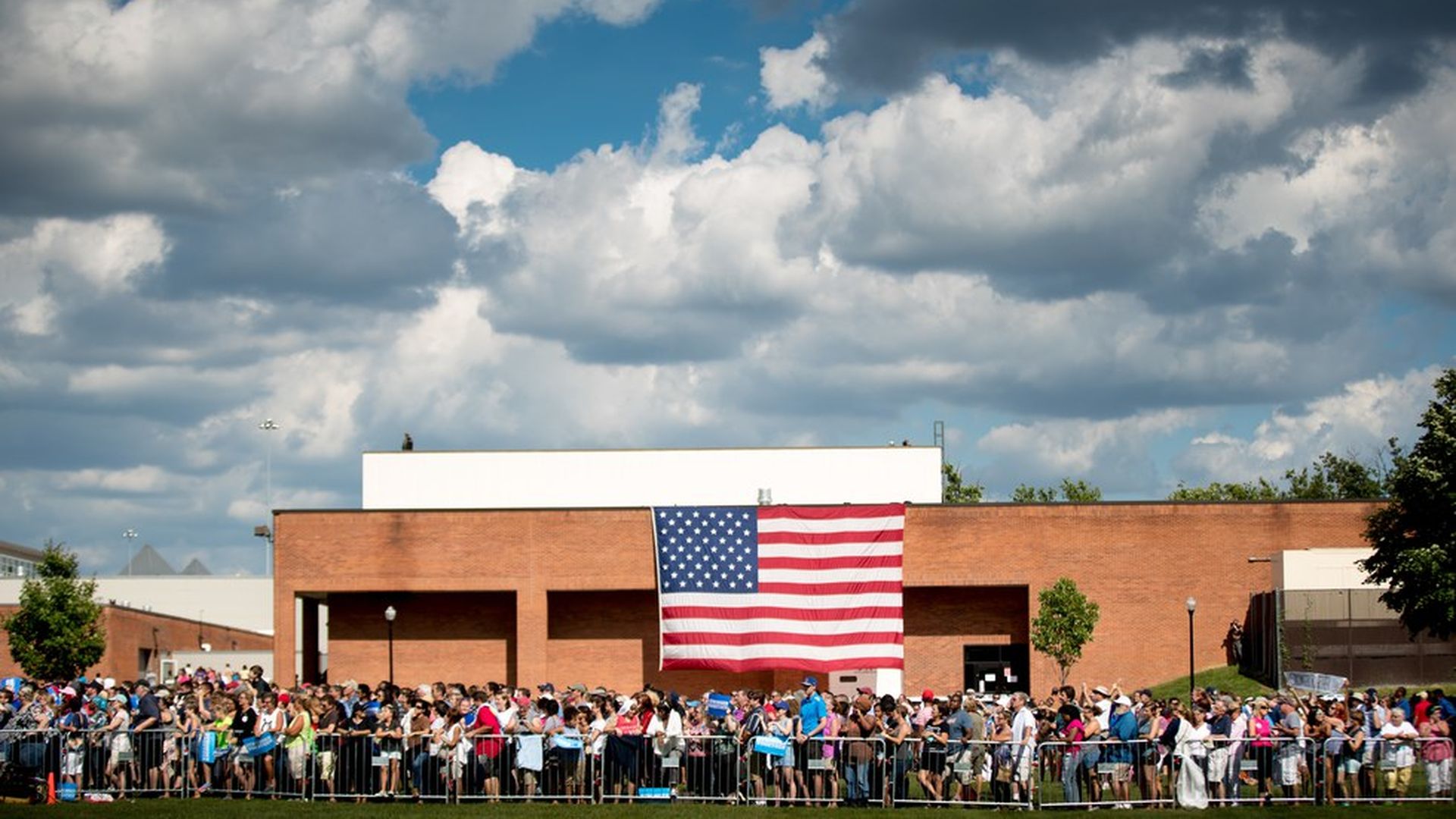 Kim Kingsley — former Politico COO, Henry Crown Fellow at The Aspen Institute, media consultant, Penn State proud — writes about her native Scranton, Pa in a post titled "My Life Lessons in Rust Belt Racism":
Anyone who knows me would say I wear my blue-collar roots as a badge of honor. This very white, working-class town and my big Irish family taught me a whole lot. My now 90-year-old, World War II veteran grandfather worked three jobs at a time — a high school janitor by morning; a railroad worker by night; and a father of nine, 24 hours a day.
Anyone sitting on a branch of this family tree learned the importance of family, faith and friendships — what it means to be loyal, what it means to have work ethic, and how to fight for the little guy.
But it's also in this town, like many white working-class cities across the U.S., where racists are born.
"After this weekend's events, former Washington Post colleague and founder of Define American, Jose Antonio Vargas tweeted:
"Dear Well-Meaning White People Who Want Nothing To Do With Alt-Right: We, people of color, cannot carry this burden. You must engage."
He's absolutely right.
Like most of the white people whose hearts and minds are on the right side of history, I'm sickened by what happened in Charlottesville. It's the same feeling I had when nine black church-goers were shot dead by a white supremacist in South Carolina, and the same feeling I had when the not guilty verdicts came down after the deaths of Trayvon Martin, Philando Castile, and Freddie Gray.
I spent the hours following these events "engaging," tweeting quotes from the most prominent civil rights activists like Martin Luther King Jr., James Baldwin or my favorite poet Maya Angelou. My body filled up with so much rage that I felt like my retweets on a social media platform of like-minded followers would make a difference. But the right people were not listening. The right people were not reading my Twitter feed. What I hope we can do now is step away from our comfortable bubbles and get uncomfortable.
Let's really engage.
Let's speak up. Let's turn to our closed-minded family members who make us furious and ask them why. Let's turn to our open-minded friends and family who text you privately "can I post this?" and ask them why not.
Let's talk about race at the dinner table, in the office, on our social media feeds, at our evenings out with friends, or anywhere we might normally stay silent on this tough topic. We might feel like we are saying the wrong words, don't have words, or think that we will end up doing more harm than good. Let's try.
Let's stop patronizing businesses that we know are led by people with racists beliefs. That will surely put the issue at their front doorstep.
Let's not just stop laughing at racist jokes, but asking the person why it was told in the first place.
Let's look around, study the diversity of our workplaces and recognize our role in making it better. It's not on the handful of minority employees to create and execute a diversity plan. It's on the white people at every level across the company to take responsibility for creating a workplace of diverse people and views and for recognizing what a better company you will be for it.
Let's get proximate. I spent this week polling a number of family members, asking some how they ended up so open-minded growing up in our environment and asking others if they think it's possible to change. Those exchanges gave me more hope this past week than anything I've read online.
Let's begin turning the page in our country's history of racism and oppression, knowing that page will only turn if we, white people, acknowledge our role in turning it."
Go deeper