What's at stake for China in North Korea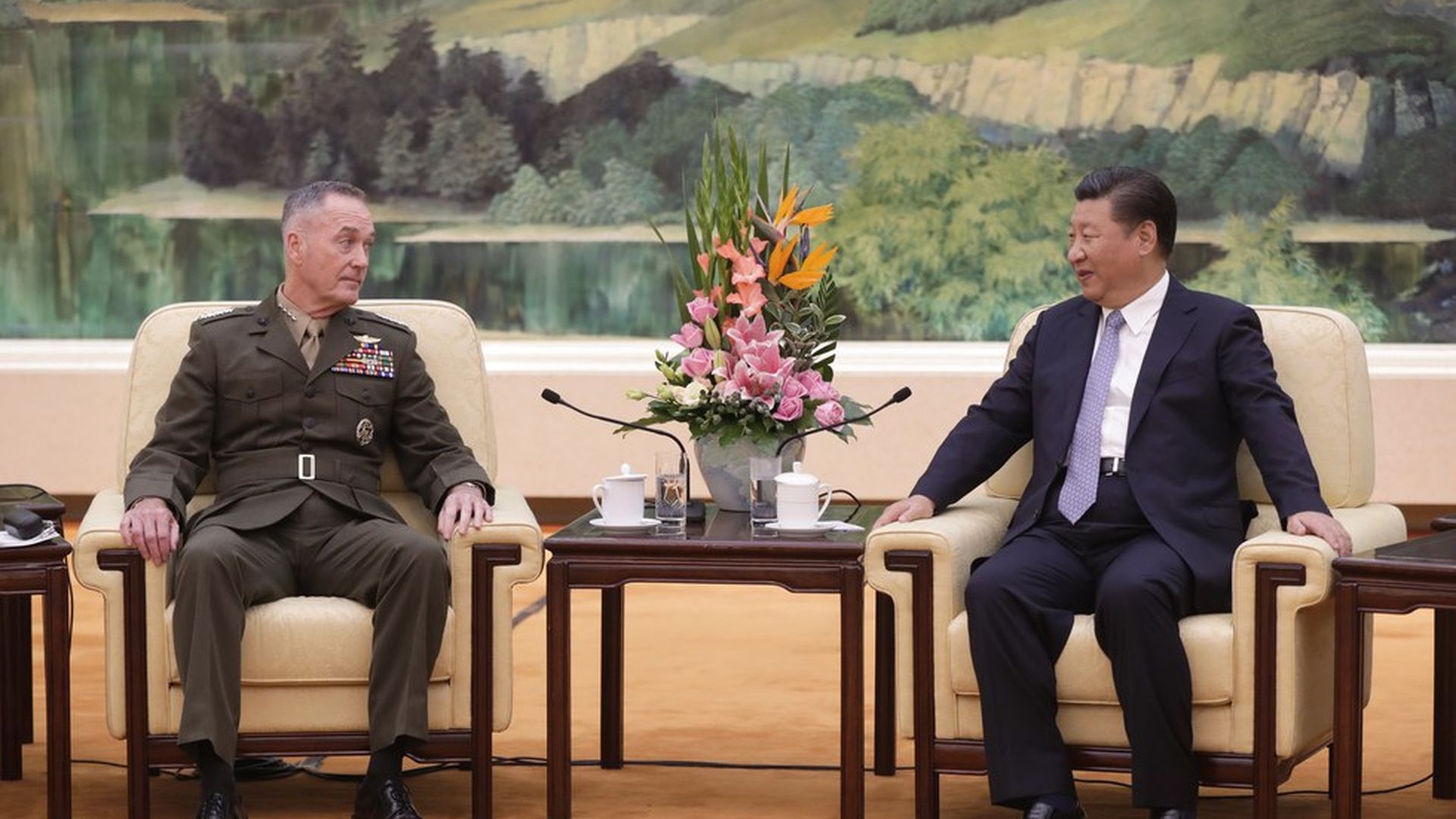 Amid escalating anxieties that North Korean tensions with the U.S. might lead to all out war, this week America sent its highest-ranking military officer to do the rounds to try and patch up differences and assuage some fears about military operations, visiting South Korea first, then China and Japan.
And it actually appears to have worked — Chairman of the Joint Chiefs of Staff Gen. Joe Dunford signed a deal with his Chinese counterpart to increase operational communication between the U.S. and Chinese militaries. The idea is to avoid miscommunication and inadvertent encounters in the military realm.
This comes on the heels of last week's South China Sea encounter, in which China told a U.S. warship to turn around 10 times, claiming the U.S. "violated Chinese and international law." But the Pentagon told Axios the move was lawful. (This probably didn't cause the visit, but they likely discussed it; the WSJ reports the visit was planned in advance of last week.)
Why it matters: Working with Beijing first is a key step to denuclearization of the North, as former Secretary of State Henry Kissinger argued in the WSJ. This agreement also serves as a reminder that China's in a tough spot between the U.S. and North Korea.
China's got a treaty with North Korea with a mutual defense provision, meaning if the DPRK were attacked, China would have to help, which is part of why China is wary of some U.S. behavior towards North Korea, Waheguru Pal Singh Sidhu, an expert on North Korea at the NYU SPS Center for Global Affairs, told Axios. Particularly, China is wary in the military realm. Plus, if China were to renege on the treaty, it would reflect poorly on them to other countries.
China shares a border with North Korea: China is also concerned about what would happen if North Korea gets isolated too much due to strong sanctions regimes, which could lead to a collapse of the North and leave it outside of Beijing's orbit, Sidhu said. Plus if the North collapsed, China would likely have a humanitarian crisis on its hands with an influx of millions of refugees (and although China wouldn't say the reason, it's been building up its border with North Korea in the last few months.)
China's concerns are also economic; it has a trade relationship with the North that's mutually beneficial.
China might look responsible if chaos breaks out and risks deteriorating relations with the U.S. if it doesn't pressure Pyongyang enough, per Kissinger.
What to look out for: Diplomacy is about to get even tougher. Next week the U.S. and South Korea will be conducting their annual military exercises, involving tens of thousands of American and South Korean troops. That's despite pressure from China, Russia, and North Korea to refrain from running them since, to them, it looks like preparations to invade the North. Gen. Dunford said scrapping the drills is not on the table, which is not likely to go over well with Beijing.
Go deeper