What we know from the JFK files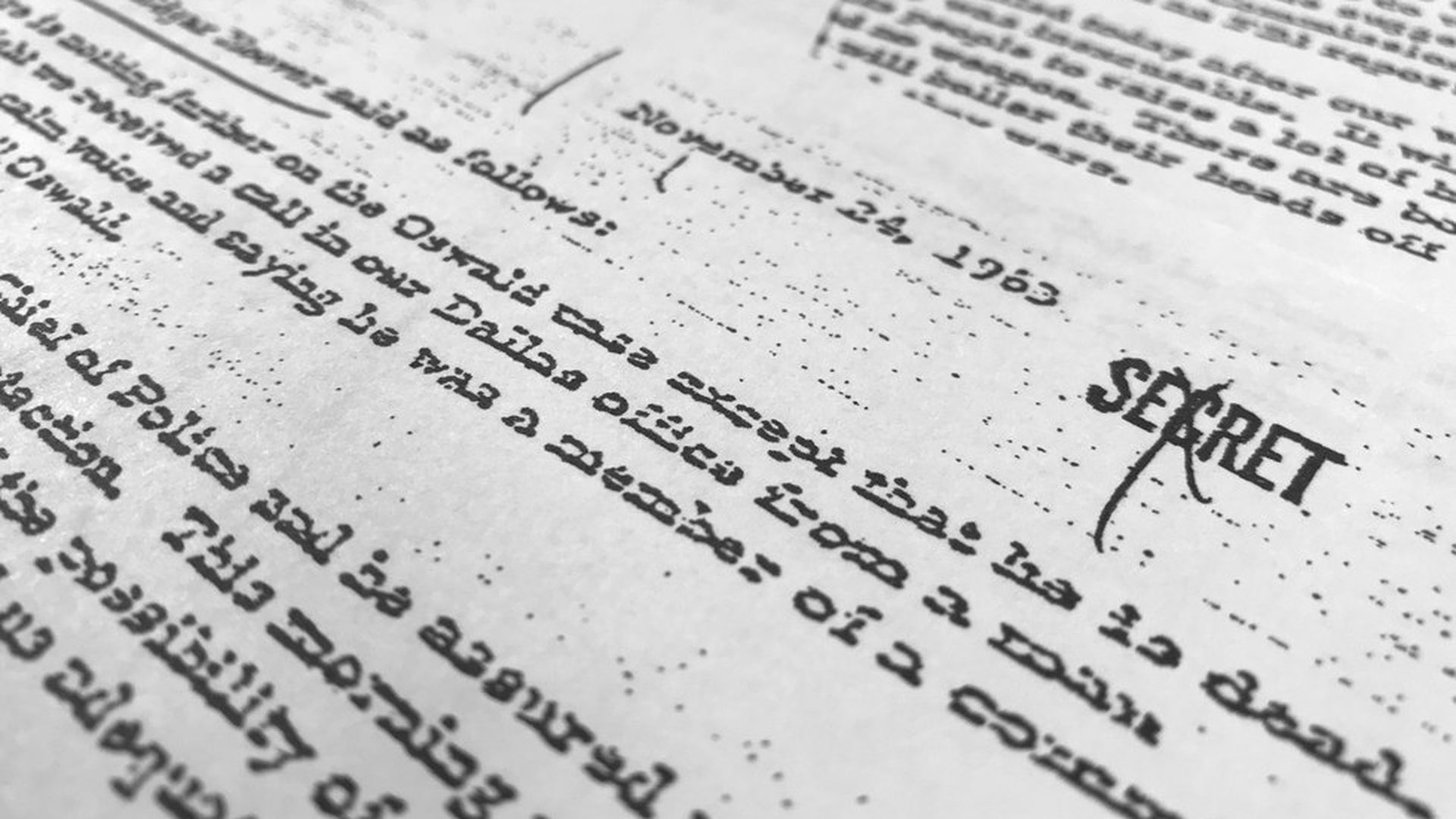 The 2,800 newly released, previously classified files on President John F. Kennedy's assassination reveal the internal chaos and suspicion in U.S. intelligence agencies following the momentous event in November 1963. An additional 676 documents were released on Friday in the third release this year.
What they show: How agencies balanced their own concern that it all might be a part of a larger plot with their need to keep the public calm, the Independent points out.
The latest findings:
Per the AP, new documents said that claims of a connection between Lee Harvey Oswald and the CIA were "totally unfounded."
Officials were "scrambling" to gather information on Oswald's Mexico City trip, as therewere questions around Oswald's trip to Mexico, and specifically if he had traveled there to get a visa from the Cuban and Soviet embassies, to "make a quick escape after assassinating the president."
Former CIA deputy chief of the Soviet Bloc Division, Tennent Bagley, wrote a letter to Robert Blakey, chief counsel of the House Special Committee on Assassinations, in 1978 in which he identified several errors in CIA representative John Hart's testimony. His testimony regarded information on Oswald's time in the Soviet Union.
One document reveals that a man named Henry Gourley of Vancouver called Bellingham, Washington, police the day after Kennedy's assassination, saying he had overheard three men at a hotel three weeks prior saying if Kennedy traveled to Dallas "he would never leave there alive." The men were traveling to Cuba.
A man named Robert C. Rawls told a Secret Service agent that he heard a man bet $100 that Kennedy "would be dead within three weeks" while at a bar in New Orleans.
Documents provide payment ledgers to Cuban exile groups working to overthrow Castro. The document also shows that the first attempt to kill Castro was in 1959.
Another document shows a connection between Kennedy and Nixon: A man arrested trying to break into the DNC headquarters at Watergate attempted overthrowing Castro years earlier.
The Secret Service had a 413-page document detailing everyone they suspected for killing the president, listing why they may have been mad at Kennedy and their threat level.
Per the AP, FBI Director J. Edgar Hoover sent out a memo saying he and an FBI deputy were concerned about "having something issued so we can convince the public that Oswald is the real assassin."
The KGB alleged to have information indicating that President Johnson played a part in Kennedy's assassination.
The CIA offered the mob $150,000 to kill Fidel Castro, but the mob insisted on doing it for free, according to a 1975 document.
25 minutes before JFK was shot, a British newspaper received an anonymous call in which they were told to call the American Embassy for "some big news," according to the AP.
In one document, then FBI director J Edgar Hoover confronts the spreading conspiracy theories, writing, "There is nothing further on the Oswald case except that he is dead."
President Lyndon B. Johnson thought that JFK's assassination was payback for the assassination of Vietnam President Diem, according to a 1975 deposition by then CIA director Richard Helms.
Another file describes the Soviet Union's reaction according to a source who said the news was received with "great shock and consternation and church bells were tolled in the memory of President Kennedy."
The FBI was carefully tracking Oswald's movements when he was in Mexico City a few weeks before shooting JFK, according to a 1964 cablegram. One memo suggests Oswald spoke with a KGB officer in broken Russian while in Mexico City.
A day before Oswald was murdered, the FBI received a phone call from someone threatening to kill Oswald.
An FBI report alleges that President Lyndon B. Johnson was a member of the KKK based on an informant's claim to have "documented proof," which was not included, according to BBC.
The CIA had thought about sabotaging parts for planes headed to Cuba from Canada and considered assassinating Cuban President Fidel Castro by hiring mafia leaders, according to CNN.
The files include memos about communist sympathizers, according to ABC News.
So far, there haven't been any bombshells for the conspiracy theorists.
But wait, there's more: It will most likely take weeks for researchers to go through the thousands of documents, and the remaining 300 documents won't be released (and will most likely be redacted) until April of next year due to national security concerns. President Trump tweeted this morning, "JFK Files are being carefully released. In the end there will be great transparency. It is my hope to get just about everything to public!"
See for yourself, here.
This piece will be updated. See something interesting to add? E-mail [email protected] or [email protected]
li.li1 {margin: 0.0px 0.0px 0.0px 0.0px; font: 12.0px 'Helvetica Neue'; color: #454545} span.s1 {font: 10.0px Menlo} span.s2 {text-decoration: underline ; color: #e4af0a} span.s3 {font: 12.0px 'Helvetica Neue'; text-decoration: underline ; color: #e4af0a} ul.ul1 {list-style-type: disc}
Go deeper