What Trump, the NFL are thinking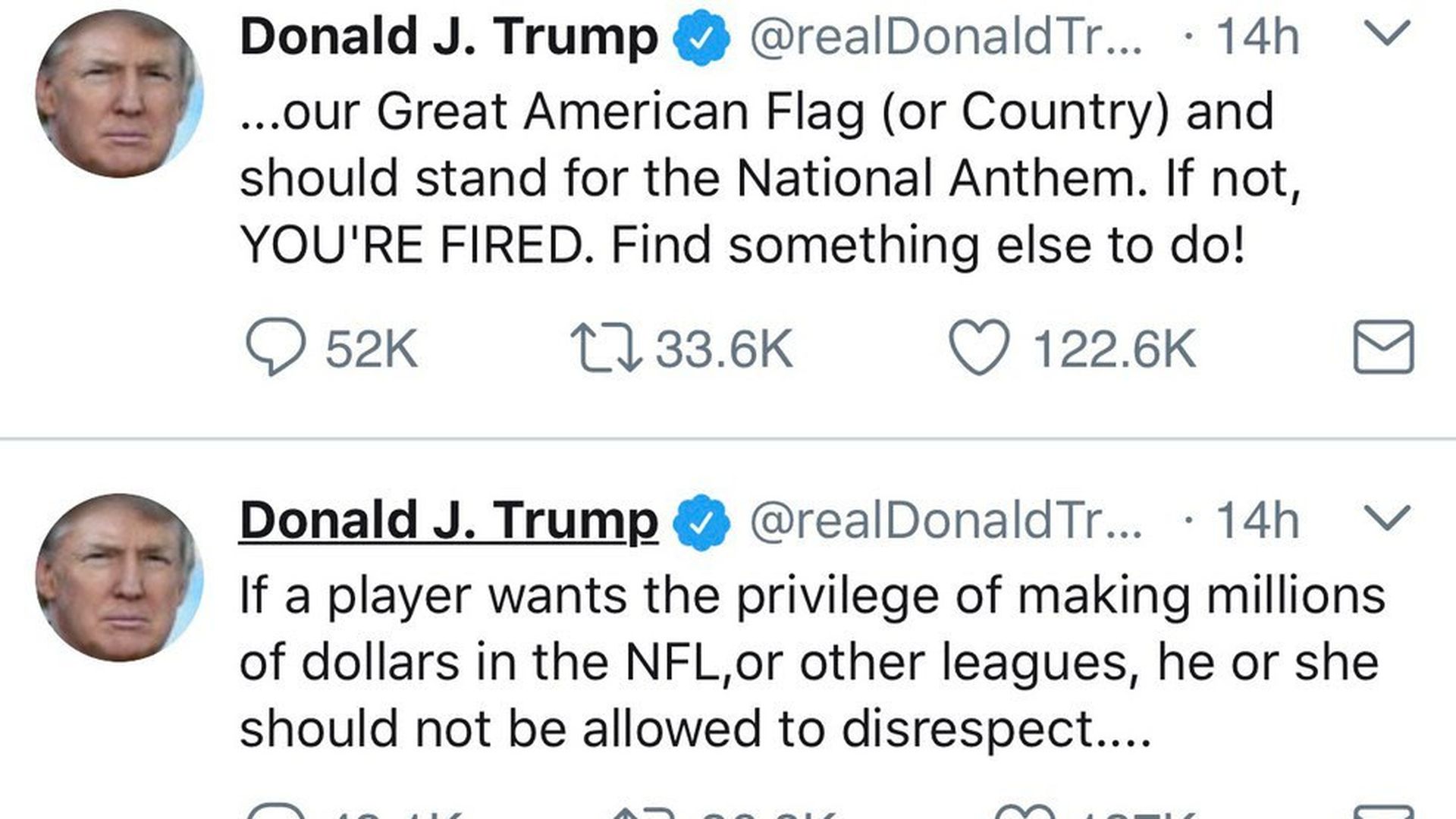 White House director of social media Dan Scavino last evening cc'd Brian McCarthy, the NFL's vice president of communications (@NFLprguy), on a Trump tweet criticizing Commissioner Roger Goodell.
The taunt reflects the fact that far from being sheepish about the president's sudden war with athletes, the Trump team is reveling in it.
With predictions of "potential mass protest Sunday along NFL sidelines," here's what the two sides are thinking, based on my high-level conversations, texts and emails.
Trump's Sunday morning tweets
"If NFL fans refuse to go to games until players stop disrespecting our Flag & Country, you will see change take place fast. Fire or suspend!"
"NFL attendance and ratings are WAY DOWN. Boring games yes, but many stay away because they love our country. League should back U.S."
What Trump is thinking
Most of America is with me.
This will fire up my base, and disaffected NFL fans in Middle America.
Fans who turn on a game or show up at a stadium don't want to hear First Amendment talk.
Any NFL declines will now be sped up.
What the NFL is thinking
Commissioner Roger Goodell rarely weighs in on politics, but saw this as an attack on the game.
The NFL front office and players' union are often at odds, but Trump brought them together.
This is a nuanced issue, and Trump is a bull in a china shop.
Players, owners are angry. But we can't fall in to the politics of dividing people.
Patriots owner Robert Kraft, who donated $1 million to Trump's presidential campaign, had a Sunday morning statement of his own, saying he was "deeply disappointed by the tone" of Trump's comments at Friday's rally (when he said of protesting players, "get that son of a bitch off the field right now") and that he supports the players' right to protest.
Doug Sosnik — longtime NBA adviser, and former Clinton White House senior adviser and political director — emails me this theory: "One of Trump's typical moves is to toss a bomb out of nowhere to deflect what is really bothering him, in the hopes that the press will be distracted."
This week, "there is a good chance that the candidate he endorsed and campaigned for will lose in the Alabama Senate primary. On top of that, it looks like ... another failed Republican attempt to repeal Obamacare."
"So he figures that the shows on Sunday focusing on his fights with professional athletes is more appealing than a discussion about how he is becoming a loser."
P.S. WashPost's Sally Jenkins column at top of Sports front: "NFL shows restraint ... Goodell and others in the league are getting it right by responding to the president's baiting comments with civility."
Go deeper