What the Koch brothers want with Time Inc.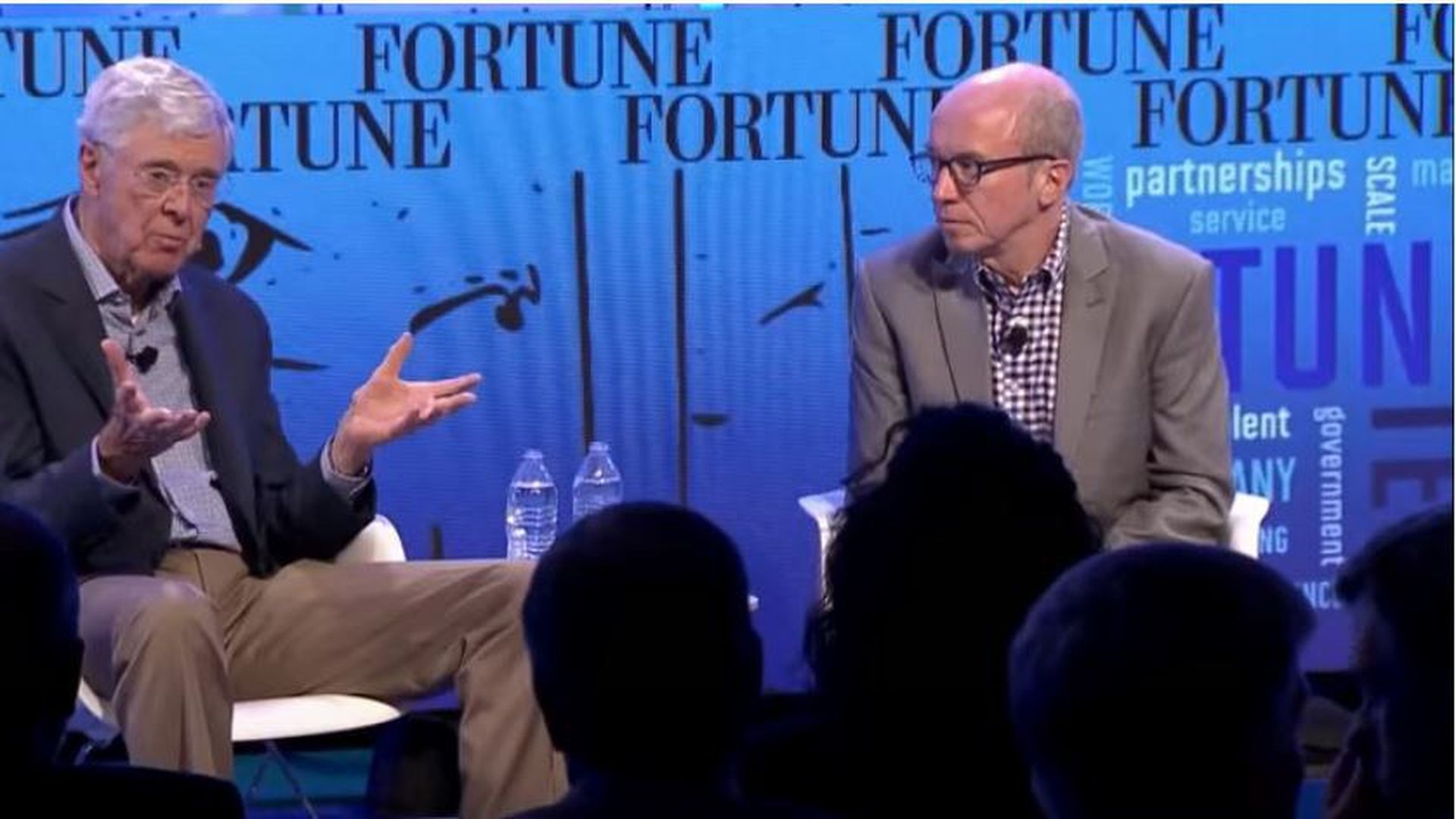 The Koch Brothers are investing $650 million to support Meredith Corp.'s takeover of Time Inc., and insist that they won't have any managerial or editorial influence over the combined magazine publisher. But no one involved with the deal will say that the promise of passivity is codified in anything beyond press releases, and the prospect of a strong financial return is anything but certain.
Why it matters: The investment could give the GOP mega-donors proximity to a news publications like Time and Fortune, plus widely-read lifestyle magazine People.
Bull case for Koch
The combined company would have the sixth largest U.S. digital audience, just below Amazon and above Comcast/NBC.
Meredith sees more than a half-billion dollars in synergy savings, and a source says it expects to also divest some struggling Time Inc. brands (on top of assets already for sale, including Time UK, Sunset, Golf Magazine and Essence).
Meredith has managed to maintain profitability, and has seen its stock price consistently rise since a March 2009 nadir.
Meredith does own a bunch of local TV stations, and there could be some new upside given recent relaxation of federal ownership rules.
Koch will receive an 8.5% cash-pay dividend with some equity upside on its perpetual preferred shares, which is bit reminiscent of how Carlos Slim's investment into The New York Times Co. was structured.
Bear case for Koch
Most of Time Inc.'s top brands have struggled to turn once-lucrative print businesses to digital money-makers, due to the volatile advertising climate perpetuated by Google and Facebook. Moreover, 59% of Time and Meredith's combined revenue, and 25% of its EBITDA, come from print (ads plus circulation). As you might have heard, print is a declining business — no matter how popular People remains in waiting rooms.
Meredith is taking on a lot of debt to finance the acquisition. It promises that it plans to deleverage quickly, but too much debt has been an albatross around Time Inc.'s neck since it was spun out of Time Warner in mid-2014.
Time Inc. has spent the past year restructuring its business and editorial teams to meet the demands of a new digital publishing economy. It's unclear how the companies will merge assets specifically, but it's possible that the deal could result in another laborious restructuring.
No other financial sponsor or corporate was willing to pay this sort of price when Time Inc. went up for auction earlier this year. Moreover, shares were trading at just $10 before rumors of the Meredith bid surfaced.
Comment: Meredith says that the Koch investment is passive. No managerial or editorial influence, nor a board seat or board observer rights. And, to be sure, Koch has made plenty of passive, minority investments in the past, including a $2 billion infusion into private equity-backed Infor earlier this year. But when Axios asked a Time spokeswoman if the Koch passivity was written into the equity commitment letter or any other relevant documents, she told us to call Meredith. Same thing happened when we asked a Koch spokesman. But Meredith has not responded to my repeated inquiries on this point, and there is nothing about it in the 84-page merger agreement.
Bottom line: The bears are stronger than the bulls on this merger, and the Kochs' background makes it very tough to believe that this is a purely financial play. Already, the NY Times suggests there could be a data play combining Time Inc. subscriber info with with voter info held by Koch-owned i360. Or perhaps the Kochs would have an inside track on a divestiture, particularly if either TIME Magazine or Fortune were to be sold. But Time (Inc.) could prove us wrong.
Go deeper