What Michelle and Barack said in paid $peaking debuts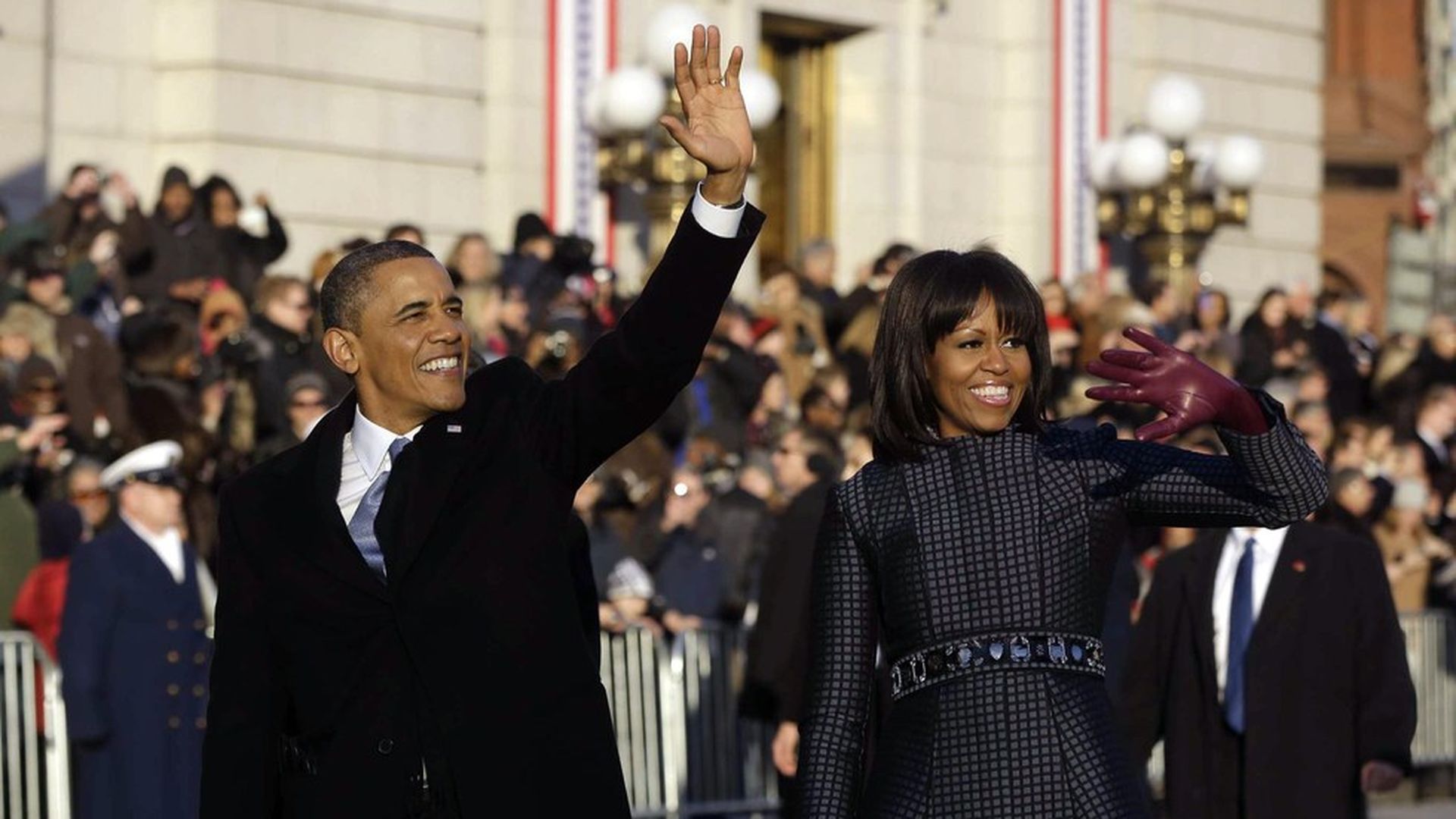 Former President Obama — a day after the news broke that he'll be paid $400,000 to speak at a September health-care conference run by the Wall Street firm Cantor Fitzgerald — was paid the same amount for a "History Makers" luncheon speech at the A&E Networks advertising upfront yesterday in New York, per the N.Y. Post's Claire Atkinson:
"He was interviewed over 90 minutes ... by presidential historian Doris Kearns Goodwin in front of the cable network's advertisers."
"Obama, who got a standing ovation when he entered the room, asked about what he missed most about the White House, said it was sitting on the Truman balcony on summer nights and gazing at the Washington Monument and the Lincoln Memorial."
"Obama also told the crowd that in his three months out of office he has not yet been behind the wheel of a car ... [H]e's learning how to use the coffee machine in the Obamas' new home in Washington."
"Goodwin asked Obama how, while president, he handled frustrating moments. She mentioned Lincoln would write angry letters and then put them in a desk and not mail them. Obama responded: 'For starters, by not having a Twitter account.'"
Michelle Obama made her paid-speaking debut yesterday in Orlando at American Institute of Architecture's annual conference, the WashPost's Krissah Thompson writes in the Style section lead, "For Obamas, paid-speaking circuit can pose risks to their brand":
"She spoke with authority about her experience as a lawyer and executive — topics she often seemed reluctant to address in her husband's administration."
"She shared a story about her emotional final day at the White House. Her daughters were in tears as they said goodbye to the staff, and she felt herself choke up, too — but she resolved to keep her emotions hidden before the Inauguration Day cameras. 'I didn't want to have tears in my eyes because people would swear I was crying because of the new president,' she said, as the crowd laughed."
Go deeper