What manufacturing CEOs told Trump when cameras turned off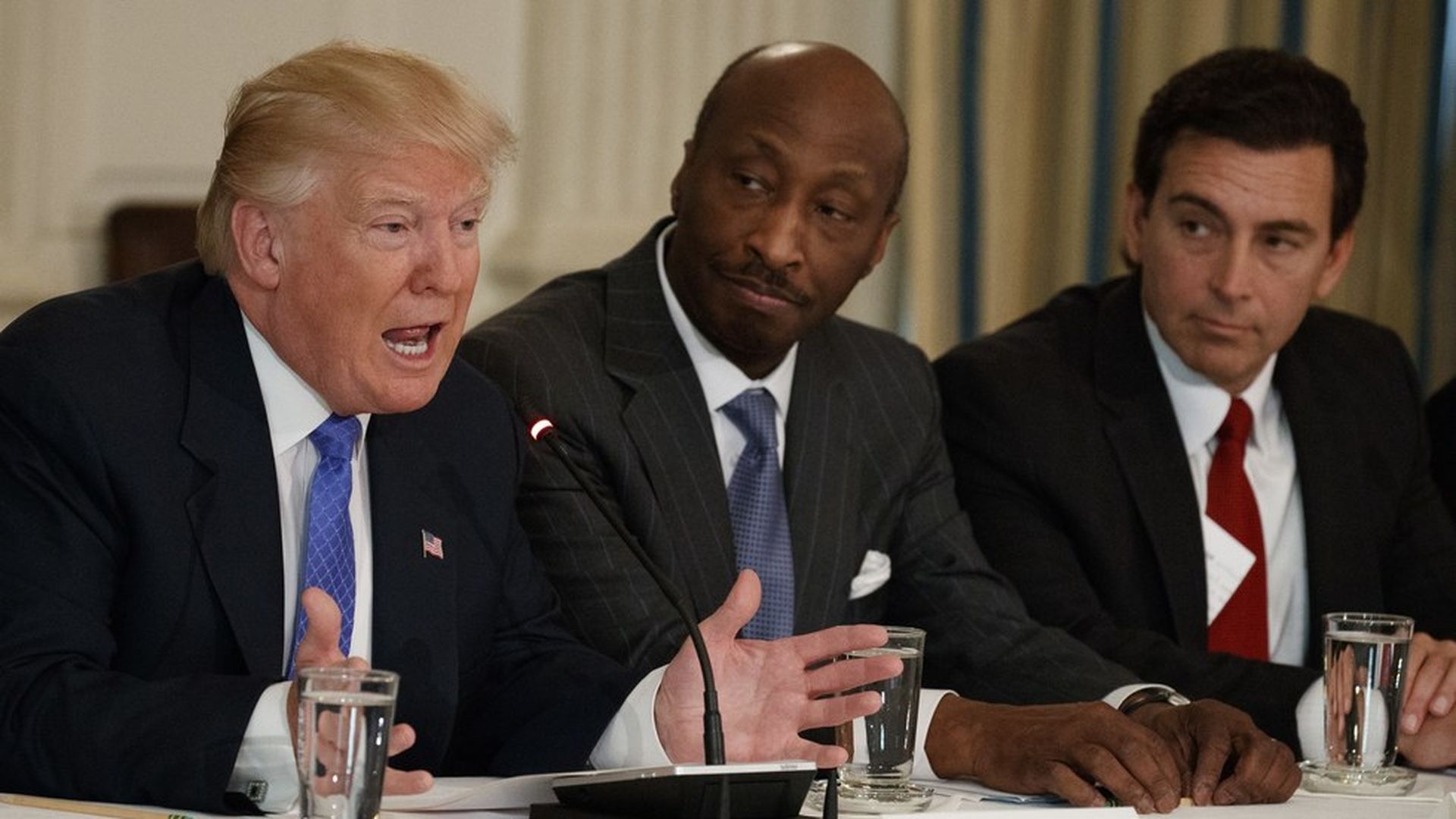 Two dozen CEOs converged on the White House this morning, to engage in a series of working groups aimed at increasing the number of American manufacturing jobs. Unfortunately, the media was ushered out just before the CEOs shared their recommendations with President Trump.
But Axios has spoken with Keith Leimbach, CEO of LiveOps, who participated in a working group titled "The Workforce of the Future." Here's what they shared with POTUS:
The issue is job sourcing, not job availability
President Trump has talked a lot about "bringing manufacturing jobs back" from overseas, but the CEOs said a bigger issue is job training. From Leimbach:
"When we think of manufacturing, most people think of smokestacks and guys walking out with coaldust on their faces. But there are some very interesting high-tech, high-skilled jobs today in manufacturing. For example, we heard about a guy who runs a $500 million milling machine that it takes a couple of years to get certified on... There are tons of these jobs available, but there is not currently a way to fill them or fill the pipeline."
Recommended solutions included improved access and less stigma to vocational education, plus public-private apprentice programs that borrow from what is seen in many European countries. One caveat, however, is that the working group did not discuss labor union participation in such apprentice programs, which is a common feature in Europe (no organized labor reps were invited to participate in the working groups, per Sean Spicer).
Bringing back service jobs
This is Leimbach's bread-and-butter, given that LiveOps hires U.S.-based contractors to work as call center operators from their own homes. The idea here is that American job shift overseas is as prominent in the services sector than in the manufacturing sector, if not more so. Leimbach:
"We know that the number of people not in the workforce is a lot larger than the number of unemployed people, including moms who left the workforce to raise families, military veterans and the disabled. So we need to refocus on bringing services jobs back that these very capable people can fill, working to match people with the right skills with the right jobs."
Leimbach acknowledges that artificial intelligence and machine learning technologies are making inroads into areas like call centers, but believes it will be a very long time before people stop "dialing zero to speak with a real person." Overall, however, it does not sound like automation ― whether in the manufacturing or services sectors ― was a major source of conversation.
Who was involved: LiveOps CEO Keith Leimbach, Ivanka Trump; nominee for Commerce Secretary Wilbur Ross; Small Business Administrator Linda McMahon; Dow Chemical CEO Andrew Liveris; United Technologies CEO Greg Hayes; Altec CEO Lee Styslinger; General Dynamics CEO Phebe Novakovic; assistant to the President, Reed Cordish; Dana CEO James Kamsickas.
Go deeper