What Graham-Cassidy means for pre-existing conditions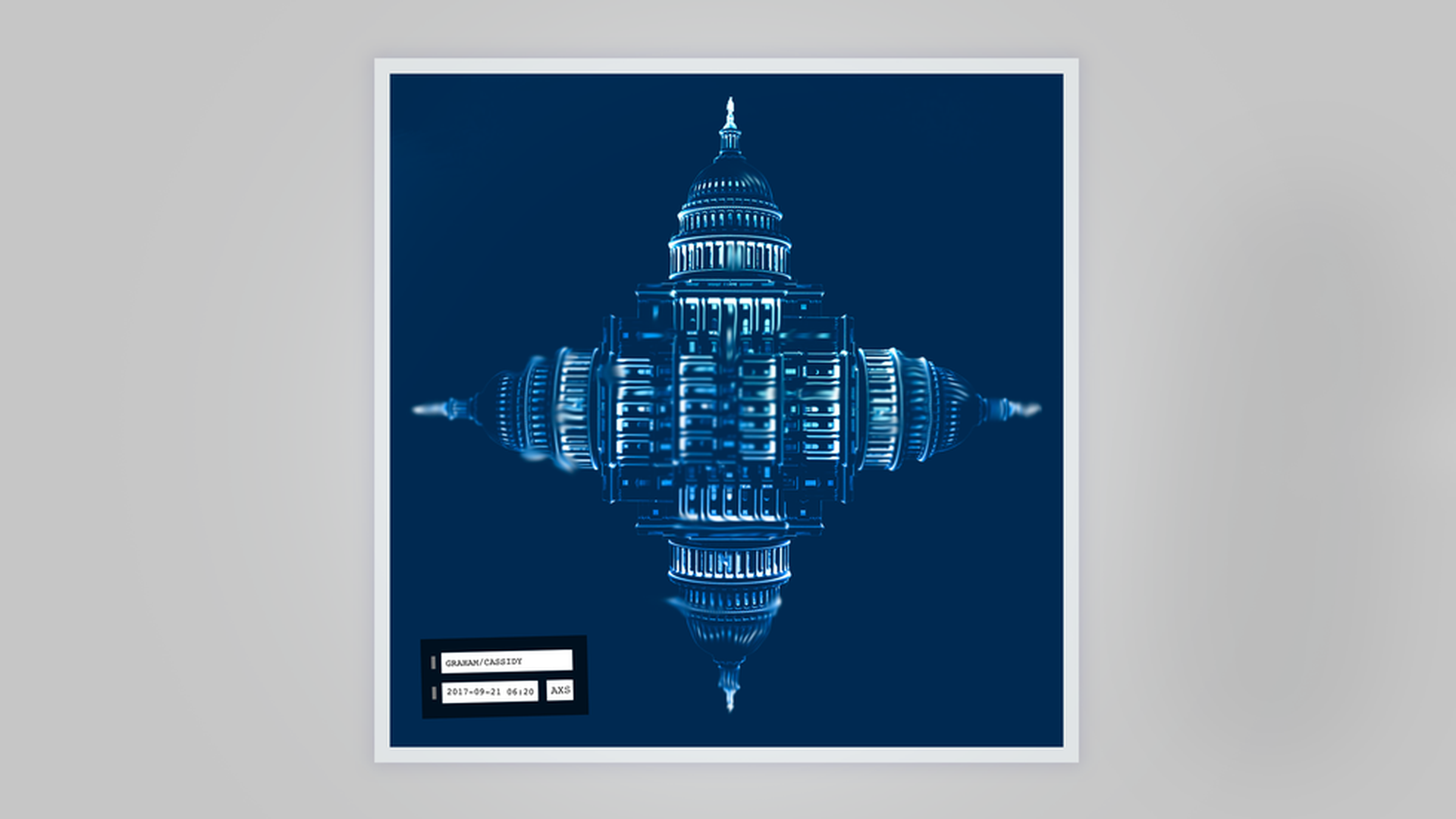 Jimmy Kimmel's takedown of Sen. Bill Cassidy, and Cassidy's response, ripped open the question of whether the GOP's latest health reform bill protects people with pre-existing conditions. Cassidy and co-sponsor Sen. Lindsey Graham insist it does — as did President Trump in a tweet last night — but experts say that's not really the case.
The bottom line: The bill's funding cuts could pressure states — even blue states — to waive protections for sick people, as a way to keep premium increases in check. Older, sicker people in every state could end up paying more as states try to make up for a funding shortfall.
What the bill does: The bill wouldn't repeal the Affordable Care Act's rules about pre-existing conditions. But they might end up only existing on paper, the Kaiser Family Foundation's Larry Levitt said.
Graham-Cassidy doesn't let states waive the part of the Affordable Care Act that says insurers have to cover sick people. But it does allow states to opt out of several other ACA rules that can cause people with pre-existing conditions to pay more for their health care. Those provisions include:
The ban on charging sick people higher premiums than healthy people.
The requirement that insurers cover "essential health benefits," including prescription drugs. People who need expensive drugs might not have access to a plan that covers those drugs, requiring them to pay out of pocket. Services that aren't "essential" benefits aren't subject to the ACA's ban on annual and lifetime limits.
The bill also would also loosen rules about how much insurers can raise their premiums because of a customer's age. (Older people are more likely to have pre-existing conditions.)
What supporters will argue: The bill requires states to say how their waivers would provide affordable and accessible coverage for people with pre-existing conditions. But there's no definition of what that means, and there's also no enforcement mechanism.
"The bottom line is these protections are much more at risk under this bill than they are now," said Cori Uccello, a senior health fellow with the American Academy of Actuaries.
Another level: At least theoretically, because the bill gives states so much control, a more liberal state like California might choose to preserve more of the ACA's regulations than, say, Alabama. But this bill would radically redistribute federal health care funding — generally away from blue and purple states and toward red states. Those cuts could back blue states into seeking more expansive waivers.
Caroline Pearson of Avalere told me: "if you have less money, you either cover fewer people, or you cover the same amount of people with less generous coverage. People with pre existing conditions are very reliant on having access to affordable insurance and need insurance that is comprehensive. So if a bill reduces the availability of comprehensive insurance, people with chronic conditions are going to be disproportionately harmed."
Go deeper