What Democratic groups learned from Election Day 2017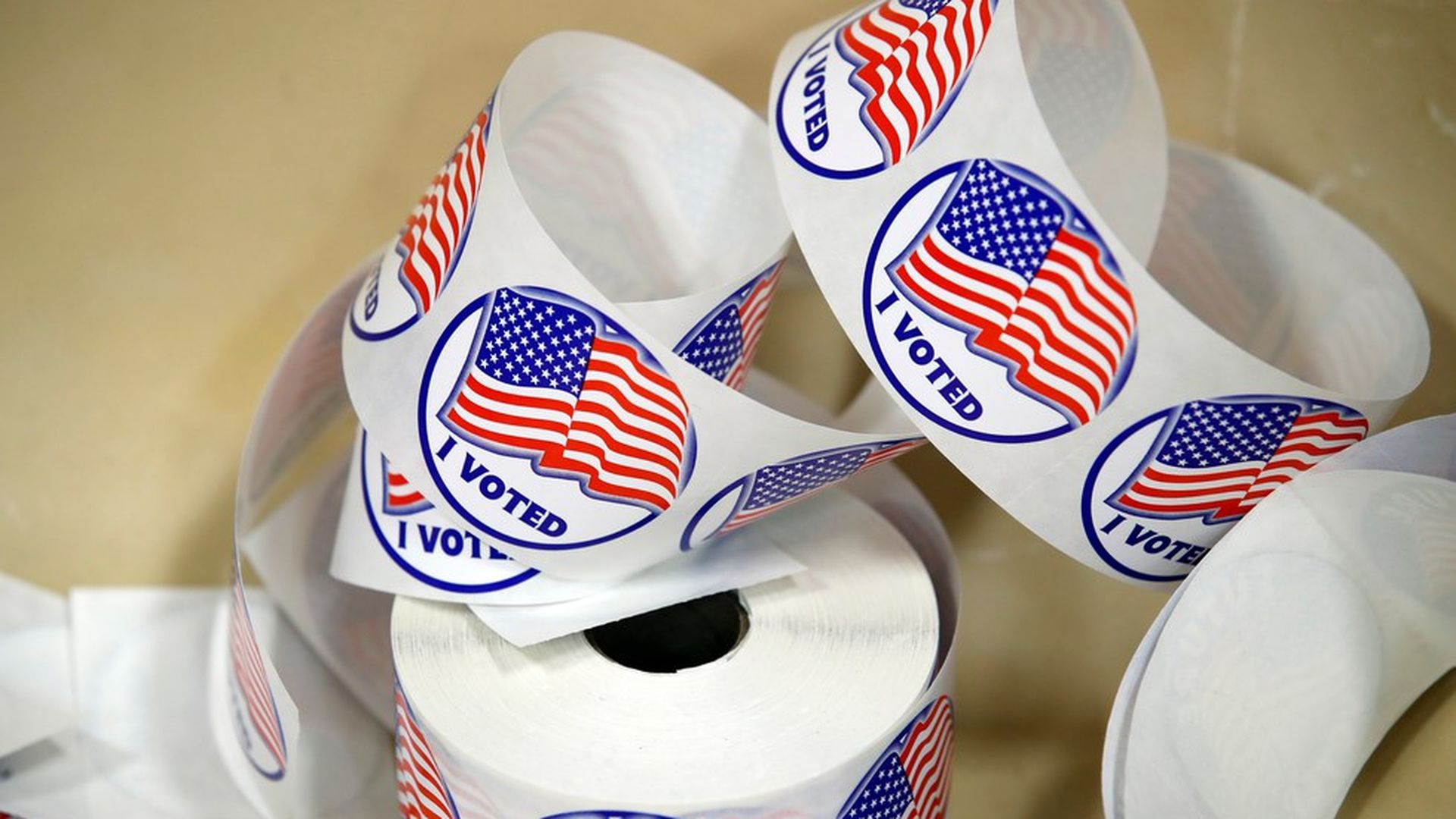 Victories in yesterday's elections around the country, particularly in Virginia, are giving Democratic groups a new sense of hope, and a new playbook to use in future elections.
Why it matters: Democrats have been lost in the wilderness since Trump's election, and some even think they're lacking a qualified roster of candidates to run for president in 2020. Sharing and implementing successful strategies from state and local races could help Dems pick up seats at every level in 2018.
Democratic Governors Association (DGA) found three main reasons Dem. Ralph Northam won the Virginia gubernatorial race: increased enthusiasm among Dem. voters, chaos in the Republican Party, and a trend of Independent voters in Va. leaning toward (and voting for) Dems.
Key takeaway: Northam and Phil Murphy, the Democrat who won the New Jersey gubernatorial race, "created a new playbook" that other hopeful governors should use in future campaigns. DGA Executive Director Elisabeth Pearson said they will be sharing that playbook with other campaigns and candidates in hopes of getting more Dems in governors mansions next year.
DGA spent $7 million in Virginia alone, 20% of all Democratic spending in the 2017 elections, per Pearson, and $4 million in New Jersey. They found that positive ads (half of Northam's had a positive message, according to DGA Political Director Corey Platt) featuring Northam speaking directly to the camera were more successful with voters than negative ads.
Not One Penny, a Dem group focused on fighting against the GOP tax plan, found that large majorities of voters in Virginia reject the GOP tax plan and Republicans' economic messages.
Key takeaway: "The tax plan ... wasn't just rejected among Democrats' base voters, but it's something that turned off [Republicans'] own base and people in the middle," said former congressman Tom Perriello, who challenged Northam in the primary. Geoff Garin, President of Hart Research which did polling for Northam's campaign, said the Virginia results make it clear that Republicans' focus on tax cuts, instead of "what voters think are vital needs" like health care, "will create an even bigger hole for them in 2018."
Stats to consider, per Jefrey Pollock, president of Global Strategy Group: Only about 16% of voters in battleground states said they'd heard "a lot" about the tax plan, according to his polls conducted by Hart Research. And more than 70% of voters in these states are less favorable to the plan once they hear that it proposes cuts to medicare and medicaid.
Forward Majority, the Dem Super PAC that helped 12 Democratic candidates take seats from Republicans in Virginia, invested $1 million in 16 candidates throughout the state as a test to see what works.
Key takeaway: "[E]xtremist Republicans ... can hide in the shadows with their 'safe' seats no longer," per the team's email debrief this morning. Between a significant amount of money and venturing into both easy-to-win and "unwinnable" districts, the group learned what could work for Democrats in 2018 and beyond.
Their sophisticated campaign strategies included not just opposition research and messaging, but also "two randomized control trials" that aimed to analyze and improve Democratic voter turnout via Facebook and SMS text messaging.
ACRONYM,
the new digital-first political organization focused on electing progressives, has already raised more than $1 million since their launch last month.
Key takeaway: Democrats need to invest heavily in digital campaign strategies if they want to win in 2018. ACRONYM CEO Tara McGowan, who previously ran the largest-ever ad campaign for PrioritiesUSA and was Obama's digital strategist, said: "From unprecedented coordination in our digital spending to texting-out-the-vote to millions of Virginians, Democrats' investment in digital helped fuel the surge in turnout and record margin of young voters."
McGowan coordinated 100% of the Virginia gubernatorial race's digital advertising for progressives.
Future Now, a group by economist Jeffrey D. Sachs, entrepreneur Adam Pritzker and former New York State Senator Daniel Squadron, supported 10 candidates in Virginia's House of Delegates races, and all 10 won.
Key takeaway, from the group's executive director and former NY State Senator Daniel Squadron: Dems are most successful when candidates have a strong, clear message. "Our big takeaway is that voters believe that state candidates with vision, drive and an ambitious agenda are worth giving a chance to for better results," he said.
The money they invested in the various candidates was some of these Dems' largest donations, ranging from $13,000 to $20,000.
Bottom line: A key takeaway for many of the groups was the importance of having qualified candidates with a strong message and compelling personal story to tell. That's evidenced in the new generation of Democrats that emerged last night and in their sweeping wins against Republicans throughout the country.
Go deeper