What comes after the "skinny bundle"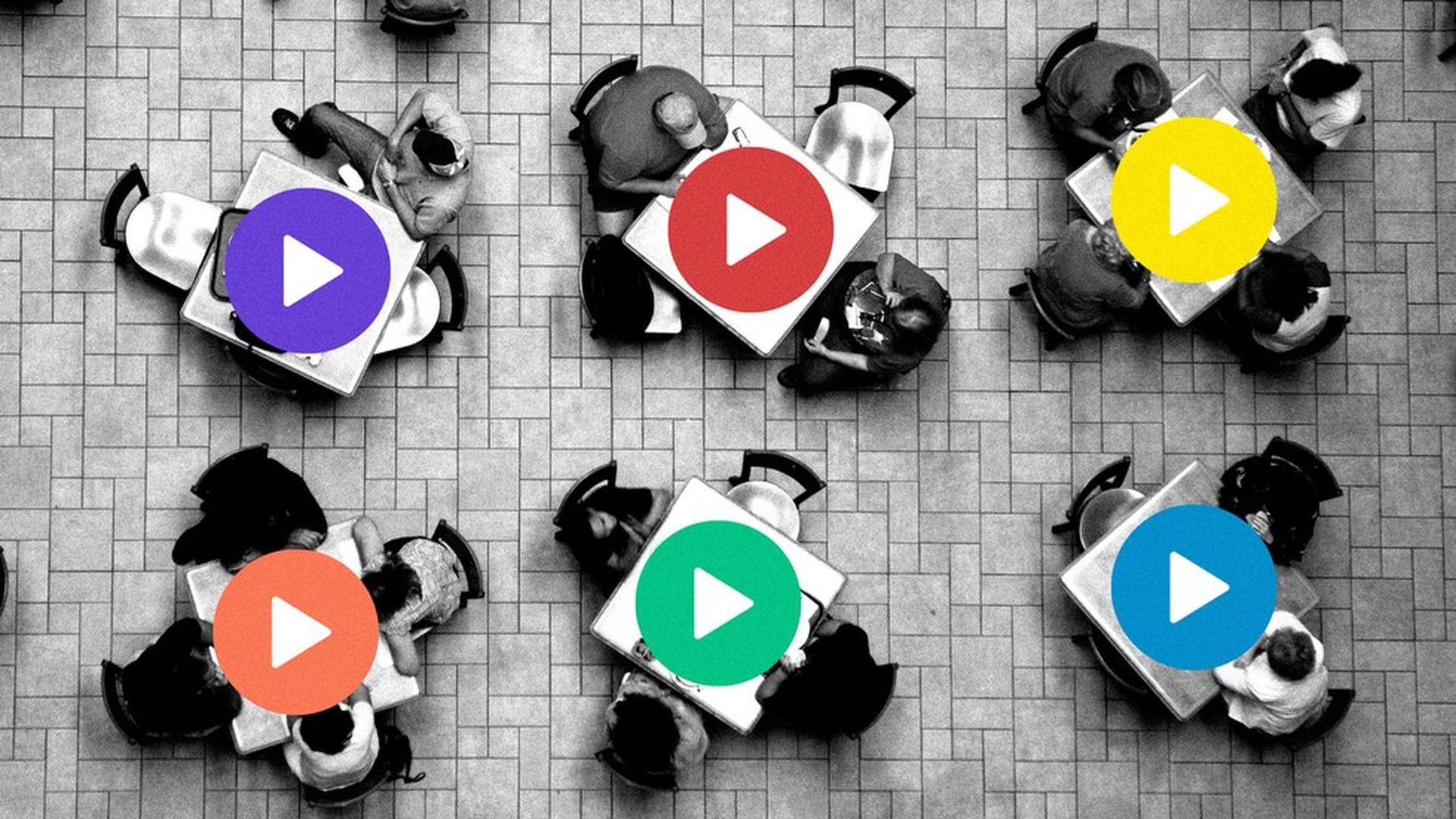 The streaming market is booming, but soon there will be more platforms than consumers can watch and distributors can cut deals.
This pressure has caused likeminded TV networks, (entertainment, lifestyle, sports, etc.) to either compete against one another for distribution deals or come together in order to compete for better deals collectively (think Discovery/Scripps merger). It's an interest-based power struggle that resembles groups in a high school cafeteria. (Tech nerds, drama/entertainment kids, sports jocks, etc.)
Why it matters: Axios' Dan Primack put it best in his Pro Rata newsletter last week: "Hopes for a 'skinny bundle' are fast being replaced by a fat streaming bill. At some point consumers will demand a consolidated option that looks a lot like digital cable."
Until that type of broader "digital cable" option exists, likeminded networks are going to have to either team up or compete against each other for the best distribution deals possible.
The cliques:
Popular players: The telecom companies, like Dish, Comcast, Charter and AT&T, are creating their own skinny bundles, but offering niche packages as add-on standalone services. They are banking on the standalone packages, as their barriers to entry are super low for the stripped down deals. (Sling's barrier to entry is only $20.) For example, Century Link is offering a standalone "Latino package" as an add-on. Comcast subscribers can enjoy standalone AMC or FX entertainment packages as add-ons.
Art kids: The entertainment/lifestyle networks are teaming up to focus on entertainment-only bundles. They're banking on a mix of cheap-to-produce content (like new reality shows) and scripted dramas. The standalone original programming channels, like AMC and FX, have already struck deals with telecom companies like Comcast, while the reality show-type networks, like Viacom and Discovery, are still figuring out their distribution plans. Discovery acquired Scripps for $14 billion two weeks ago and many think it was done in an effort to gain better leverage for distribution deals with the telecom companies.
Sport jocks: The sports and broadcast networks are creating standalone packages, hoping to capture cord-cutters who are also sports fanatics. CBS announced on its earnings call last week it will create a standalone sports streaming network in 2018. NBC has a separate soccer streaming package. Disney announced it purchased a majority stake in BAMTech to create a standalone streaming package for ESPN.
Tech nerds: The tech companies are competing with the popular players for diverse content packages and are rivaling their prices at around $35 per month. YouTube Live has already expanded to 15 markets in the U.S. Both YouTube and Hulu TV won victories when Nielsen announced it would begin measuring their audiences as a part of TV viewing. Sony's Playstation Vue continues to add more broadcast affiliate content.
Entertainment stars: Netflix, Hulu and Amazon Prime continue to compete for better content. The tech streamers dominate time spent metrics because they house mostly scripted and original entertainment content. Amazon is now also starting to move into the livestreaming space.
p.p1 {margin: 0.0px 0.0px 0.0px 0.0px; font: 12.8px Arial; color: #222222; -webkit-text-stroke: #222222; background-color: #ffffff} p.p2 {margin: 0.0px 0.0px 0.0px 0.0px; font: 12.8px Arial; color: #222222; -webkit-text-stroke: #222222; background-color: #ffffff; min-height: 15.0px} span.s1 {font-kerning: none}
Go deeper