What China wants from Trump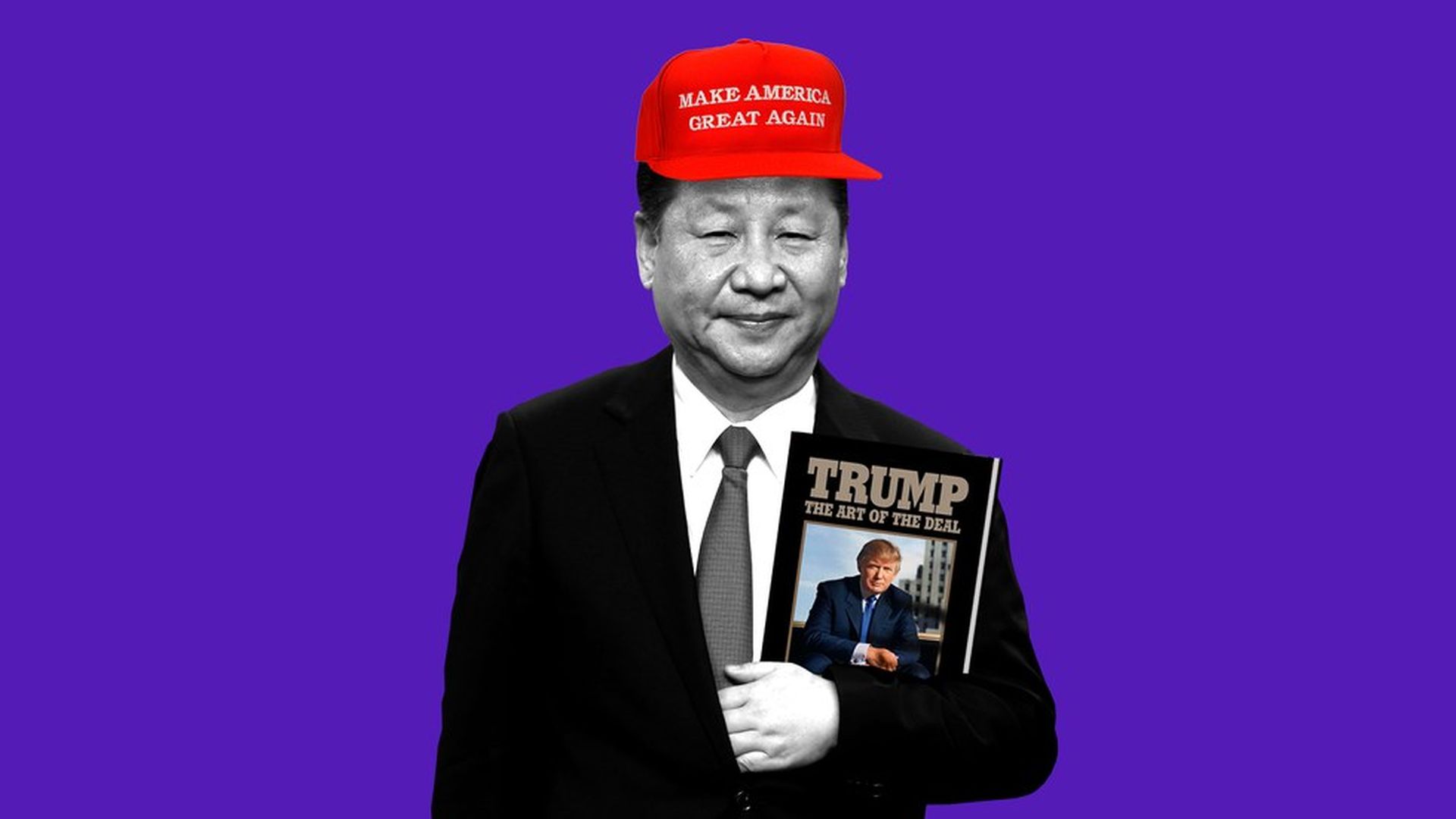 Axios' Mike Allen broke the news last week that President Trump plans to host Chinese President Xi Jinping at Mar-a-Lago next month "for a lowering-the-temperature summit with vast economic and security implications."
Xi is entering the most sensitive period of his time in office, the year in which he's poised to secure a second five year term as head of the Communist Party. The transition is a volatile and tense period, and he does not want all of the complications that would come with an unstable relationship with the U.S. To get a preview of the talks I spoke with Richard McGregor, who wrote "The Party," a seminal book on China's Communist Party. The takeaway: China does not want (for the moment) to upend the status quo.
McGregor says the Chinese leaders were initially quietly delighted that Americans had chosen as president a man easily portrayed as the ignorant product of a fatally flawed democracy. But they soon seemed unsettled, in large part due to Trump's unpredictability, hostility to China, embrace of nationalists like Steve Bannon on his senior staff, and his protocol-breaking phone call with Taiwan's president.
Here's what Xi wants from Trump, according to McGregor:
Don't upend the status quo with North Korea: China's worst nightmare is that the regime would collapse and be subsumed by South Korea, which would make for a U.S.-ally on their border. It needs North Korea as a buffer state. Contra Washington conventional wisdom, the Chinese can't just snap their fingers and tell the North Koreans what to do. China and North Korea deeply distrust each other. So the Chinese hope Trump's tough talk is just bluster.
Avoid a confrontation in the South China Sea: Xi will likely deliver to Trump a quiet warning on the South China Sea. During his confirmation hearing, Rex Tillerson told Senators China needed to stop its island building there. The Chinese want Trump to understand they will defend their interests if the U.S. pushes back. (See our Facts Matter on the South China Sea.)
Stick to "One China": Regarding Taiwan, they want Trump to stick with the "One China" policy. Xi was furious when Trump took a call from Taiwan's president, and wouldn't speak with him over the phone until Trump agreed to support the status quo. (See our Facts Matter on the One China policy.)
No trade war: The Chinese, like everyone else, don't know what Trump might do on trade. They are closely following the reports about the tussle within the White House between nationalists (especially Bannon and Wilbur Ross) and the Goldman Sachs wing, led by Trump's chief economic advisor, Gary Cohn. As Axios revealed: trade in automobiles is the big sleeper issue.
The big picture: Xi wants a stable international environment that allows China to continue to develop and accumulate wealth and power. They abhor the prospect of military disruptions and interruptions to trade, with Xi going to Davos this year to sell China as an apostle of the open international order to all the folks Bannon would call "globalists." McGregor says China's ideal state for America is "slow and steady bourgeois decline." Anything too chaotic — Trump's MO, basically — hurts China.
Behind the scenes: The Chinese ambassador in Washington — Cui Tiankai, a silky operator — has been focusing intensely on the White House rather than the State Department, particularly cozying up to Jared Kushner and Ivanka Trump. One source says Cui has been dealing mostly with Kushner, and has been AWOL at State. Tillerson — who travelled last week to South Korea, Japan, and China, with mixed results — should be responsible for that relationship. But he's still got no Asia lead installed at State (and, in fact, doesn't even have a Number Two there).
Go deeper