Weinstein hired investigators to spy on his accusers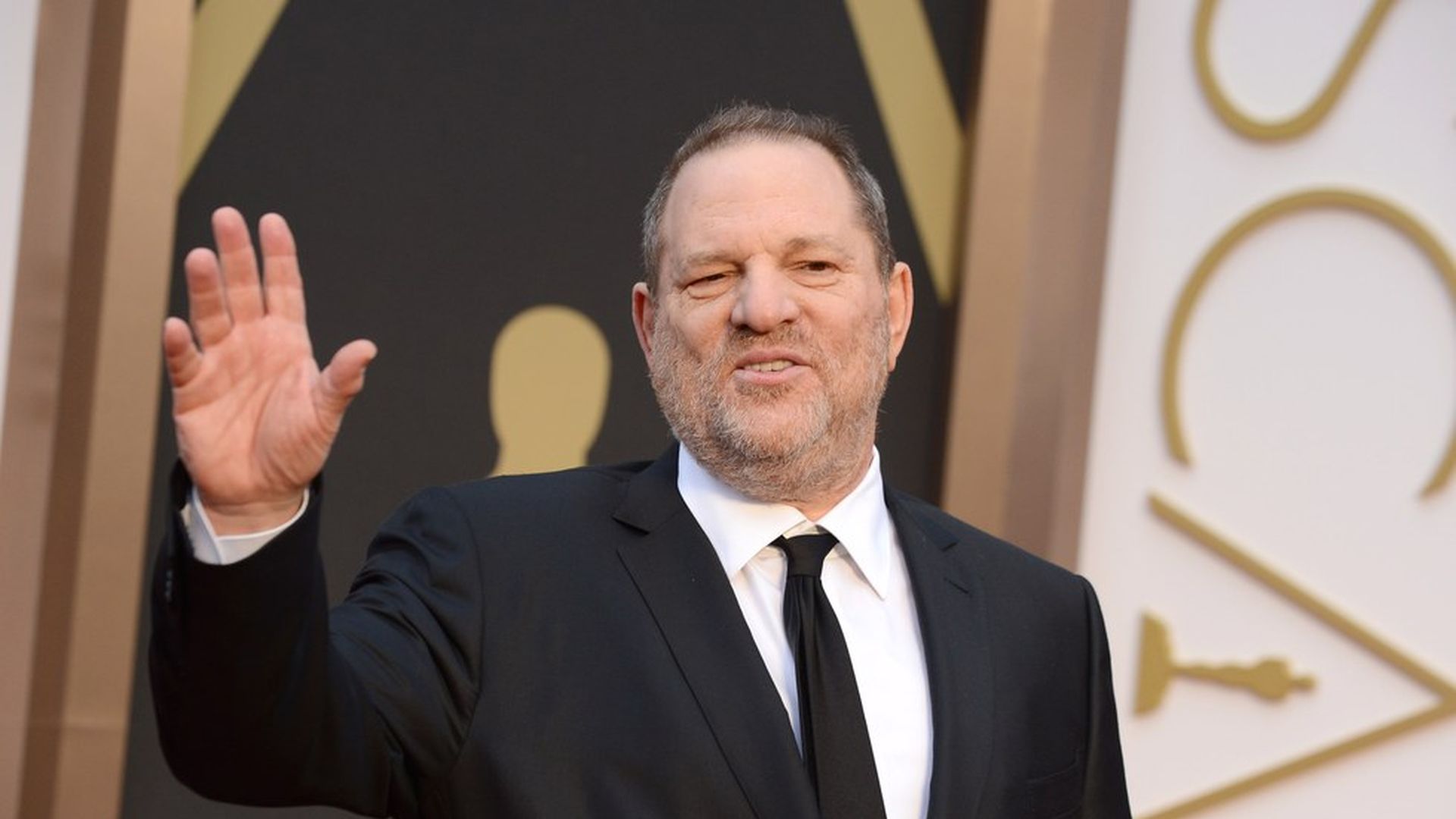 In the fall of 2016, Harvey Weinstein hired private security agencies to collect information about dozens of women and journalists seeking to expose the sexual assault and harassment allegations against him, per Ronan Farrow in The New Yorker.
The mission: "The explicit goal of the investigations, laid out in one contract with Black Cube, signed in July, was to stop the publication of the abuse allegations against Weinstein that eventually emerged in The New York Times and The New Yorker," writes Farrow. The agencies also compiled psychological profiles, some of which focused on the accusers' personal or sexual histories.
The firms: Farrow, who dug through dozens of pages of documents and met with seven people directly involved in the effort, writes that Weinstein hired Kroll, one of the world's largest corporate intelligence companies, and Black Cube, a firm run largely by former officers of Mossad, Israel's national intelligence agency.
Others involved:
Farrow said Weinstein monitored the progress of the investigations personally, and also "enlisted" former employees to help in the effort.
Weinstein's lawyers, including David Boies, who represented Al Gore during his presidential campaign, also played a role, per Farrow. Boise reportedly signed the contract that directed Black Cube to uncover information that would suppress the publication of an NYT story. Boise confirmed his direct involvement to The New Yorker, but said he did not select the firms or direct the investigators' work.
The targets:
Actress Rose McGowan: Two investigators from Black Cube, one of whom pretended to be a women's rights advocate, met with actress Rose McGowan, who publicly accused Weinstein of rape last month. Farrow says the investigator "secretly recorded at least four meetings with McGowan." Agents for Kroll also gathered photos of McGowan that showed her addressing Weinstein warmly, while other firms collected information that could be used to undermine her credibility.
Actress Annabella Sciorra, who accused Weinstein of raping her in The New Yorker, said a freelance journalist, who is suspected to have been hired by Black Cube "to conduct ten interviews a month for four months and be paid forty thousand dollars," contacted her. Sciorra said the call "struck me as B.S. ... And it scared me that Harvey was testing to see if I would talk."
Ambra Battilana Gutierrez, an Italian model, accused Weinstein of sexually assaulting her in 2015. She eventually reached a settlement with Weinstein, but it required her to surrender all her personal devices to Kroll to be wiped of evidence of a recording during which Weinstein admitted to groping her. The recording was released by The New Yorker last month.
Rosanna Arquette, an actress who accused Weinstein of sexual harassment, had a file made on her that detailed her friendship with McGowan, social-media posts about sexual abuse, and details that a family member had alleged she was molested as a child.
Ben Wallace, a reporter at New York Magazine, who had been pursuing a story on Weinstein: The same Black Cube investigator who targeted McGowan met twice with Wallace to learn which women were talking to the media about Weinstein. Wallace was also contacted by the freelance journalist who reached out to Sciorra. Kroll had also sent Weinstein a list of public criticisms regarding Wallace's previous reporting, "and a detailed description" of a U.K. libel suit filed in response one of his books.
Impact on the victims: Several of the women targeted told Farrow that Weinstein's private investigations made it harder for them to come forward. "It scared me," Sciorra said, "because I knew what it meant to be threatened by Harvey. I was in fear of him finding me." McGowan said that while she was targeted, she felt a growing sense of paranoia. "It was like the movie 'Gaslight.' ... Everyone lied to me all the time."
Weinstein's response: Weinstein's spokesperson, Sallie Hofmeister, told Farrow, "It is a fiction to suggest that any individuals were targeted or suppressed at any time."
Go deeper