Video released of North Korean defector crossing DMZ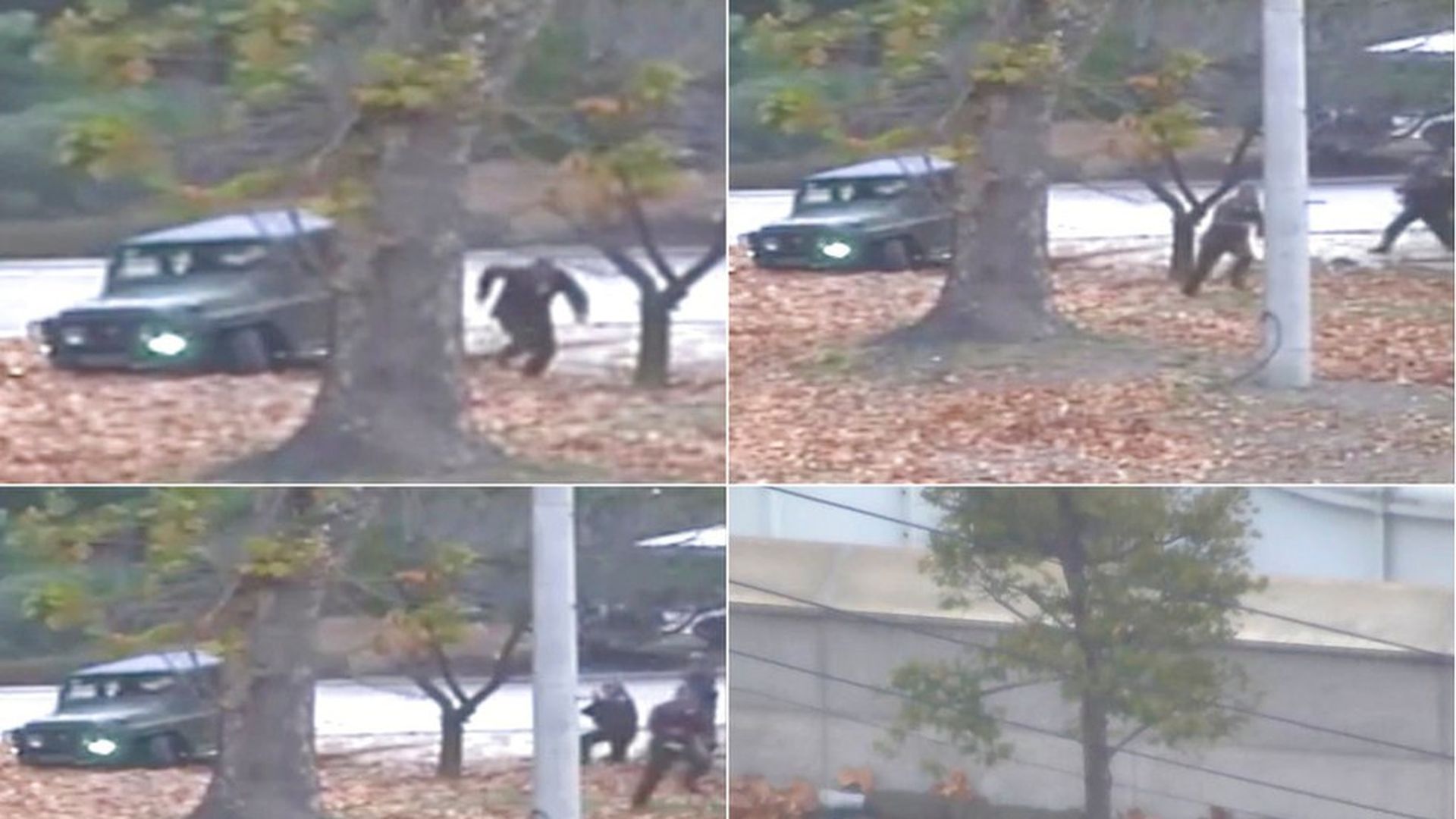 A video just released by the United Nations shows the North Korean soldier who defected to the South on November 13th making his getaway in a green jeep, running towards the border separating Panmunjom, North Korea from the South, and then collapsing on the South Korean side.
Why it matters: The event amounts to a violation of the armistice, since he was shot five times in his successful effort to defect from the North Korean regime, South Korea says. He was ultimately rescued by South Korean soldiers. Pyongyang has yet to say anything about the defection but the UN Command says it has requested a meeting to discuss the apparent armistice violations.
The scene, per the AP's Foster Klug: "It's 3:11 p.m. on a cold, gray day on the North Korean side of the most heavily armed border in the world, and a lone soldier is racing toward freedom."
"His dark olive-green jeep speeds down a straight, tree-lined road, past drab, barren fields and, headlights shining, across the replacement for the Bridge of No Return..."
"The shock of soldiers watching the jeep rush by is palpable from the video released Wednesday and no wonder: They're beginning to realize that one of their comrades is defecting to the South."
The defector crashes his jeep into a ditch.
The South says North Koreans fired about 40 rounds from AK-47s and rifles at the defector. No fire was exchanged between North and South Koreans.
The defector makes it over the border, and then turns around and runs back towards the North before collapsing by the wall. South Koreans crawl to pull him to safety.
"The entire sequence, from the first appearance of the jeep to the soldier's frenzied crossing, lasts four minutes."
A clue to life in North Korea: The defector had two surgeries to repair internal organ damage and is conscious. Surgeons "removed dozens of parasites from the soldier's ruptured small intestine, including presumed roundworms that were as long as 27 centimeters (10.6 inches), which may reflect poor nutrition and health in North Korea's military."
Watch:
Go deeper