Uproar builds over secret doctor panel that influences Medicare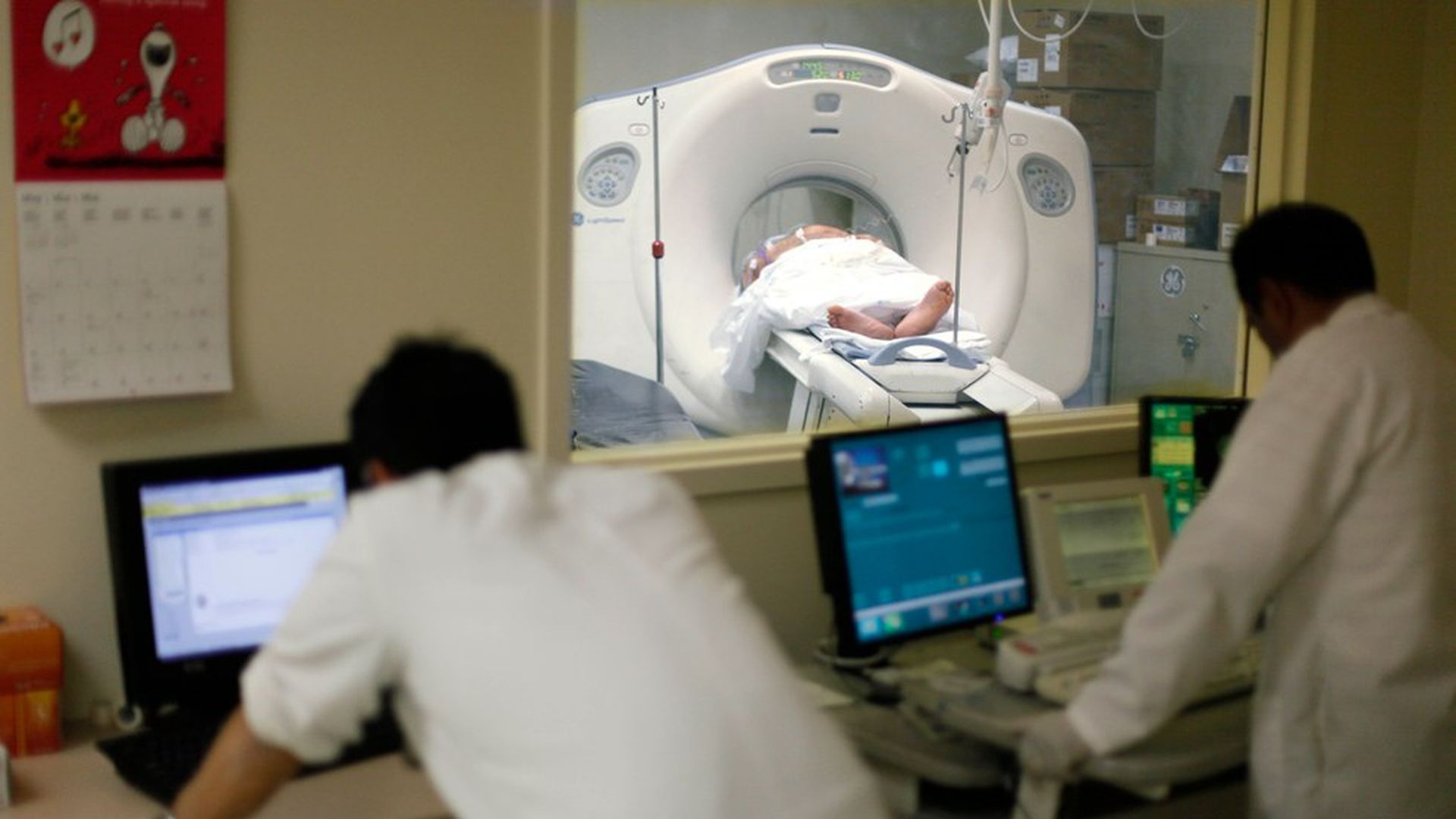 Medicare has signaled it will rubber-stamp almost every 2018 payment proposal made by the American Medical Association's clandestine panel of doctors — raising the ire of numerous advocacy groups and primary-care doctors, who believe the federal government is bending to the will of the powerful medical lobby.
The big picture: Critics believe Medicare's deference to the AMA panel creates a conflict of interest and steers federal spending toward more expensive procedures. And if the AMA panel distorts Medicare rates in favor of certain medical specialties, "that carries over into the private sector," said Frederick Isasi, executive director of the consumer group Families USA.
The gritty details: The AMA group that evaluates payments is called the Relative Value Scale Update Committee, or RUC for short. The panel of 31 doctors gets together every year and decides how much various tests and procedures are worth, based on the time and work required, overhead expenses, and malpractice costs. The RUC issued almost 3,200 pages of recommendations for 2018.
Why it's controversial: Doctors are making recommendations about their own pay, and it's often skewed in favor of higher-paying specialists who tend to put higher values on specialty services at the expense of primary care.
Earlier this summer, the Centers for Medicare and Medicaid Services put out its first physician fee rule under the Trump administration and adopted just about all of the RUC's suggestions. Medicare normally agrees with 69% of the recommendations. The agency justified its approach by saying it believes "the majority of practitioners...would prefer CMS rely more heavily on RUC recommended values in establishing payment rates."
But several advocacy groups and clinicians are blasting CMS for giving the doctor panel carte blanche to set Medicare payment rates. "There is evidence that certain procedures are overpriced...and CMS is missing an opportunity to address this inequity," the independent Medicare Payment Advisory Commission wrote in a letter.
The AMA's response: Peter Smith, a heart surgeon at Duke University who chairs the RUC, submitted a statement. He said the committee produces "fair and objective recommendations" and that it makes sense for Medicare to rely on "experienced physicians" to see if medical services are "appropriate, undervalued or overvalued."
An ultrasound example: Medicare followed the RUC's lead and proposed paying less for complete arm and leg ultrasounds, but paying more for limited ultrasounds. Critics say that pay cut would steer patients into more expensive MRIs or the limited ultrasounds, which would benefit radiologists.
Colin Edgerton, a rheumatologist from South Carolina: "Radiologists do not currently perform musculoskeletal ultrasound as MRI is more profitable, and they certainly will not start offering this lower-cost service after the proposed cuts."
An anonymous doctor and sonographer from Wisconsin: "If CMS aims to obtain the best services at lowest cost, changing the payment structure to pay more to the speciality who produces the same product at higher cost makes no sense."
The AMA said the committee recommended a pay cut because complete ultrasounds are done by office-based physicians with cheaper equipment, whereas limited ultrasounds are done by radiologists who spent more money on imaging rooms. "It would not be right to purchase a $30,000 piece of equipment and expect to paid the same rate as the clinician who had installed a $300,000 room," the AMA argued.
A reminder: Medicare ultimately falls under the purview of Health and Human Services Secretary Tom Price, an orthopedic surgeon who has advocated for doctor-friendly policies.
Go deeper: The Center for Public Integrity and the Washington Post have extensive stories about the RUC.
This story has been updated to include comments from the American Medical Association. The AMA did not initially respond and submitted a statement in response after this story was posted.
Go deeper